Metaverse frenzy cools as ChatGPT gains steam
By FAN FEIFEI | CHINA DAILY | Updated: 2023-03-08 07:01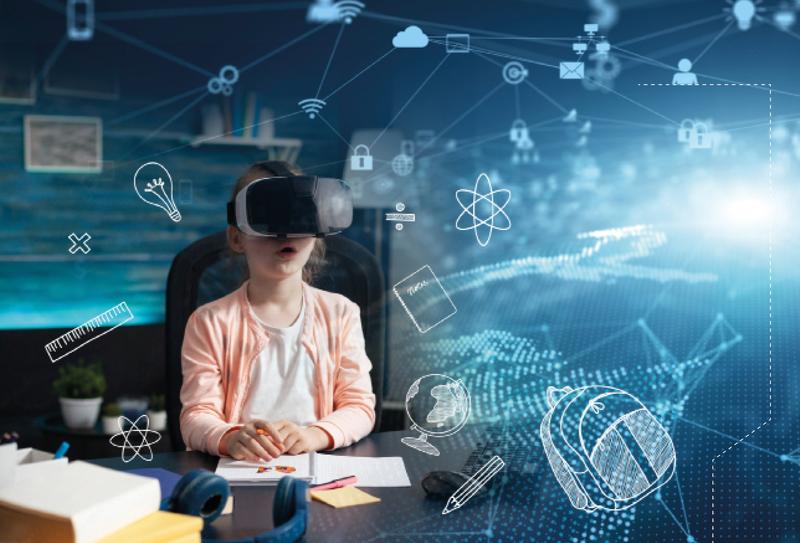 The frenzy over metaverse, a tech buzzword that promises a future where virtual and physical worlds are inextricably interconnected, is cooling as major tech heavyweights are downsizing workforces in metaverse-related businesses and banking on the fast-growing artificial intelligence-generated content (AIGC) sector, experts said.
The concept of the metaverse refers to a shared virtual environment or digital space created by technologies including virtual reality and augmented reality.
Companies are becoming more rational toward the metaverse, which requires large amounts of capital input in technology R&D and talent training, and improvement in related laws and regulations, they added. Meanwhile, the rapid evolution of generative AI represented by ChatGPT is expected to boost the development of the metaverse.
Chinese VR headset maker Pico, owned by tech company Byte-Dance, has reportedly carried out a round of layoffs, trimming some teams by as much as 30 percent. Pico said it is making organizational adjustments and this will not affect its normal operations. The company has also lowered its sales target for 2023, without disclosing specific numbers.
Tencent Holdings Ltd said it will change the hardware development path of its extended reality business by adjusting some teams after media reported the gaming and social media major was disbanding part of its extended reality team, which was launched in June last year.
A host of foreign tech companies including Meta and Microsoft also announced layoffs or streamlining of their metaverse teams as they seek to trim costs amid rising fears of a global recession.
ChatGPT, the latest chatbot launched by US-based AI research company OpenAI, has gained wide popularity since its debut in November and revolutionized the AI field due to its advanced conversational capabilities. A batch of Chinese tech companies, including Alibaba, Baidu and NetEase, are scrambling to roll out ChatGPTlike AI chatbots or products.
Major tech giants are doubling down on the AIGC sector, which will have an impact on the investments in metaverse that once gripped the global technology industry, said Shen Yang, a professor from the School of Journalism and Communication and director of the Metaverse Culture Laboratory at Tsinghua University.
"The popularity of ChatGPT around the world has allowed people to see the explosive growth of AI in recent years, injecting fresh impetus into the tech industry, given that conversational chatbots can be used in a wide range of fields," Shen said.
"The metaverse and AIGC are not antagonistic. Tech companies' accelerated layout in the AIGC segment will give a strong boost to the development of virtual humans", he said, adding that AI technology has played a vital role in improving users' interactive and immersive experiences in the virtual world.
Global consulting company PwC has highlighted the metaverse as the next frontier and painted a rosy outlook for the metaverse-related economy, which is expected to grow to $1.5 trillion in 2030, mainly driven by AR and VR technologies that are vital components to create a sense of virtual presence in the metaverse.
China will speed up its layout in the metaverse sector, bolster the construction of new infrastructure including 5G, blockchain and industrial internet, as well as strengthen regulations to promote the healthy development of the metaverse, said Ren Aiguang, deputy head of the science and technology department at the Ministry of Industry and Information Technology, at a metaverse industry conference last month.
Luo Jun, executive director of the China Computer Industry Association's Metaverse Industry Professional Committee, said both ChatGPT and the metaverse require massive data, computing power and algorithm support, and are highly dependent on AI technology. Meanwhile, the maturity of ChatGPT-related technologies may pave the way for the popularization and application of the metaverse.
Experts said there is still a long way to go to realize the vision of the metaverse, as the supporting technologies, application scenarios and business models are far from mature.
Pan Helin, co-director of the Digital Economy and Financial Innovation Research Center at Zhejiang University's International Business School, said the rapid development of AIGC and ChatGPT-related technologies will lower the threshold of content creation, which is conducive to building a content ecosystem for the metaverse.
He said more efforts should be made to expand the industrial application scenarios of the metaverse and pool more resources into improving cloud computing and data processing capacities.