Smiley sphinx statue among artifacts unearthed in Egypt
China Daily | Updated: 2023-03-08 09:36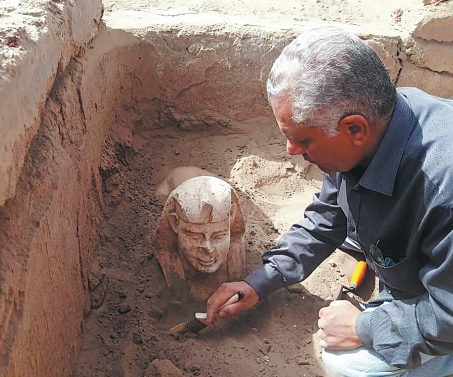 CAIRO — Archaeologists in Egypt have unearthed a sphinx statue they say has "a smiley face and two dimples", near the Hathor Temple, one of the country's best-preserved ancient sites, the tourism and antiquities ministry has announced.
It is the latest in a series of discoveries revealed over the past few months.
The sphinx-shaped statue represents one of the Roman emperors wearing a Nemes headdress, which is the striped head-cloth typically worn by pharaohs, and a cobra on the forehead.
The limestone artifact, believed to be a stylized representation of an ancient Roman emperor, was found inside a two-level tomb near the temple in southern Egypt, the ministry said on Monday.
Next to the "beautifully and accurately carved" sphinx, researchers found "a Roman stele written in demotic and hieroglyphic" scripts, the ministry said.
Once fully deciphered, the stele may shed light on the identity of the sculpted ruler, whom the Egyptian research team said could be Emperor Claudius.
Hathor Temple, about 500 kilometers south of the capital Cairo, was home to the Dendera Zodiac, a celestial map that has been displayed at the Louvre in Paris since 1922, more than a century after the Frenchman Sebastien Louis Saulnier had blasted it out of the temple.
The country's ministry of tourism and antiquities has also unveiled a renovated wing of its oldest museum, home to a 16-meter-long scroll unearthed last year.
The government aims to draw in 30 million tourists a year by 2028, Agence France-Presse reported.
Agencies - Xinhua