Climate change to shrink German economy
By EARLE GALE in London | China Daily Global | Updated: 2023-03-08 09:55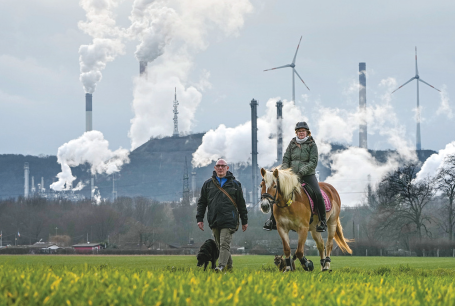 Climate change could cool Germany's economy by 900 billion euros ($957 billion) during the coming three decades, according to new government research.
The study, conducted for the country's economy and environment ministries, suggests the nation may need to make a fivefold increase in spending to repair damage caused by extreme weather in the years leading up to 2050.
The German state broadcaster Deutsche Welle said the report, which was published on Monday, was not a firm prediction, but an indication of a range of possibilities.
The report writers said more spending now on mitigating initiatives would save a fortune in the long run.
The document, called Costs of Climate Change Impacts in Germany, suggests the drain on the nation's economy from the impact of climate change could be as low as 280 billion euros by 2050, if certain choices are made now.
The report was written for the two ministries by the country's Institute for Ecological Economy Research, the Society for Economic Structures Research, and the Switzerland-based management consultancy company Prognos AG.
The document says an average of the various scenarios would see the cost of extreme weather events increase by between 1.5 and five times per year by 2050, which would work out an amount that would decrease the country's gross domestic product, or GDP, by between 0.6 percent and 1.8 percent.
The report writers said they did not consider the value of human lives lost during the three-decade period, nor did they try to put a value on the reduction in people's quality of life.
"It is, therefore, to be expected that the costs of climate change can still turn out to be considerably higher than determined by the scenarios in the model context," the study's authors concluded.
The report said the economy would be negatively impacted through such things as declining farm yields, the damage or destruction of buildings and infrastructure due to heavy rain and flooding, problems with transporting materials because of washed out roads and rail lines, and expensive impacts on the nation's healthcare system.
Germany's economy ministry said climate change and extreme weather have already cost the nation dearly. It pegged the cost between 2000 and 2021 at more than 145 billion euros, and said 80 billion euros of that expenditure came during the past five years, when floods in the states of Rhineland-Palatinate and North Rhine-Westphalia were among the high-profile climate events the nation encountered.
The report said climate costs could be reduced to a minimum through measures including carbon capture and storage.
Environmentalists have complained recently, however, that Germany seems to have abandoned some of its attempts to mitigate climate change, because of the fast-rising cost of energy attributed to the Russia-Ukraine conflict and the nation's decision to revive coal-fired power stations to meet its energy requirements.