Boosting China's exports amid global restructuring
By Liu Qing | China Daily | Updated: 2023-03-09 07:00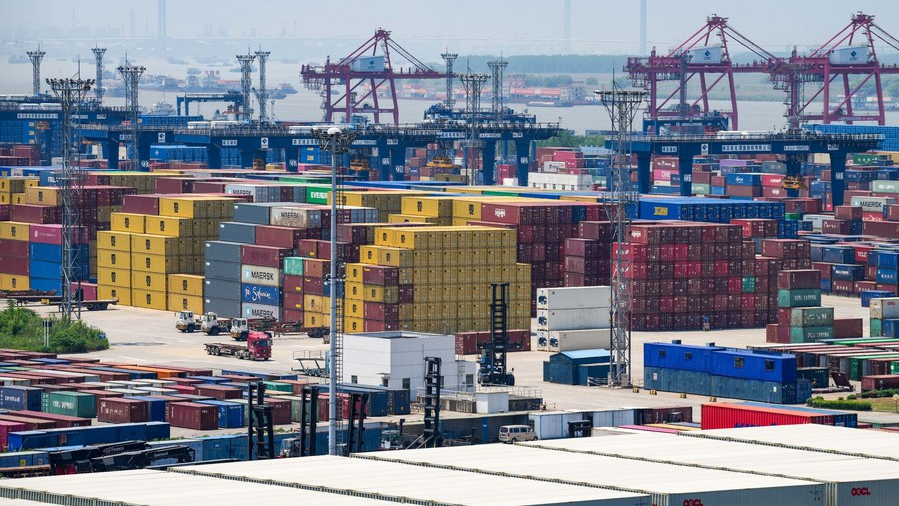 Exports have provided strong support for China's economy, and the country needs to continue to focus on the role of exports in economic growth. Especially in 2022, due to multiple factors both at home and abroad, exports contributed more than 30 percent to China's GDP. But since many factors have undergone significant changes in 2023, China's exports may face greater pressure this year compared with previous years.
Against the backdrop of geopolitical conflicts and interest rate hikes by many countries, the economic growth prospects of major countries have deteriorated compared with last year. This will cause a decline in overseas demand, which means lower demand for China's exports.
Second, the structural differences in economic policies between China and other countries during the pandemic have disappeared. During the pandemic, the economic stimulus policies of major Western economies mainly focused on protecting demand, while China's policy mainly focused on protecting the supply side.
Third, international energy prices surged and then fell, gradually weakening the impact of energy prices on the European Union's manufacturing sector and helping them regain some of, if not all, their competitiveness. So China's manufacturing industry could face tougher competition from some countries.
Fourth, the yuan may face some upward pressure. In 2022, the yuan may have overshot in depreciation to a certain degree, which helped China's exports. But China's exports also have many factors in their favor. On the international front, the global economy is showing signs of stabilization. According to the latest International Monetary Fund World Economic Outlook report, the global economy is forecast to grow 2.9 percent in 2023, an improvement on the previous forecast of 2.7 percent.
On the domestic front, China's huge market is beneficial to companies in many aspects, including economies of scale that lower production costs, dilution of research and development investment, easing of financing constraints by cash flow, and increased efficiency of market turnover.
China's complete industrial system is beneficial to Chinese companies, too, in that it can help them reduce costs, maintain the stability of the supply chains and expectations.
To stabilize trade, China needs to consider the context of the global restructuring of production networks. It takes targeted actions from the government to enterprises to ensure the stability of China's international economic relations and enhance risk control.
When companies in different countries restart their supply chains after experiencing interruptions, the supply chains will not be designed to simply return to the past. Instead, they will be based on the new environment to further strengthen the adjustment cycle of the global supply chains through the reorganization of their supply chains and the development of new products.
Given these facts, it is imperative that China maintain stable trade relations with other countries by respecting the laws of economics, and navigating with a responsive approach.
To begin with, it is necessary to further consolidate and enhance the position of China as the center of production networks in Asia, strengthen the trade effects of the Regional Comprehensive Economic Partnership, and increase trade exchanges with major Asian economies such as ASEAN member states, Japan and the Republic of Korea.
It is important to seek out all business cooperation opportunities and make every effort to embed in the new product cycles and adjustment cycles of the supply chains of all countries, especially those of developed countries that play a leading role in these areas.
There is also a need to focus on exporting new energy vehicles from China's rapidly growing NEV industry, and take preventive measures to ensure the safety and stability of its supply chains.
The developments should prompt China to promote diversification in trade and diversify its trade partners, and strengthen trade cooperation with emerging countries and Belt and Road countries.
Furthermore, the authorities need to focus not just on trade, but also on improving the quality of market institutions, in order to promote the development of high-tech industries and facilitate technological innovation.
And research shows the development of high-tech industries and technological innovation is different from ordinary manufacturing and is highly dependent on high-quality market institutions.
The author is a professor at, and deputy dean of, the National Academy of Development and Strategy, Renmin University of China, and vice-chairman of the China Society of World Economics. The views don't necessarily represent those of China Daily.
If you have a specific expertise, or would like to share your thought about our stories, then send us your writings at opinion@chinadaily.com.cn, and comment@chinadaily.com.cn.