China Mobile signals deeper integration of digital, real economies
By Ma Qing | chinadaily.com.cn | Updated: 2023-03-10 17:04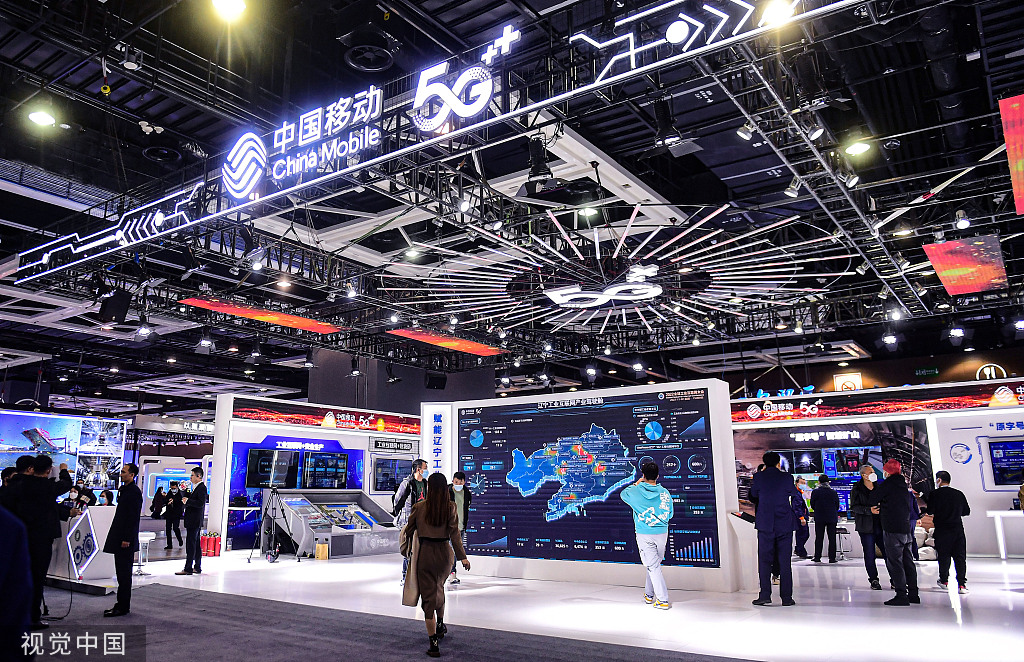 China Mobile has been helping deepen the integration of digital and real economies via infrastructure construction and service system building to move faster toward a digital society across China.
Yang Jie, chairman of China Mobile and a member of the National Committee of the Chinese People's Political Consultative Conference, shared China Mobile's efforts in advancing the digital economy and its contribution to the Belt and Road Initiative during a written interview with China Daily website.
A new type of information infrastructure focusing on a high-quality and stable 5G network, national integrated computing networks and the smart mid-end platform has been built in a systematic approach, he said, adding that the company has established a total of over 1.28 million 5G base stations, achieving continuous coverage in urban areas, counties and towns.
China Mobile's smart mid-end platform with an Aaas (Ability as a Service) system has continued bringing together internal and external capabilities such as artificial intelligence, blockchain and precise positioning to enhance the level of integrated empowerment, he added.
A new kind of information service system that offers "connectivity, computing force and ability" has also been applied to new industries and models of information services for production, people's lives and social governance.
The company has landed industrial AI quality inspection robots in manufacturing, energy and ports to promote automation and intelligent transformation in production, sales and management to better enhance efficiency and safety production, he said.
China Mobile has assisted small and medium-sized enterprises in their digital transformation by providing digital services to over 20 million SMEs and information technology product packages to help 5 million SMEs transform digitally in 2022.
He also said that the company cut the operating costs of SMEs by reducing the average tariff of Internet dedicated lines and enterprise broadband by 41.6 percent and 29.1 percent in 2022, benefiting 7.57 million clients, with the total amount of concessions exceeding 1 billion yuan ($143.55 million).
In other sectors, the company has launched the world's largest 5G+BeiDou high-precision positioning system, he said, which is a cooperative vehicle infrastructure system to make deeper integration with the new industry of intelligent connected vehicles.
By the end of 2022, the total number of internet of vehicles exceeded 206 million, and over 300 vehicle-road collaboration projects had been built in China, according to him.
China Mobile's broadband network has covered 98 percent of administrative villages and 400 5G smart agriculture projects have been landed to empower agricultural and rural modernization with intelligence.
It has provided information technology solutions for nearly 200 municipalities in 27 provinces in the fields of public security, justice, emergency response and water conservancy.
In Gansu province, 80 percent of items requiring administrative licensing have been handled online and one-stop services are provided for over 99 percent of the items requiring administrative licensing.
China Mobile has also been promoting digital infrastructure in countries taking part in BRI to improve information connectivity, said Yang.
The ten years since the BRI was put in place in 2013 has seen real achievements made by Chinese enterprises in boosting foreign investment and international production capacity cooperation.
China Mobile's total international transmission bandwidth has risen from 2.85T to 123T and over 230 point-of-presence of information stations have been set up in BRI countries.
The company helped BYD and other Chinese auto companies to expand overseas markets, established overseas 5G smart ports and participated in setting up international communication standards including 5G and the Internet of Things, he added.
It has taken social responsibilities by carrying out charity activities in Indonesia, Singapore, Kenya and the United Arab Emirates, he said, and it directly hired more than 3,100 local employees and created over 50,000 indirect jobs in Pakistan.
China's trade with countries involved in the Belt and Road Initiative reached a record high in 2022, with trade in goods hitting 13.8 trillion yuan, up 19.4 percent year-on-year, according to the Ministry of Commerce.