Local NEV brands getting charge from export surge
By LI FUSHENG | CHINA DAILY | Updated: 2023-03-14 09:07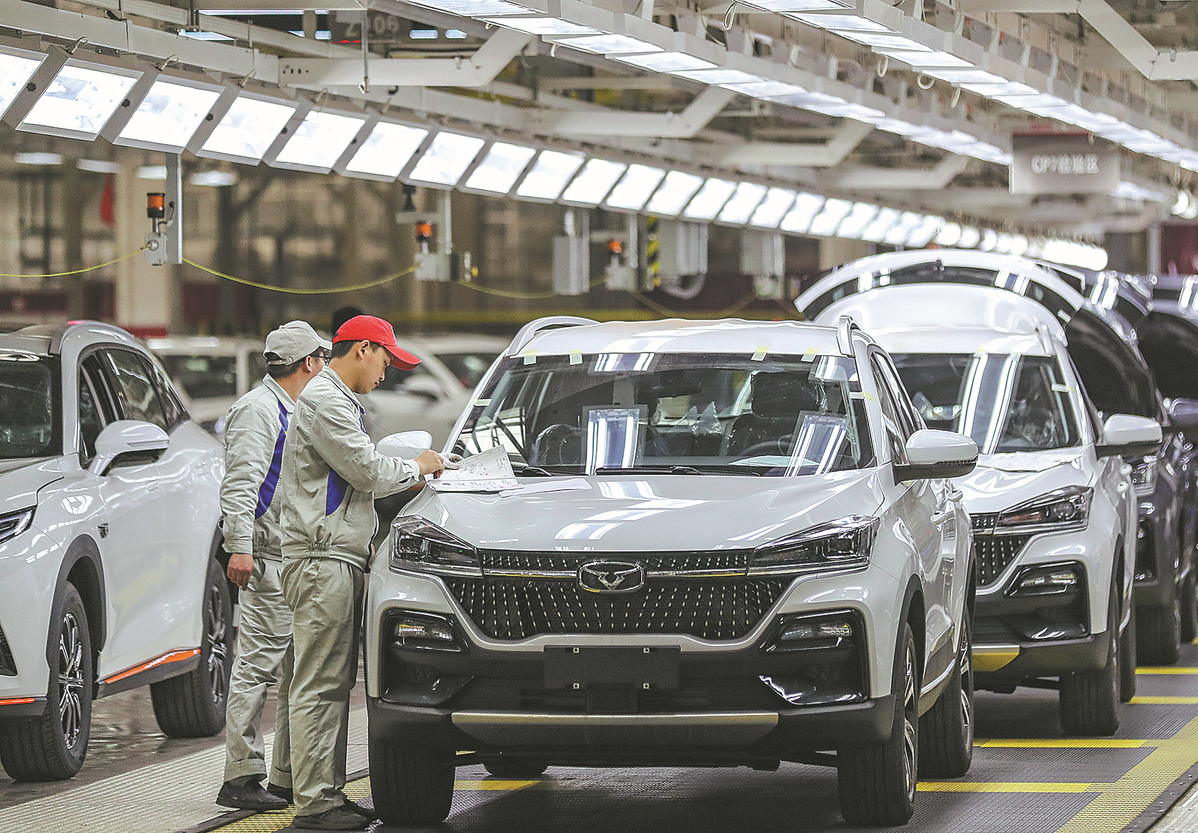 China-made new energy vehicles are gaining in popularity globally, which automakers and experts said is a sign of the country's leading position in the burgeoning sector.
Chinese and foreign carmakers exported 170,000 electric vehicles and plug-in hybrids from China in the first two months, up 62.8 percent year-on-year, said the China Association of Automobile Manufacturers.
Chen Shihua, deputy secretary-general of the CAAM, said made-in-China vehicles are benefiting from an enhanced image thanks to their competitive edge in electrification and cutting-edge onboard functions including autonomous driving.
The CAAM's statistics show that by the third quarter of 2022, there were 411 models available in China with driving-assist functions including automatic parking, and most of these were NEVs.
"Destinations of exports tell something. In the past we mainly exported vehicles to South America and Africa. Now, our NEVs are selling well in new destinations that we failed to get a foothold in previously, like Europe," said Chen.
Both established giants and startups now consider Europe, where modern vehicles were invented, as a priority market in their global campaign.
New York-listed Chinese startup Nio entered Europe in 2021 with Norway as its first stop. In 2022, it expanded into four other European countries including Germany and Sweden.
Its electric sedan ET7 was named late last year as the best model in the "Medium and Upper Class" category in the 47-year old Golden Steering Wheel competition in Germany.
The award made Nio the first Chinese automaker to win the much-coveted accolade, which is usually won by German and Japanese brands.
SAIC Motor said its MG4 Electric is now available in around 800 dealerships in dozens of European countries, with monthly orders now exceeding 10,000 units.
The model was the result of its Chinese and British teams focusing on new car quality standards in different countries, said the carmaker.
Chinese bus maker Yutong sat atop the list of popular electric bus brands in Europe in 2022, beating local giants including Mercedes and Volvo.
A total of 479 Yutong e-buses were registered in Europe last year, up 58 percent year-on-year, seizing an 11.5 percent share of the growing market, according to consultancy Chatrou CME Solutions.
Yin Tongyue, chairman of Chery Automobile, said the popularity of China's NEVs is backed by the country's sound supply chain, from electric motors to batteries.
There were 723,000 companies in China's NEV sector by the end of February, of which 80 percent were established within the past five years, according to Chinese corporate information provider Tianyancha.
South Korea's SNE Research said that six out of the world's top 10 makers of power batteries used in NEVs in 2022 were Chinese, with CATL sitting atop the list for six years in a row.
The availability of experienced workers in the NEV sector is another factor in China's increasingly competitive edge.
Grace Tao, vice-president of Tesla, said "99.9 percent" of its employees in China are local Chinese. Tesla's plant in Shanghai is one of its global export hubs.