Delivering preventive medicine to stop economic problems from emerging
By Laurence Brahm | chinadaily.com.cn | Updated: 2023-03-14 09:23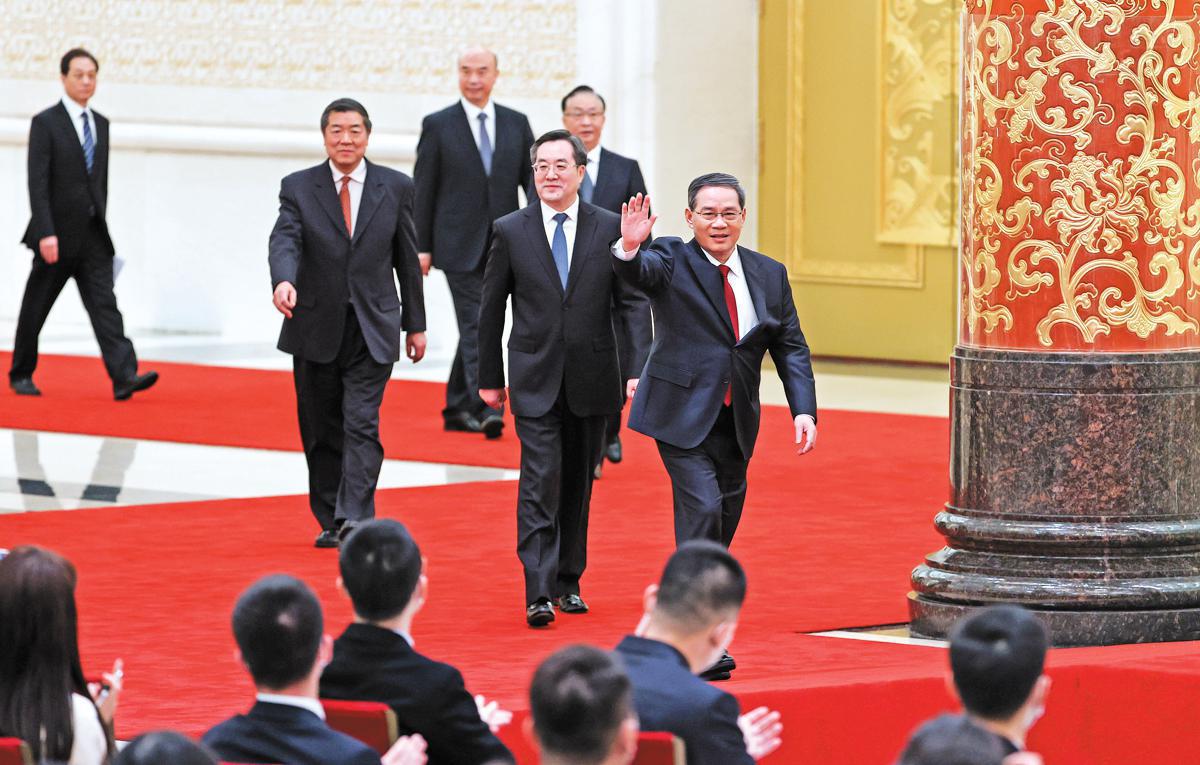 Chinese medicine differs from Western medicine in one key way. Western medicine cures the problem intrusively after it has exacerbated. Chinese medicine based on the yin-yang principle of balance and harmony seeks to prevent sickness altogether, rather than addressing it as an aftershock, or maybe when it is too late.
This year's National People's Congress and Chinese People's Political Consultative Congress were all about preventive medicine for China and the world's economy. The media was looking to Premier Li Qiang in his inaugural press conference for answers as to what practical policies will lay out such a path for security.
Security is not only about military and border protection. National security involves food, water, health and environmental security. These are the national priorities that Premier Li will have to face in a post-COVID, recession-riddled world. It is a world very different than pre-COVID times. Our world is now undergoing the throws of de-globalization and decoupling. This is the volatile world that Premier Li will need to navigate in reviving China's economy in the aftermath of Covid.
Food security stood high on Li's agenda. Promising self-sufficiency in agriculture staples, China is preparing itself for the potential shocks of global shortages in food supply chains. The war in Ukraine has been a wake-up call for the world. War will portend food supply shortages. China's State Council is preparing to avoid this by stimulating staple production to assure national food security.
Agricultural policies will not stop at just food production but include the re-invigoration of China's rural areas, third-tier cities, and the development of townships into prosperous urban communities. This will stimulate domestic consumption, an absolute necessity in light of the global supply chain breakdown and need for China's economy to be more self-reliant and less export dependent.
Water, health and environmental security will depend on technology development. Premier Li placed priority emphasis on the development of technology to address issues from the modernization of healthcare to the transition of energy systems away from fossil fuels to renewables. China, through its comprehensive policy of Ecological Civilization, is possibly the only nation now that is poised to achieve the United Nations 2030 SDG's (sustainable development goals.)
The development of new infrastructure that is smart, green and blue will be dependent upon technology innovation, and in particular the application of this technology to constructive positive purposes. Much technology development in the West has been aimed at addictive unhealthy social media apparatus not on the application of technological developments toward energy grid transition, which is very much dependent upon big data.
Premier Li's own experience, as Party secretary in Shanghai, is case in point. He brought Tesla to Shanghai, with land and factory construction incentives that were irresistible to Tesla. The opportunity for Tesla was to open the high-end China market. However, through Tesla's investment, and manufacturing presence in Shanghai, China was able to absorb all the technology necessary to unleash a dozen domestic electric car manufacturers covering all price and market sectors, pushing the transition to green transport.
Key to technology will be the unleashing of youth potential, innovation and creativity. Premier Li emphasized the importance of addressing youth employment and moreover nurturing the talent pool. A vital aspect of technology innovation is finance. Moreover, one aspect of the government restructuring plan announced at the National People's Congress will be financial supervision and an overall tightening of the financial sector management. China does not want a Silicon Valley Bank crisis. Too much is riding on technology development and that depends on finance. The two are integral.
As for re-unification across the Taiwan Straits, Li emphasized the importance of people-to-people communication cultural exchange. "We are one family," he said, adding the importance of Taiwan compatriots not only visiting the mainland, but also integrating socially into the fabric of society. The question of US interference on the Taiwan issue was raised at the press conference. Li responded that war benefits nobody. It only causes suffering for all involved. With the spirit of Shanghai's own commercial prosperity, he suggested to US politicians that we all get back to the business of doing business. Cooperation is easier than war. Certainly, that is preventive medicine.
The author is a US documentary filmmaker and a senior international fellow at the Center for China and Globalization.
The opinions expressed here are those of the writer and do not necessarily represent the views of China Daily and China Daily website.
If you have a specific expertise, or would like to share your thought about our stories, then send us your writings at opinion@chinadaily.com.cn, and comment@chinadaily.com.cn.