Better lending products seen in tea leaves
By JIANG XUEQING | China Daily | Updated: 2023-03-14 09:28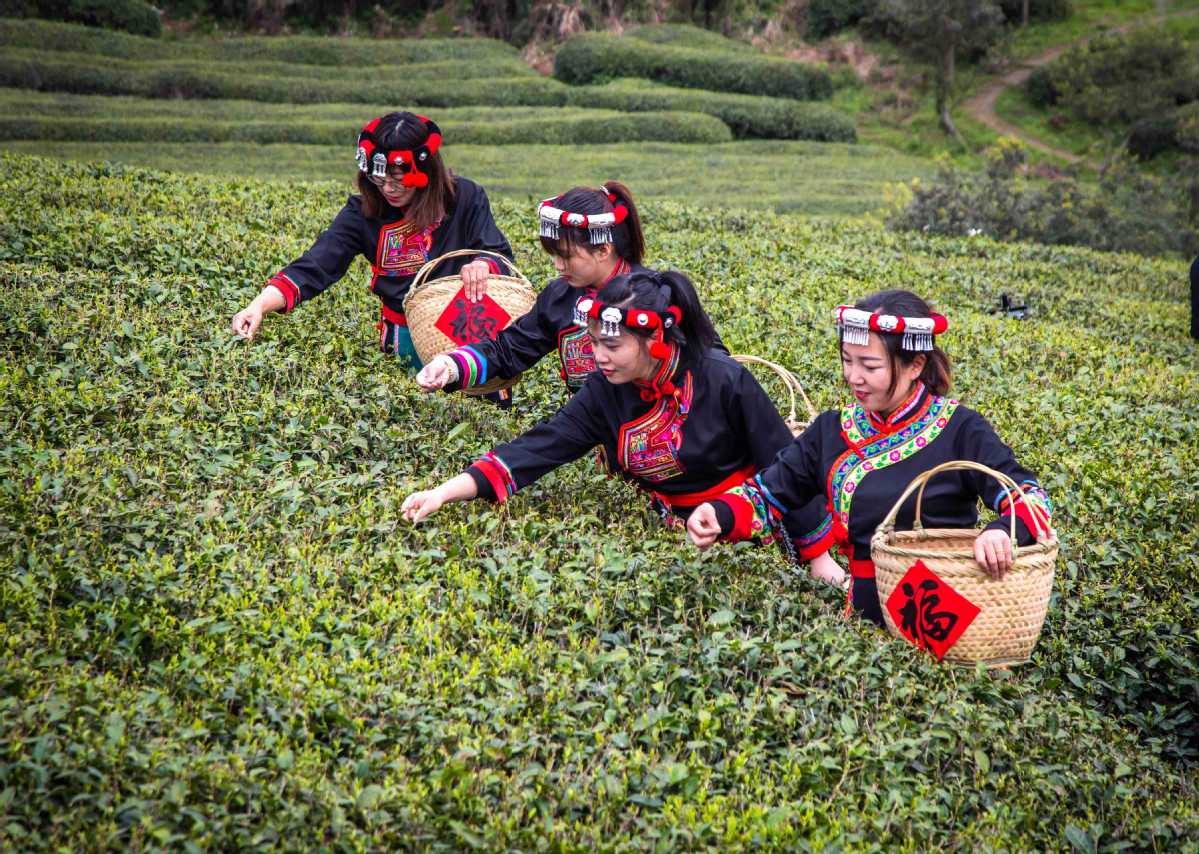 Banks create big data platform, offer GI trademark loans to farmers in Fujian province to boost business
Banking institutions in Fujian province have strengthened financial support for local farmers and agricultural businesses through innovative methods of lending as they strive for rural vitalization.
Rural credit unions and commercial banks in Quanzhou, Fujian province, are issuing geographical indication, or GI, trademark pledge financing to authorized trademark users amid explorations of turning intangible resources into tangible assets.
Yongchun county in Fujian has more than 667 hectares of Narcissus oolong tea gardens, with a total production capacity exceeding 1,500 metric tons per year. In 2009, Narcissus oolong tea from Yongchun was awarded the national geographical indication trademark.
The history of Narcissus oolong tea can be traced back to the Qing Dynasty (1644-1911). As the legend goes, a farmer named Zheng Shibao and his son went to Fujian to make a living. In 1857, they introduced 100 Narcissus oolong tea seedlings from Wuyi Mountain to Xixi village in Yongchun, where they produced tea with a yellow hue, fragrant taste and smooth and sweet aftertaste. This type of tea was later widely introduced to southern Fujian.
Zheng Shengyan, who has been growing Narcissus oolong tea for many years, is an authorized user of the GI trademark. In order to expand his business, he applied for a loan of 200,000 yuan ($28,992) from Yongchun Rural Credit Union's branch in Huyang township, using the GI trademark as a pledged asset.
The Huyang branch of Yongchun Rural Credit Union accepted his application and offered him a loan with a preferential interest rate.
"I have never thought that geographical indication trademarks could be used for a loan application. With the money, I plan to further expand the planting area, purchase more tea-making machines and produce more Narcissus oolong tea," Zheng said.
In the past, many farmers authorized to use GI trademarks were unable to obtain bank loans due to insufficient collateral, long agricultural production cycles, poor risk resistance ability and low profits. They could only raise funds through family, friends or private lending channels at higher costs.
Things have changed since the local government and banking institutions in Quanzhou started promoting the transformation of agricultural resources with regional characteristics into trademark brand advantages, in order to activate rural production factors and facilitate the internal circulation of the rural economy, said Fujian Rural Credit Union's Quanzhou branch.
The Quanzhou Administration for Market Regulation and the Quanzhou branch of Fujian Rural Credit Union have encouraged local banking institutions to provide loans to authorized users of GI trademarks based on the pledge of trademark rights by the registrants.
The administration provided a list of GI trademark owners and authorized users and specified the conditions for handling GI trademark pledge financing.
Relying on a comprehensive information system for rural vitalization, rural credit unions and rural commercial banks in Quanzhou have located the authorized users of GI trademarks on a grid map, automatically pushed them to corresponding account managers for visits and offered customized lending solutions to meet their financing needs.
The credit limit can reach up to 2 million yuan and the interest rate is capped at 100 basis points higher than the one-year loan prime rate, the benchmark lending rate of China's central bank.
Any authorized user of a GI trademark registered in Quanzhou, with the agreement of the trademark owner, can pledge the trademark as collateral for a loan.
The local government has lowered borrowing costs for authorized users of GI trademarks by giving interest subsidies to those who make regular and timely repayments. In addition, guarantee and appraisal fees are subsidized at 0.5 percent of the loan amount.
Currently, there are 54 GI trademarks in Quanzhou, covering over 100,000 farmers and small businesses, and involving various agricultural and sideline products with regional characteristics. This has promoted the development of many agricultural and sideline industries in counties and county-level cities of Quanzhou, such as Tieguanyin oolong tea from Anxi, seaweed from Jinjiang and mandarin oranges from Yongchun, said the Quanzhou branch of Fujian Rural Credit Union.