Maglev tech racing to top among competitors
By ZHONG NAN in Beijing and LIU MINGTAI in Changchun | CHINA DAILY | Updated: 2023-03-15 08:04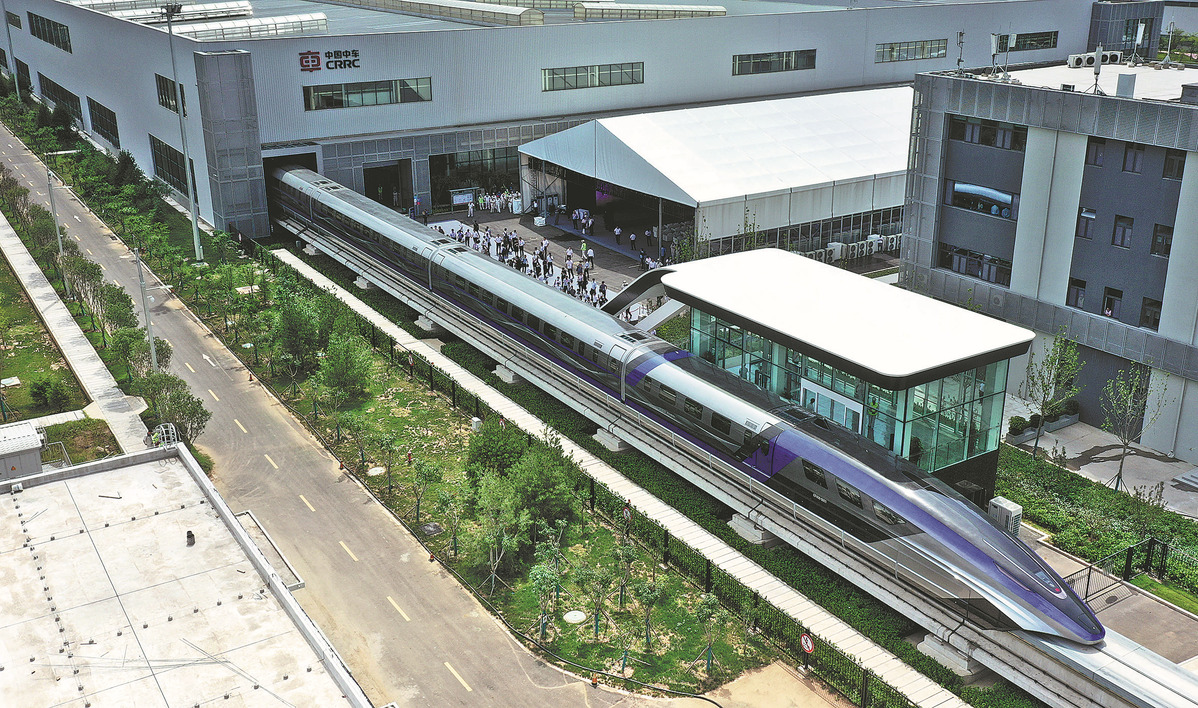 China should accelerate the pace of performance verification and commercialization of its 600-kilometer-per-hour magnetic levitation trains to better compete with established global peers, said the top executive of the country's largest train manufacturer.
To reach this goal, Sun Yongcai, board chairman of State-owned CRRC Corp Ltd — the country's largest rolling stock manufacturer by production volume — suggested the government authorize operational performance tests at speeds below 500 km/h be conducted during night-time operations at a high-speed maglev line in Shanghai, according to information provided by CRRC's press office in Beijing.
After CRRC Qingdao Sifang Co Ltd, a Shandong province-based subsidiary of CRRC, rolled out a high-speed maglev train with a designed top speed of 600 km/h in 2021, the construction of commercial maglev lines for this type of trains should also be considered and promoted by the government domestically, said Sun, who is also a member of the 14th National Committee of the Chinese People's Political Consultative Conference.
Compared with standard bullet trains, high-speed maglev trains have advantages including reduced noise and vibration, larger passenger capacity and lower maintenance costs.
The 600 km/h maglev trains bridge the speed gap between aviation and high-speed railways, contributing to the establishment of a multi-dimensional transportation system with complete, efficient, flexible and convenient features in China, said Sun.
Chinese high-speed trains currently have a top operating speed of 350 km/h, while the cruising velocity of commercial aircraft is about 900 km/h.
The executive said these moves will enrich the spectrum of transportation speeds in China and enhance the independent technological innovation capabilities of rail transportation.
The world's first maglev line, capable of speeds reaching 430 km/h, was launched in Shanghai in 2002. It uses German technology, connecting a subway station with Shanghai Pudong International Airport.
Feng Hao, a researcher at the National Development and Reform Commission's Institute of Comprehensive Transportation, said that CRRC's suggestions show that China has mastered the technology related to high-speed maglev engineering.
He said that Japan will continue to be a strong rival in bullet train development and high-speed maglev train technology. The country has been competing fiercely with China for train orders and railway-related projects in markets like India, Thailand, Malaysia and Indonesia over the past several years.
A Japanese maglev train reached 603km/h on an experimental track in Yamanashi prefecture in 2015, and Japan plans to put maglev trains running at a maximum speed of 505 km/h into operation on the Chuo Shinkansen, a new rail line connecting Tokyo and Nagoya, in 2027, according to Central Japan Railway Co, the railroad's owner and operator.
To reinforce its growth trajectory, China should create a more comprehensive system of standards, not only for bullet trains, but also for other fundamental infrastructure such as railway lines, communications infrastructure, signals and inspection technology, said Zhao Hongwei, chief researcher of the China Academy of Railway Sciences in Beijing.
Apart from supplying the latest bullet trains and light rail trains to clients throughout China, CRRC Changchun Railway Vehicles Co Ltd, a Jilin province-based subsidiary of CRRC, plans to enter more emerging markets and signatory economies of the Regional Comprehensive Economic Partnership agreement this year, as the pact has effectively boosted trade among signatory countries since January 2022.
"We will showcase cutting-edge products, such as a new generation of unmanned subway trains, low-floor light rail trains and locomotives that use a combination of hydrogen fuel and lithium batteries in Brazil later this year," said Jiang Baiyang, the company's chief designer.