Some calm found amid banking storm
By CHANG JUN in San Francisco and HENG WEILI in New York | China Daily Global | Updated: 2023-03-15 11:26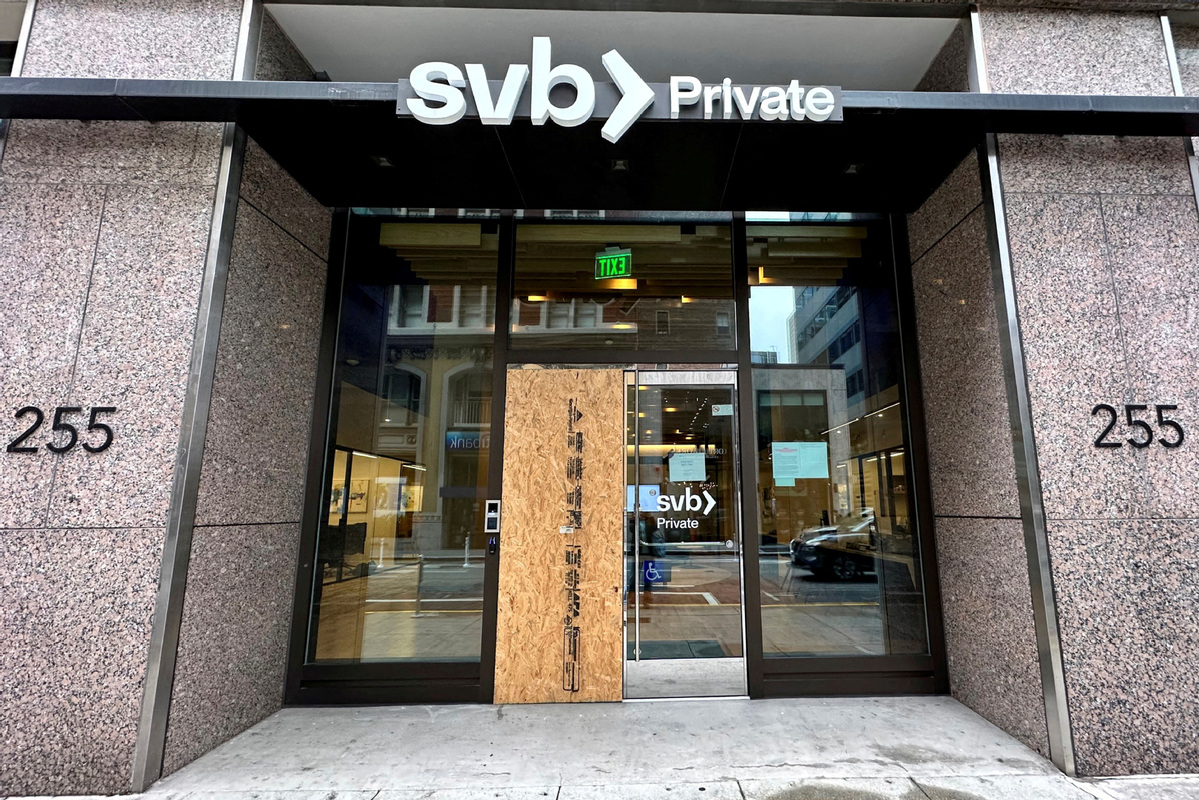 Banks threatened by a liquidity crisis saw something of a return to normalcy on Tuesday.
Smaller regional banks were pressured by days of turmoil following the sudden collapse of Silicon Valley Bank and First Republic Bank both in California, and Signature Bank in New York.
Regional bank shares were battered on Monday but regained their footing on Tuesday. First Republic shares rebounded by more than 30 percent, and PacWest Bancorp rose 36 percent.
At the First Republic Bank branch in Sunnyvale, California, a manager was serving bank customers as usual.
"No, we didn't see a bank run at our branch or sister branches," the manager, Priyanjali Aich, told China Daily, adding that some media reports about her bank group during the past few days were "sensational exaggerations".
"We definitely are in good shape with our capacities. What defines us is our tailored services to our very loyal clients from our community," she said.
Aich, however, admitted that her office had received a heavy volume of phone calls and emails Monday from concerned depositors and partners after the bank's shares fell 62 percent in Monday trading to $39.
"Actions taken by the government have instilled confidence back. Today, everything calmed down and we are back to normal," she said.
A group of US agencies on Sunday announced that all depositors at the banks under siege would have their funds restored — including those above the $250,000 limit set by the Federal Deposit Insurance Corporation (FDIC).
Tim Mayopoulos, the new CEO of a bridge bank to transform Silicon Valley Bank, took office Monday and echoed Aich on winning back confidence.
In an email to customers late Monday, Mayopoulos pleaded: "The number one thing you can do to support the future of this institution is to help us rebuild our deposit base … both by leaving deposits with Silicon Valley Bridge Bank and transferring back deposits that left over the last several days."
Not all existing clients or potential ones, however, were convinced.
Jose Aut, a Fresno, California-based fruit and vegetable wholesaler, has been using small, private banks like First Republic Bank for more than two decades.
"They are customer-centric and convenient to work with," Aut said. Nevertheless, he decided to withdraw a large chunk of his deposits.
"A hard lesson learned from this bank run is never, ever put all the hard-earned money in one bank," Aut said.
The $250,000 FDIC limit for one single bank account doesn't provide a sufficient sense of financial security, he said.
"Breaking news about Silicon Valley Bank collapsing overnight is horrifying. I don't want to experience it myself."
On Tuesday, ratings agency Moody's cut its outlook on the US banking system to "negative" from "stable". US prosecutors also are investigating the collapse of Silicon Valley Bank, according to a source familiar with the matter, Reuters reported.
Roughly 94 percent of SVB's deposits were uninsured because they exceeded the FDIC cap, while Signature had the fourth-highest percentage of uninsured deposits.
Such an unusually high proportion made SVB highly susceptible to the risk that depositors would quickly withdraw their money at the first sign of trouble — a classic bank run — which is exactly what happened.
"I'm at a loss for words to understand how this business model was deemed acceptable by their regulators," said Aaron Klein, a congressional aide, now at the Brookings Institution, who worked on the Dodd-Frank banking regulation law that was passed after the 2008 financial crisis.
The Federal Reserve was the primary federal supervisor of SVB, which also was overseen by the California Department of Financial Protection and Innovation.
In other economic news, US consumer prices increased solidly in February as Americans faced persistently higher costs for rents, posing a dilemma for the Fed, whose fight against inflation has been complicated by the collapse of the two regional banks.
Economists disagreed on whether the report from the Labor Department on Tuesday, which also showed underlying consumer prices rising by the most in five months, would compel the Fed — which will meet on Tuesday and Wednesday next week — to prioritize bringing inflation under control or focus on financial markets stability.
Some expect a quarter-point interest rate increase, while others believed a pause in the US central bank's fastest monetary policy-tightening cycle since the 1980s was likely.
"The Fed is going to have to pick its poison, tolerate some inflation for a bit to see if its current series of rate hikes takes hold and pause, or keep hiking and deal with the financial instability caused by their own policy decisions," said Jamie Cox, managing partner at Harris Financial Group in Virginia.
In the 12 months through February, the Consumer Price Index (CPI) increased 6 percent, the smallest year-on-year gain since September 2021. The CPI peaked at 9.1 percent in June, which was the largest increase since November 1981.
Despite the signs of moderation, monthly inflation is still rising at double the rate that economists say is needed to bring inflation back to the Fed's 2 percent target.
"Inflation remains a thorn in the Fed's side, and the February CPI supports our baseline forecast for a 25bps increase in the fed funds rate," said Ryan Sweet, chief US economist at Oxford Economics.
The Fed has increased its benchmark overnight interest rate by 450 basis points since last March from the near-zero level to the current 4.50-4.75 percent range.
Agencies contributed to this story.
Contact the writers at junechang@chinadailyusa.com.