Brands raise prices, consumers raise cultural identity
By Mike Bastin | China Daily | Updated: 2023-03-16 07:28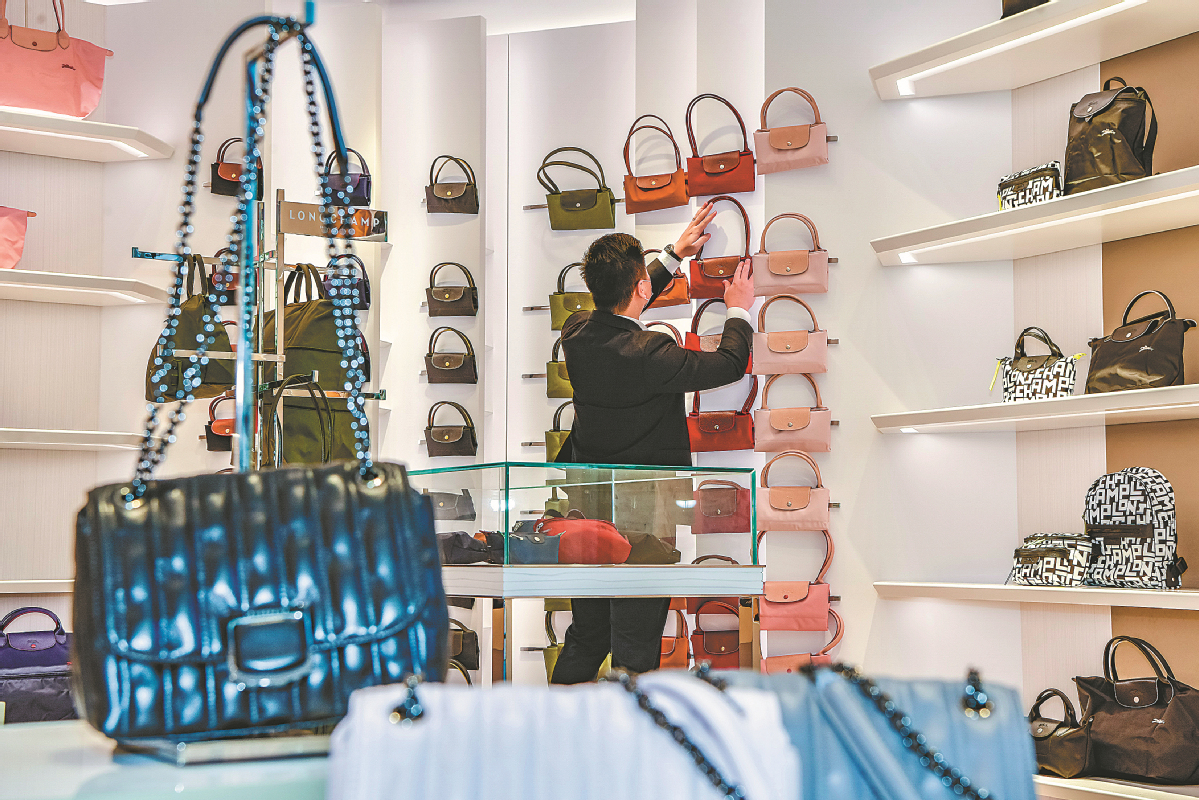 LV, Hermes and other high end luxury brands are all set to raise prices further in China and yet the demand for their products continues to soar. Why?
The immediate reasons could be the end of the COVID-19 pandemic, and consumers indulging in "revenge shopping" with the money they have saved during the three years of the pandemic.
But perhaps there is more to this continued increase in luxury goods' consumption in China?
Global consultation company Bain recently revised its estimate of the rise in luxury fashion goods' consumption in China but still forecast that by 2030 a whopping 40 percent of all luxury products' consumers will be in China.
Even this data, however, mask important and fundamental changes in both luxury brand identity in the Chinese market and the meaning of luxury fashion brand consumption by the Chinese people, especially the younger generation.
Chinese luxury fashion consumers are younger than their global counterparts. Big luxury fashion consumers in China are typically aged between 18 and 35 years, with those between 26 and 35 years being the biggest consumers. Indeed, there is quite a significant change in this younger group's lifestyle, attitude and, more importantly, their cultural identity.
The Chinese government has been giving priority to the recovery and expansion of consumption, stabilizing spending on big-ticket items and promoting recovery of service consumption.
The younger Chinese luxury fashion consumer increasingly favours luxury items that include aspects of traditional China, that is, traditional Chinese elements or expressions that contribute to a changing cultural identity where pride in the past and nostalgia dominate.
Furthermore, cultural identity has usurped conspicuous consumption as the main driver behind the increase in luxury consumption among younger Chinese consumers. For Western luxury fashion brands to continue to succeed in China, therefore, they have to build on their Western aesthetics with an effective fusion of traditional Chinese elements, ranging from the very tangible forms of Chinese embroidery to the more subtle and regional Chinese rose.
Encouragingly for Western luxury brands, this fusion is becoming more common. LV, for example, recently appointed Pharell Williams as its new menswear creative director. Williams has built a global reputation for breaking down boundaries and delving into different cultures in his previous work. Hopefully, Williams will progress to a similar project that began in 2019 between Italian luxury fashion house Marni and the use of the traditional Chinese embroidery of the Miao ethnic group in South China.
Chinese luxury fashion consumers appear to attach great value to ongoing "Marni Miao" collaboration.
China's second- and third-tier cities, often provincial capitals and second most important provincial cities, are also becoming more attractive profit destinations for Western luxury brands as wealth spreads across the Chinese mainland. So knowledge of local culture and local traditional clothing and related products will also become a key to success in these areas.
It behoves Western fashion brands, therefore, to gain an intricate insight into the minds of younger Chinese luxury consumers.
Queues for LV brands and other established Western luxury brands in China will continue to be long but will not go on forever unless significant changes take place in both design and delivery of these brands in China. Chinese social media platforms and Chinese social media influencers are also playing a vital role in Western luxury brands' penetration and expansion in the Chinese market.
Western luxury brands appear to have gained some understanding of WeChat and Weibo but more recent platforms such as Douyin (TikTok), Xiaohongshu (Little Red Book) and Bilibili (a YouTube-like website in China) still remain poorly understood and under-used.
Chinese social media influencers and key opinion leaders also appear to have become increasingly important, even essential to attract and retain Chinese consumers. Social media influencers should feature heavily in any Western luxury fashion branding campaign in China to help the brand gain a foothold or consolidate its position in the Chinese market.
Western luxury fashion brands also need to take note of the rising importance of key opinion consumers in China and the subtle but significant difference between key opinion leaders and key opinion consumers, because the latter are invited to try the luxury fashion brands and experience them for a short time before giving feedback.
The rise in quality and sophistication of Chinese luxury brands are also a big challenge to the established Western luxury brands. Chinese brands such as Xander Zhou and Li Ning have bonded with Chinese consumers and present a very real competitive challenge to the likes of Gucci and LV. In fact, it was Li Ning that started guochao, which means "native wave" and the use of traditional Chinese elements in fashion, with their "Designed in China" autumn 2018 menswear collection championing traditional colors red and yellow.
But no matter how tech-savvy the younger Chinese luxury consumers are, Western luxury brands need to look beyond digital technology and understand the new cultural meaning of luxury fashion among Chinese Gen Z and how the effective use of traditional Chinese elements can further enhance this identity.
Indeed, it may well be the dominance and ubiquity of digital technology that is creating the desire for traditional Chinese elements among younger Chinese luxury fashion consumers. A gentle juxtaposition of tradition alongside modernity.
The guochao trend is here to stay and only those Western luxury brands that embrace this and make effective use of traditional Chinese elements will survive in China.
The author is MA Fashion Marketing and Branding programme leader at the University of Southampton's Winchester School of Art. The views don't necessarily reflect those of China Daily.
If you have a specific expertise, or would like to share your thought about our stories, then send us your writings at opinion@chinadaily.com.cn, and comment@chinadaily.com.cn.