Domestic banks ready to counter global turmoil
By SHI JING in Shanghai and HENG WEILI in New York | chinadaily.com.cn | Updated: 2023-03-16 22:35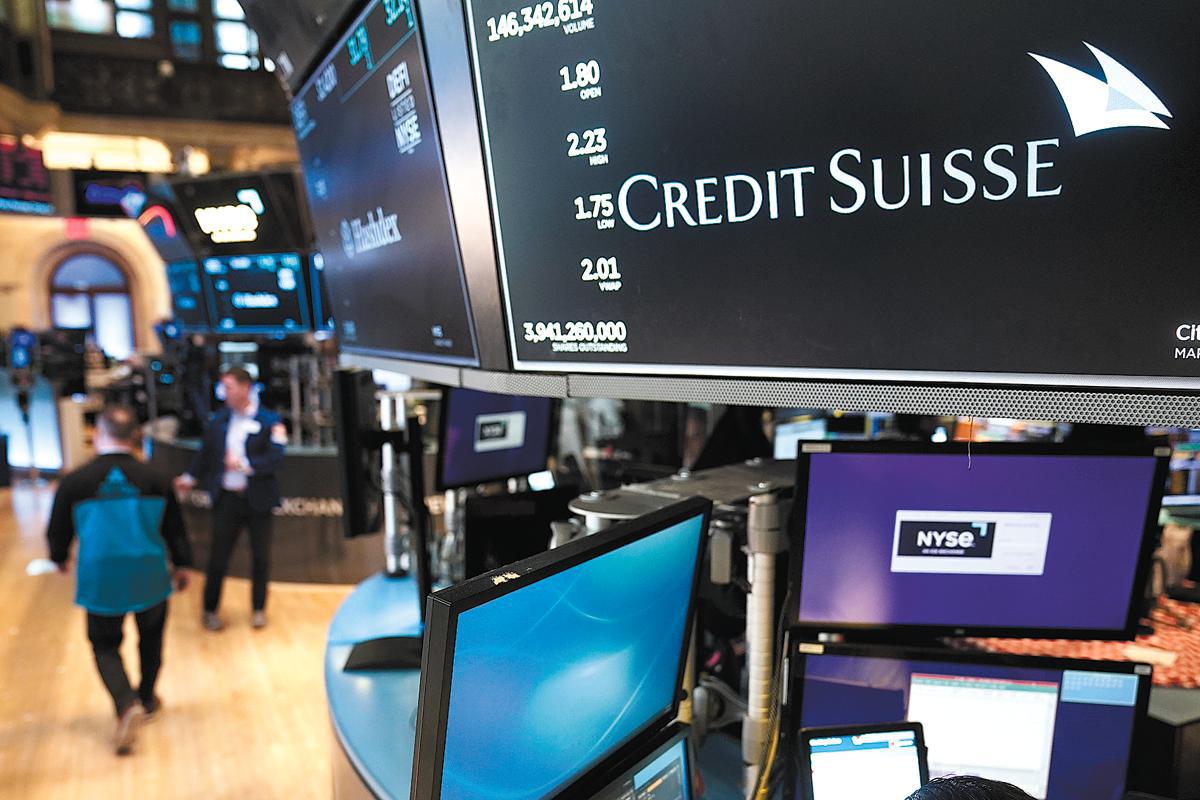 Bank: Similar cases unlikely to happen in China
With troubled Swiss bank Credit Suisse casting a shadow over the global banking system, China's system is better placed to avoid any turmoil given its relative independence and a stable interest rate environment, experts said on Thursday.
Credit Suisse's one-year credit default swaps — the derivative showing the cost of insuring its bonds against default — surged to 1,000 basis points on Wednesday, similar to levels seen during the 2008 financial crisis and an indication that the bank is in deep financial distress.
The bank's shares opened at 2.28 Swiss francs ($2.46) per share on Wednesday morning, before falling to 1.55 francs, and closing at an all-time low of 1.70. However, its share price soared more than 30 percent on Thursday morning, after the bank announced it will borrow up to 50 billion Swiss francs from the Swiss National Bank, the country's central bank.
Credit Suisse's problems followed the sudden collapse of Silicon Valley Bank in the United States, which was caused by asset-liability mismatch risks. On Wednesday, European banks also saw their prices slashed by 6 percent on average, while big US banks like JPMorgan Chase and Citigroup each fell about 5 percent.
Cases similar to Credit Suisse and SVB are unlikely to happen in China thanks to the country's orderly and stable interest rate environment, reasonably ample liquidity and banks' prudential management, said Xiao Feifei, chief banking industry analyst at CITIC Securities.
The People's Bank of China, the Chinese central bank, said in a statement released on Wednesday that efforts will be made to further consolidate the mechanism to deal with financial crisis, strengthen supervision, and warn about and evaluate financial risks. In this way, financial risks can be discovered, rectified and addressed at an early stage. The PBOC recently held a financial stability work conference.
Unlike the US or Europe, where interest rates have risen sharply after the COVID-19 pandemic, China's interest rates has remained largely stable. The interbank short-term interest rates and mid- to long-term government bond interest rates have stayed at relatively low levels compared to historical data, said Ni Jun, chief banking industry analyst at GF Securities.
The huge loss confronting US and European banks related with government bond investment does not exist among Chinese banks. Most Chinese banks' assets have been invested in the real economy over the past two years, including manufacturing and strategic emerging industries, he said.
Switzerland's second-largest bank, Credit Suisse has faced serious problems in recent years. Its assets totaled $574 billion at the end of last year, down 30.7 percent from 2021 and 37 percent in 2020.
Credit Suisse is far larger than SVB and considered important to the global financial system.
"Credit Suisse has been a (slow)-moving car crash for years it seems, but now today's news of course is happening in the vortex of SVB," wrote Peter Boockvar, chief investment officer at Bleakley Financial, reported CNBC.
Zhou Lanxu in Beijing contributed to this story.
Contact the writers at shijing@chinadaily.com.cn