China's Law-Based Cyberspace Governance in the New Era
China Daily | Updated: 2023-03-17 07:17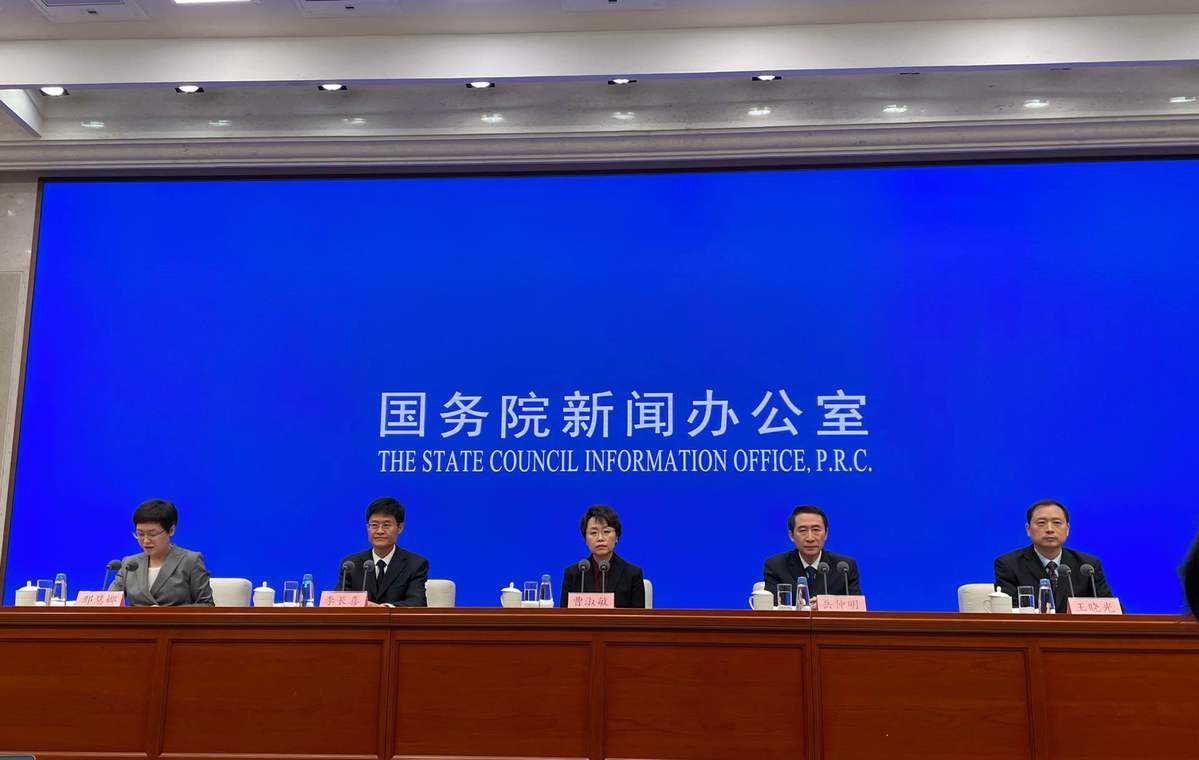 The State Council Information Office of the People's Republic of China March 2023
Editor's Note: China's State Council Information Office on Thursday released a white paper titled "China's Law-Based Cyberspace Governance in the New Era." Full text follows:
Contents
Preface
I. Upholding the Rule of Law in Cyberspace
II. Consolidating the Legal System for Cyberspace Governance
III. Keeping Order in a Rule-Based Cyberspace
IV. Defending Fairness and Justice in Cyberspace
V. Promoting Public Awareness and Competence in Law-Based Cyberspace Governance
VI. Increasing International Exchanges and Cooperation in Law-Based Cyberspace Governance
Conclusion
Preface
The internet is one of humanity's great achievements. Although it facilitates economic and social development, at the same time it poses severe challenges in terms of administration and governance. The development and governance of the internet is a goal shared by all countries for the benefit of humanity, and the rule of law has proved to be essential to internet governance. It has become a global consensus to apply law-based thinking and approaches based on an understanding of the rule of law.
Since China was fully connected to the internet in 1994, it has committed itself to law-based cyberspace governance, ensuring that the internet develops within the confines of the law. In the new era, guided by Xi Jinping Thought on Socialism with Chinese Characteristics for a New Era, China has made law-based cyberspace governance an essential part of the overall strategy of the rule of law and the drive to build up its strength in cyberspace.
Marked improvements have been made in ensuring law-based cyberspace governance. China has boosted cyberspace governance by developing a complete system of laws and regulations, a highly efficient enforcement system, a stringent supervision system, and an effective supporting system. With participation of the government, businesses, social organizations and netizens, cyber legislation, law enforcement, and judiciary work have advanced alongside programs to spread legal knowledge via the internet, publicize cyber laws and cultivate the public's awareness in laws. This is a pioneering approach to cyberspace governance in line with international best practices. With stronger domestic capacity in law-based internet governance, China has contributed ideas and solutions to global internet governance.
The Chinese government is publishing this white paper to introduce China's progress and experience in law-based cyberspace governance.
I. Upholding the Rule of Law in Cyberspace
Adapting to the developing trends of global information technology, China set out from its own realities to integrate law-based cyberspace governance into the overall national strategy of the rule of law, gaining knowledge and experience in the process. It has pioneered a distinctive Chinese approach to law-based cyberspace governance.
— People-centered development. In China, the people contribute ideas and solutions and play a principal role. Their rights, interests, aspirations and wellbeing are the focus in every aspect of cyber legislation, law enforcement, judiciary work, public education, and all other areas of law-based cyberspace governance. China protects people's legitimate rights and interests in cyberspace, and fully respects netizens' right to express ideas and exchange views. It has strengthened law-based cyberspace governance, taking resolute action against cybercrimes to keep order in this virtual world, and striving to create a safe, fair, healthy, clean and sound cyber environment.
— Further development of the internet. The purpose of law-based cyberspace governance is to guarantee the healthy and orderly development of the internet, not to hold it back. Under law-based cyberspace governance, China has guided and regulated efforts to build a high-quality digital China — improving the governance system for the digital economy, the legal framework of digital government, and the digital society initiative. Placing equal emphasis on development and security, China has consolidated its lines of defense so that the internet grows in a secure environment and further boosts cybersecurity. Cyberspace has thus been turned into a powerful engine for socioeconomic growth, rather than an area of uncertainty.
— Proceeding from realities. China is the world's largest developing country and has the largest number of internet users. It boasts a large number of business platforms that offer all types of products and services. As a result, there are diverse legal subjects, relationships and situations where different laws apply. With all this in mind, China handles the relationships between development and security, freedom and order, openness and autonomy, and administration and service in an appropriate manner. It has conducted in-depth research on frontier areas of overbearing importance, employing law-based thinking and approaches to break through bottlenecks in internet development and find solutions for healthy internet growth.
— Innovation-driven cyberspace governance. The internet is a result of innovation and has flourished because of it. Law-based cyberspace governance cannot be achieved without innovation. With a keen understanding of the unprecedented difficulties and complications in cyberspace governance, China has been forward-looking in responding to the risks and challenges brought by new internet technologies, applications, and business forms and models, and promoted innovation in the concept, content, approach and methods of law-based cyberspace governance. By creating and improving rules on algorithm, blockchain technology, and other new technologies and domains, it has filled gaps in key areas where legislation once lagged behind. A system for comprehensive cyberspace governance is now in place, and new models of cyber judiciary work have been created. Driven by innovation, China has raised its capacity for internet governance in all areas.
— Openness and cooperation. Upholding cyber sovereignty, China has drawn from the experience of other countries in cyberspace governance, planning internet development in a global context and pioneering a distinctively Chinese model of internet governance in line with international best practice. It has played an active part in working with other countries to formulate rules for cyberspace governance, and engaged in international exchanges and cooperation in law-based cyberspace governance. It is committed to building a multilateral, democratic and transparent global internet governance system together with other countries.
In the new era, China set out from its realities and learned from advanced foreign experience to explore its own approach to cyberspace regulation and governance, maintaining the right orientation while pursuing innovation. Significant achievements have been made in a range of areas, building up China's strength in cyberspace and adding momentum to law-based governance of the country, as well as contributing to national governance by the CPC in the information age.
— A guarantee of the transformation from scale to strength. China is building up its strength in cyberspace through these goals: universally available network infrastructure, significantly greater capacity of independent innovation, comprehensive development of the digital economy, guarantee of cybersecurity, and balanced ability of cyber attacks and defense. Major progress has been made in China towards these goals, as evidenced by the world's largest number of netizens, the largest and most advanced fiber-optic broadband and mobile telecommunication networks, and world-leading 5G technology, industry and applications. China's Internet of Things (IoT) now connects more cellular terminals than mobile phone users.
China's digital economy has been growing with a strong momentum. In 2021, its value reached RMB45.5 trillion, ranking second in the world. New internet technologies are widely used in areas such as education, employment, social security, medical and health care, sports, housing, transport, support for persons with disabilities, and elderly care. Internet Plus services are running on a track of healthy development in accordance with the law. China has created the world's largest active digital society.
— Law-based national governance fully implemented in cyberspace. In China, the principle of law-based governance of the country applies equally in cyberspace. The Law-based Governance of China Initiative has been implemented, and progress has been made in law-based cyberspace governance by ensuring sound lawmaking, strict enforcement, impartial administration of justice, and the observance of the law by all. Under socialist rule of law with Chinese characteristics in cyberspace, the groundwork for cyber legislation has been laid, contributing to and improving China's socialist legal system. Cyber law enforcement has continued to strengthen. By taking tough action against illegal behaviors in cyberspace, China has fostered a sound cyber environment and maintained online order, which contributes to peace and harmony in the society as a whole. Rules of cyber adjudication have improved, more online cases have been handled, and justice is served in cyberspace as elsewhere. Knowledge of cyber laws has been further spread, and netizens have acted accordingly — respecting, learning, abiding by, and using the law. The Chinese people's awareness of and literacy in the law has increased.
— Contributing ideas, experience and solutions to global internet governance. Cyberspace is a shared space for human activities; it must be developed and managed by all countries. China has formed its own approach to law-based cyberspace governance by advancing legislation, law enforcement, judiciary work, and programs to spread knowledge about cyber laws, and has shared its experience with the world. It has taken an active part in global internet governance, promoting the G20 Digital Economy Development and Cooperation Initiative and the Global Data Security Initiative, and other proposals and declarations. It raised the principle of cyber sovereignty, and advocates that the principle of sovereign equality established by the UN Charter be applied to cyberspace, thereby contributing ideas and solutions to cyberspace governance.