Instrument of diplomacy
By Chen Nan and Shi Ruipeng | China Daily | Updated: 2023-03-17 08:46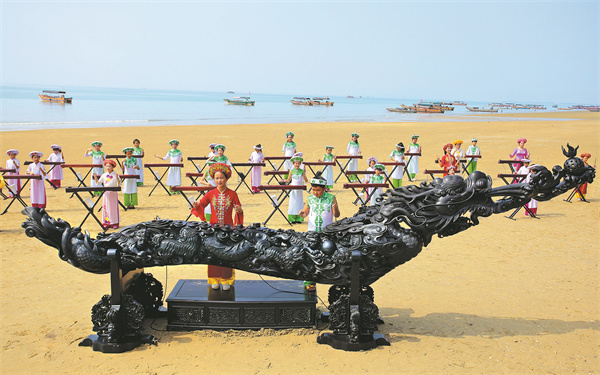 Duxianqin, or one-string dulcimer, is a traditional musical instrument of the Jing ethnic group. As its name suggests, the old musical instrument — with a history dating to the 8th century — has only one string and is capable of producing two different sounds at the same time.
The performers usually hold the instrument with their left hand and pluck the string with a tiny piece of bamboo with their right. While plucking the instrument's string, the performers simultaneously control the pitch by moving a "wand" which protrudes upward, to adjust the tension on the string.
Su Haizhen grew up listening to the unique musical instrument, which is often performed as an accompaniment to folk songs of the Jing ethnic group and during its traditional folk festivals.
"The sounds of duxianqin are similar to the pronunciation of Jing language, which is both soft and produces a strong nasal tone. I always feel close to the musical instrument," says Su.
She started learning to play duxianqin at 8 years old. Now, as an inheritor of the musical instrument, which was listed as a part of China's national intangible cultural heritage in 2011, Su is the head of Dongxing Jing Ecomuseum, which is located in Jiangping town, Dongxing, Guangxi Zhuang autonomous region. Founded in 2008, the ecomuseum is dedicated to preserving and promoting the history and culture of the Jing ethnic group.
Among China's ethnic groups, the Jing people are the only group known for their marine culture, with a small population of about 30,000. The majority of the population live on three islands in Dongxing: Wanwei, Wutou and Shanxin.