Quartet marks 40 years of supreme harmony
By ZHANG KUN in Shanghai | China Daily Global | Updated: 2023-03-17 08:48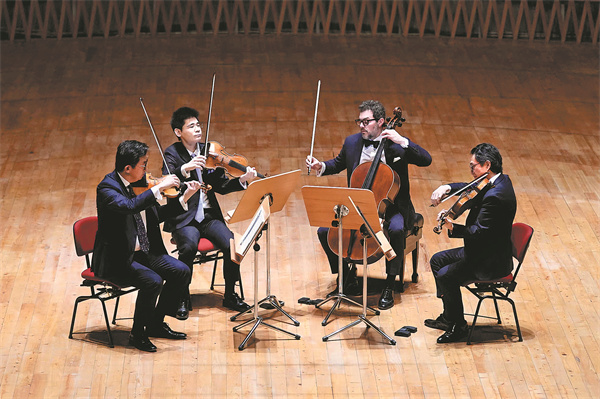 The Shanghai Quartet kicked off its 40th birthday celebrations with a concert at the Shanghai Symphony Hall on Sunday.
One of the first chamber groups in China, the quartet, which, in the beginning, consisted of four students from the Shanghai Conservatory of Music, was founded in 1983. The group has since then played around 3,000 concerts in 35 countries and regions, and recorded more than 30 albums.
"Never did we think we could have carried on for so many years," says violinist Li Weigang, who is one of the founding members of the group along with his elder brother Li Honggang. The other two current members are cellist Nicolas Tzavaras from the United States, who has been with the group for 25 years, and Chinese violinist Yu Xiang, who joined the group in 2021.
Back in the 1980s, chamber music was rarely performed in China, and it was the former Ministry of Culture that suggested the country's leading music conservatories set up student chamber groups to prepare for an international competition that was to be held in 1985 in Portsmouth in the United Kingdom.
"We thought we would travel abroad, have the competition and that would be it," Li Weigang recalls. "But the jury and a music teacher were so impressed by our performance that they said it would be a pity if we disbanded after the competition."
The quartet later applied for scholarships and went on to study in the US before embarking on a long performing career and becoming one of the most renowned chamber ensembles in the world.
While the Li brothers remain as the core of the ensemble, cellist Tzavaras has been in the ensemble longer than any other musician.