Smart agriculture boosts vitality in Zhejiang
By MA ZHENHUAN in Hangzhou | China Daily | Updated: 2023-03-17 09:38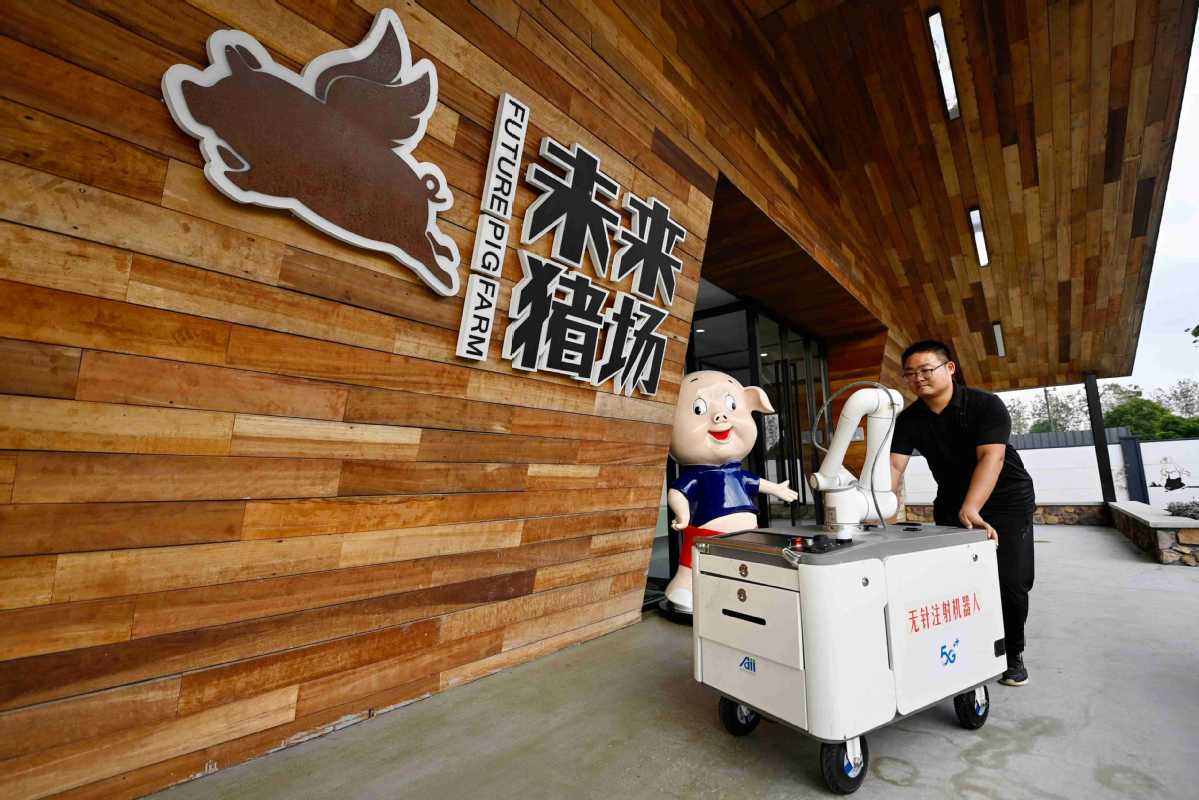 Big data, cloud computing, internet create 'planting brain', supporting modernization, lower costs, higher labor efficiency
More cutting-edge technologies have been deployed in agricultural production and smart farm management, promoting advanced agricultural and rural modernization in China.
Among the smart farms in China, one agricultural farm located in Haishu district of Ningbo in East China's Zhejiang province has expanded its footprint by deeply integrating modern technology such as big data, cloud computing and the internet, with traditional agriculture.
"The basic conditions of agriculture in Haishu district are all displayed on the screen in Haishu Future Farm. It presents the variety of seedlings, the real-time situation in the seedling room, the total number of rice plants and the planting conditions in various townships," Lin Jiawei told China Daily.
Lin is an agricultural technician who is responsible for equipment management and data operations at Haishu Future Farm.
Lin explained that the whole system is called a "planting brain", which integrates water and fertilizer, precision planting, nutrient management, pest control, agricultural regulation and monitoring and precision harvesting, largely enhancing agricultural production efficiency.
Haishu Future Farm, originally called the high-quality and high-efficiency rice planting field of digital agricultural technology integration demonstration project, is located in the modern ecological agriculture comprehensive area of Mijiaopian, Gulin township, Haishu district.
"The project aims to accelerate the process of transforming traditional agriculture into modern agriculture, combining agricultural machinery, rice conditions and irrigation with the internet, remote sensing drones and unmanned driving," said Lin.
Located in the western suburbs of Ningbo, Gulin township is a typical water town south of the Yangtze River. In 2017, it was the only digital agriculture planting field project in East China as one of the pilot projects of the Ministry of Agriculture and Rural Affairs.
The project was completed from 2017 to 2022 and was upgraded and renamed Haishu Future Farm in the second half of 2022.
The total construction area of the entire project reaches 7.27 square kilometers and is expected to be completed next month.
"Originally, the project was only aimed at rice cultivation. Now, it expands to almost the whole agricultural industry in Haishu district, including farmlands, orchards and family farms," Lin told China Daily.
"In addition, Haishu Future Farm puts much effort into integrating production, education and research. It also combines agriculture and tourism, attracting many tourists and bringing vitality to the rural economy," said Lin.
"After its completion, it will form a complete high-quality, efficient and precise rice planting technology system and establish a sustainable development operation mechanism. Labor costs of the project area are expected to be reduced by 10 percent, water will be conserved by 10 percent and fertilizer use will be cut by 8 percent," said Lin.