Deadly floods hit Turkish quake recovery
By JONATHAN POWELL | China Daily Global | Updated: 2023-03-17 09:38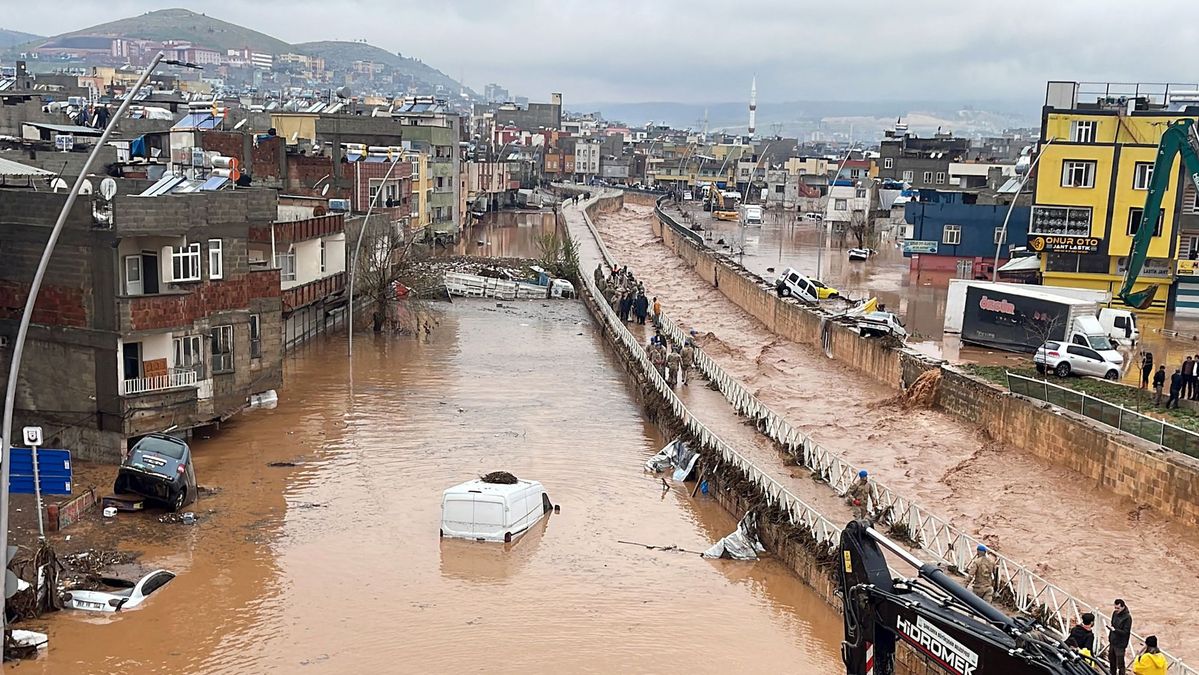 At least 14 people have died in deadly floods that swept through two southeastern Turkish provinces devastated by last month's earthquakes.
Torrential rain late on Tuesday caused flash floods that turned streets in Adiyaman and Sanliurfa provinces into rivers, inundating homes, sweeping cars away and drenching campsites sheltering earthquake survivors, reported the Associated Press news service.
Officials and media reports said at least 12 people were killed in Sanliurfa, including five Syrian nationals whose bodies were recovered from a flooded basement apartment.
Reports said many of those that have died had been living in tents and container housing set up across the quake-hit southeast. A woman living in a container was among two people killed in Adiyaman, reported the BBC.
According to search and rescue organization Afad, in one area of Adiyaman province, 136 mm of rain had fallen in one 24-hour period, and the region of Sanliurfa saw 111 mm of rain, one-third of its annual total, in the past two days.
Turkiye's Interior Minister Suleyman Soylu told media that rescue teams were still searching for others reported missing in three locations.
"Currently, we have 10 teams composed of 163 people doing search and rescue work across a 25-kilometer stretch," Soylu told reporters. "We also have divers. But the weather conditions are not allowing us to do much," he said.
Speaking to CNN Turk television, the governor of Sanliurfa, Salih Ayhan, said: "We are fighting a very intense struggle. Sanliurfa has never seen such a flood in its history. There are warnings, our divers are intervening. I hope there will be no trouble. Most importantly, we are evacuating our hospital, we have 200 patients, we are evacuating to other hospitals."
Dramatic television pictures from Sanliurfa showed flood waters surging along a street, where rescuers, using a rope, were seen lifting a man to safety from an inundated underpass. Earthquake survivors were evacuated from a saturated campsite in Sanliurfa, the Turkish DHA news agency reported.
Locals told the Anadolu news agency they were evacuated from a flooded street in Sanliurfa by boat. "The situation is miserable," said one, Melek Yildirim. "We've even forgotten about the earthquake. We've forgotten everything. Household goods, even cars were in the water. May God not allow us to live through this again."
It is only five weeks since two earthquakes struck southeastern Turkiye and Syria on Feb 6, killing some 52,000 people and leaving many homeless. More than 200,000 buildings in Turkiye either collapsed or were severely damaged.
Turkiye's President Recep Tayyip Erdogan, who faces elections on May 14, is contending with the aftermath of the earthquakes, and a public backlash over his government's response to the natural disaster.