French violinist set to renew acquaintance
By Chen Nan | China Daily | Updated: 2023-03-18 09:23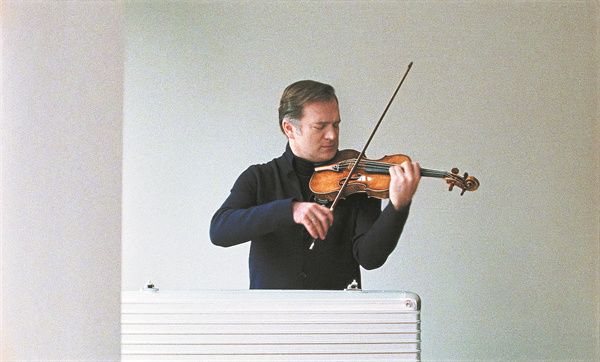 French violinist Renaud Capucon will give a concert in Shanghai on May 19, one of the first international performances in China since the country optimized its COVID-19 response.
The violinist will perform as part of the Shanghai Oriental Art Center's ongoing concert season, which kicked off on March 3 and will run until Aug 8.
With more international artists joining, such as Russian pianist Daniel Kharitonov and Polish pianist Katarzyna Borek, the center's ongoing season is slated to feature 91 shows, ranging from classical music and ballet to plays and musicals.
Capucon will play works by French composers, such as Claude Debussy, Maurice Ravel and Cesar Franck.
"I performed in Chinese cities almost every year before the pandemic," says Capucon. "I am very excited about the upcoming concert in Shanghai, and it's really been a long time since I performed for Chinese audiences."
He adds that there will be more stops in Chinese cities, though they have not been confirmed yet.
The violinist made his debut in China in 2004, and has since performed a number of times in the country. In 2016, he played Ravel's Tzigane in cooperation with Geneva-based Orchestre de la Suisse Romande at the National Centre for the Performing Arts in Beijing. In 2017, he returned to the NCPA, playing three sonatas of different styles by Ludwig van Beethoven, Ravel and Franck.
"I could feel the warm feedback from the audience. They completely followed the music," says the violinist, noting that Chinese classical music audiences tend to be particularly young.
He is not performing works by Chinese composers on this particular concert. But he is receptive to the idea of playing such pieces, especially the classic Chinese violin concerto The Butterfly Lovers, written by Chen Gang and He Zhanhao in 1959.
During the pandemic, Capucon, like many people, stayed at home and slowed down his life, which used to be a hectic schedule of touring, recording and teaching. He played music every morning and recorded different pieces, which he shared with the public through the internet.
"It is true that music comforts me. It's a great way to share feelings that cannot be expressed through words to other people," he says.
Born in Chambery in 1976, Capucon began his studies at the Conservatoire National Superieur de Musique et de Danse de Paris at the age of 14, winning numerous awards during his five years there.
Later, he moved to Berlin to study with established violinists Thomas Brandis and Isaac Stern.
In 1997, he was invited to become the concertmaster of the Gustav Mahler Jugendorchester, an orchestra based in Vienna, Austria, which he led for three summers. He has since established himself as a soloist, performing with leading orchestras, such as the Berliner Philharmoniker, the Vienna Philharmonic and the London Symphony Orchestra.
Capucon's latest ventures include founding a chamber music ensemble in 2017, named Lausanne Soloists, which comprises current and former students of the Haute Ecole de Musique in Lausanne, Switzerland, where he has held a professorship since 2014.
His new album, featuring a series of violin concertos by Wolfgang Amadeus Mozart, will be released in June.