SAIC MGs set sail for Mexico
By LI FUSHENG | CHINA DAILY | Updated: 2023-03-20 07:56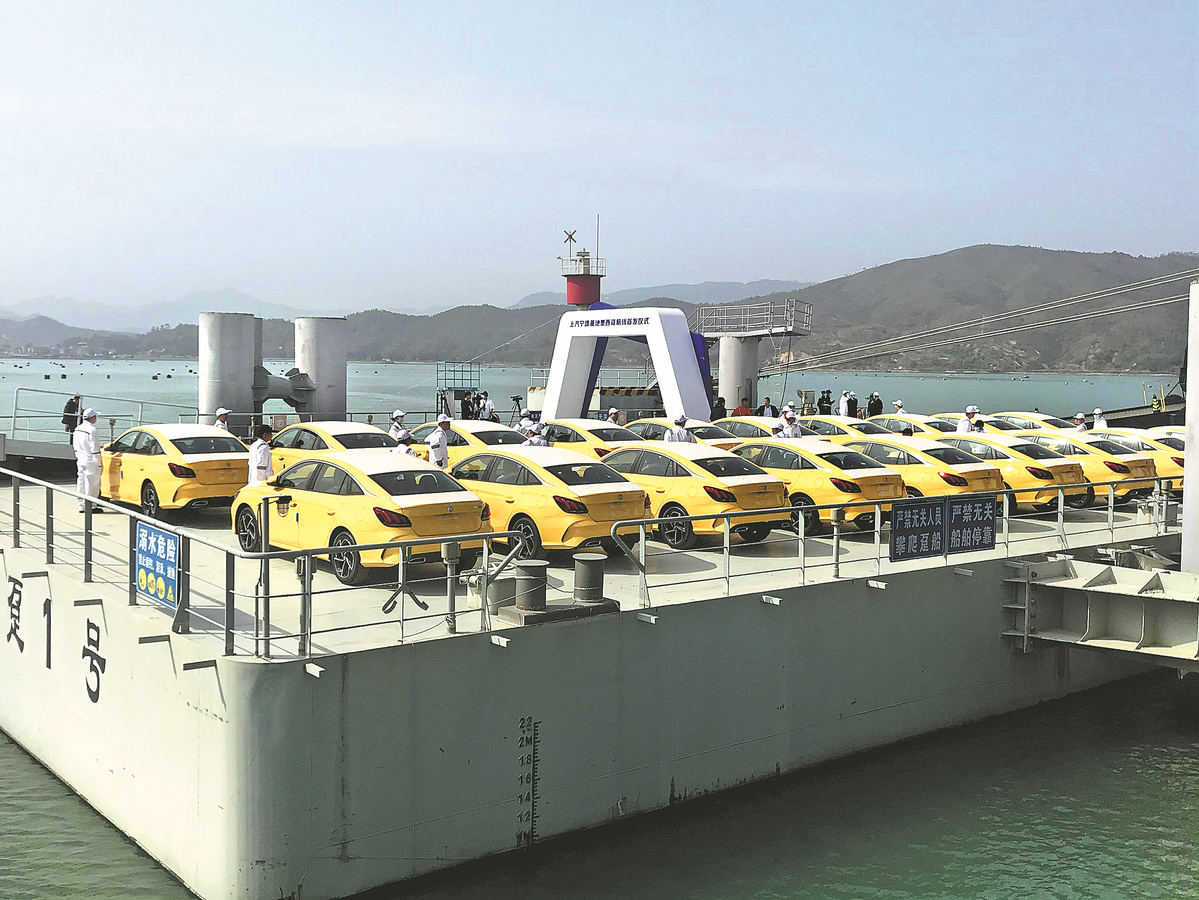 Chinese automobile giant and its logistics subsidiary look to the future of selling in international market
Phoenix, a Ro-Ro cargo vessel owned by SAIC Motor's logistics subsidiary Anji, left Ningde, East China's Fujian province, on Thursday for Lazaro Cardenas, a port city in Mexico.
The 13,500-kilometer maiden route will take the vessel loaded with around 1,000 MG vehicles 23 days, according to Anji President Wang Zemin.
He said it will cut the time needed by "three to five days" compared with the previous method of transporting the vehicles from SAIC's Ningde plant to Shanghai and then shipping them.
The new route is the latest symbol of the increasing popularity of Chinese vehicles in overseas markets.
In 2022, Anji shipped more than 600,000 SAIC vehicles to global destinations, including Europe and North America. In the first quarter, its shipments will reach 160,000 units, up 25 percent year-on-year, said Wang.
SAIC has been China's largest vehicle exporter for seven years in a row. Besides Anji, it works with other shipping companies. Through them, the carmaker exported 1.02 million vehicles in 2022, up 45.9 percent year-on-year, and 65 percent of them were SAIC's brands, primarily MG and Maxus.
"Around one in three Chinese vehicles sold overseas are SAIC ones," said Zhao Aimin, executive vice-president of SAIC International, who is in charge of the carmaker's overseas business.
He expects the figure to grow to 1.2 million vehicles this year, with Europe, the Middle East and Mexico among its major markets, and up to 70 percent of the products to be SAIC's own brands.
Zhao said one important ingredient of SAIC's success in overseas markets is to offer competitive products based on an understanding of local customers' demands.
SAIC launched the MG4 Electric hatchback in 2022, which is the first model developed with global markets in mind.
It is the result of SAIC's Chinese and British teams and has won top ratings in new car quality programs across different regions, including the famously strict European New Car Assessment Program.
"Every week I have a four-hour meeting with our research and development colleagues," said Zhao, who offers feedback gleaned from direct exchanges with overseas car buyers and potential customers.
The work has paid off with the car becoming a hit in Europe. "This month, MG4 Electric deliveries will reach 10,000 units," said Zhao, adding that there are now around 40,000 orders in Europe to be delivered.
He expects the model's overseas sales this year to reach 150,000 units. Zhao said the result has been "motivating", adding that three to four models developed for global markets will follow around late 2024 or early 2025.
Besides products, Zhao said a sustainable and healthy sales network is crucial as well. "Without our local dealers, we cannot reach our customers no matter how good our products are," he said. "The top priority is the voice of our salespeople. We listen to them and we discuss ensuring our network is healthy."
He said China-made vehicles are gaining in recognition overseas, which in its own right makes those in the Chinese auto industry proud.
Despite the achievements, Zhao is quick to add that there is still a long way to go to reach the level of well-established international giants.
China exported 3.1 million vehicles in 2022, overtaking Germany as the world's second-largest vehicle exporter, ranking second only to Japan, according to the China Association of Automobile Manufacturers.
" (That is because) we have more brands. There lies a long way for Chinese brands to go up," said Zhao.
He admitted that when SAIC planned the MG4 Electric, the dream was to make it as popular as Volkswagen's Golf, "a really international model".
"At SAIC, we don't bite more than we can chew. We respect every market and every customer. We try to better our products and services in existing markets and avoid overreaching ourselves by entering too many destinations."
Zhao called on Chinese companies to have "less talk but more walk". He said there are models from many Chinese brands that don't sell in overseas markets because they are 'incompatible with local tastes'.
"This will do harm to Chinese brands as a whole. Going global should be sustainable and healthy," he said. "What we should do is to offer our customers great products, enable our local dealers to make money and we will make money as well."