From fertile idea, a fresh seedling business sprouts
By ZHANG YU in Shijiazhuang | China Daily | Updated: 2023-03-20 09:18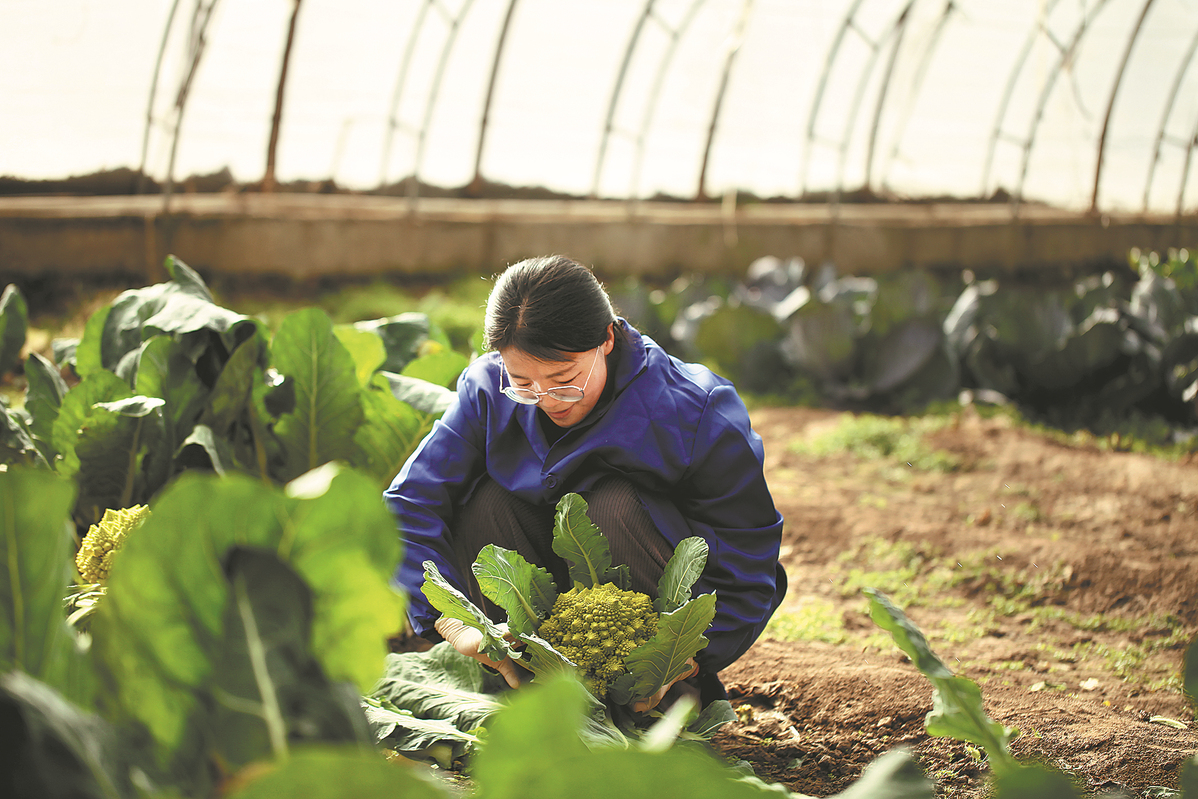 'New farmer' leaves city job to take up a job working with nature
Leaving a job in design in the city to take up farming in a village, 33-year-old Zhang Shasha has completed what for her is a satisfying transformation after choosing a job in agriculture in Suning county in Cangzhou, Hebei province.
Young people with new ideas and skills who choose to return to their hometowns to take up agriculture have been dubbed the "new farmers".
Leaving her stable, well-paid job at a company in Langfang, where she had worked since graduating from college in 2013, Zhang chose to relocate to her boyfriend's home village of Xixinzhuang after a visit there planted the seed of farming in her mind.
"It was the greenhouses I saw. They were full of small, green vegetable seedlings that smelled so fresh and natural," Zhang said. "Besides, national policies are providing more and more support to the development of agriculture, so I felt it would be a promising and interesting career."
Zhang quit her job in 2015 and started growing vegetable seedlings at the Green Garden Vegetable Professional Cooperative in Suning.
She married her boyfriend, and the couple decided to work in agriculture together.
From her husband's parents, who have been growing seedlings since 2007, Zhang learned how to grow vegetables and nurture seedlings from scratch.
After two years of learning and practice, Zhang mastered the necessary skills and began to manage the cooperative with her husband.
"The seedlings are like my children — they cannot be without me, and I cannot be without them, not even for a day," Zhang said, adding that she has grown used to work and life among the seedlings.
She soon discovered that quantity wasn't an issue and what customers really needed were more variety and better quality seedlings.
"I realized there might be great potential to grow new varieties, as the need for good seedlings was increasing."
Zhang opened several high-standard greenhouses and introduced an automated seedling line with precision seeders.
The greenhouses hold some 30 million seedlings and grow 12 kinds of vegetables in 50 varieties, including tomatoes, cucumbers, celery and cabbages.
At the same time, Zhang brought in 20 new domestic and international varieties that produce better harvests.
"Through breeding, we adapt the seedlings to the local soil, water and climate so they are resistant, to improve earnings for farmers," Zhang said, adding that the adaptation process usually takes three or four years.