Education collaboration between nations bears fruit
By ZOU SHUO | chinadaily.com.cn | Updated: 2023-03-20 23:07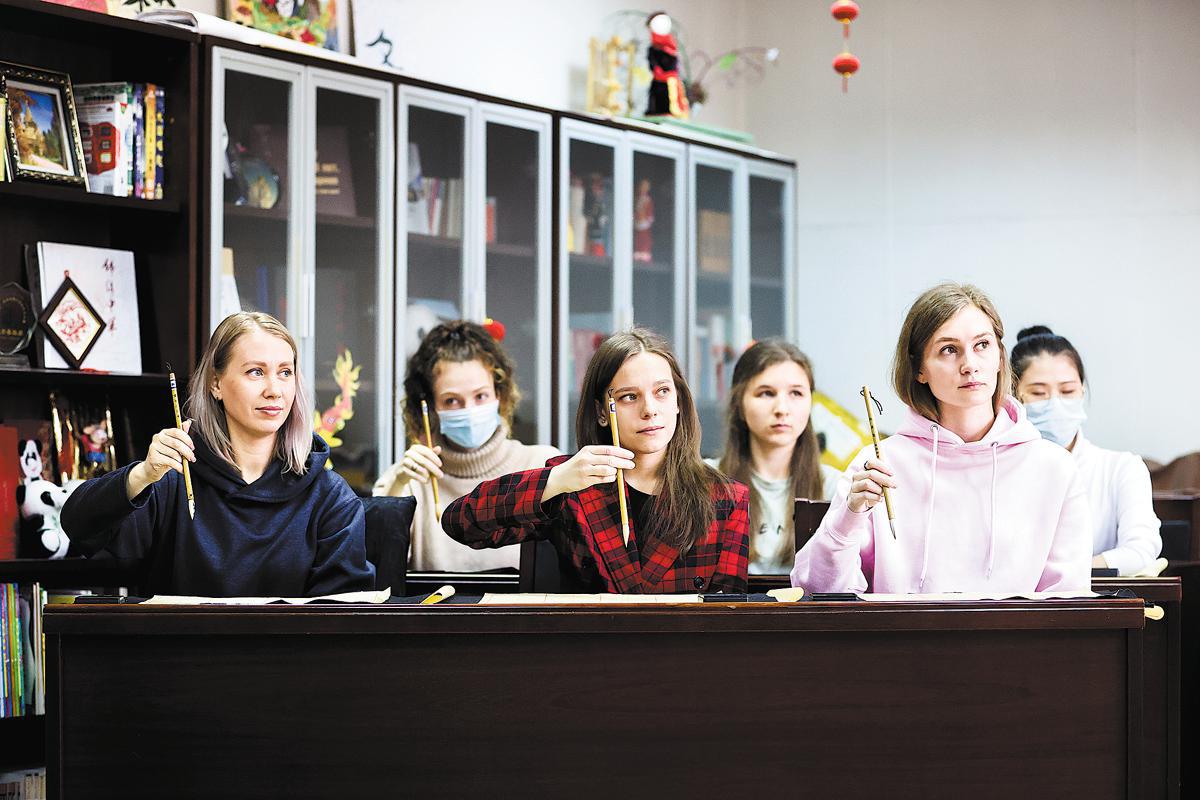 China-Russia education cooperation has achieved fruitful results and is experiencing good momentum, with exchanges of tens of thousands of students between the two countries.
According to the Ministry of Education, the number of students studying online and offline at the other side's schools and universities totaled 57,000 in 2020, despite disruption caused by the COVID-19 pandemic.
There were 40,000 Russian students learning Chinese at 368 Russian schools and universities, and 90,000 Chinese were learning Russian at 868 schools in China in 2020, the ministry said.
Meanwhile, cooperation between universities in the two countries has made new progress, with the Sino-Russian Comprehensive University Alliance becoming the largest bilateral university cooperation mechanism in the world, the ministry added.
Irina Kazak, 26, a Russian postgraduate student majoring in finance at Beijing Jiaotong University, said: "I have never regretted my choice to come to China to study. I really enjoy my life in China. I have not only gained a lot of knowledge, but also made a lot of friends."
Born in Khabarovsk, a Russian city which is close to China, she has been interested in the country and wanted to learn the Chinese language and Chinese culture since she was a child.
There are many advantages in China, in terms of study or work, and there is a growing demand for Chinese-speaking employees in Russia, she said.
Her brother studies in Russia and also wants to study in China, and recently, many of her relatives and friends have asked her how she was doing in China, because they were thinking about studying abroad.
"I recommended that they choose China, because not every country can provide such a perfect atmosphere for studying. China is a country with a long history and rich culture, and its economy is growing very fast."
Kristina Davletshina, a 26-year-old Russian postgraduate student majoring in international business at Renmin University of China, said she chose to learn Chinese for her undergraduate studies at a university in Novosibirsk because China is Russia's main friend and partner.
She said that the secret to learning Chinese is to put the language into practice, and it is very important to communicate with native speakers, participate in speaking clubs, watch movies and listen to Chinese music.
Davletshina said she likes to communicate in Chinese and even communicate with foreign students in Chinese. "We don't notice it anymore, it's just easier for us," she added.
"I really love China, its culture and people. ... Everyone is very friendly, and they are always ready to help and give advice. I always recommend to everyone that they learn Chinese, because I believe that this is the language of the future."
Jiang Jinchi, 24, a postgraduate student majoring in Russian at Renmin University of China, has studied the language for six years, as it was also her undergraduate major.
She said that although many people find learning Russian difficult due to its complicated grammar, as long as one practices more, mastering the language can be very fulfilling.
"Learning the language has benefited me not only academically, but also enriched me and encouraged me to express myself and communicate with others," said Jiang, who had the opportunity to travel to Russia in 2019 for a one-year exchange program at Pushkin State Russian Language Institute in Moscow.
"Visiting famous landscapes, galleries and museums in Moscow, and celebrating New Year and eating traditional Russian food, it was one of the most exciting and beautiful memories of my life," she said.
Jiang said she will choose Russian-related jobs when she graduates next year and she wants to use her strength in both languages to become a bridge between Chinese and Russian enterprises.
China and Russia are each other's biggest neighbor, so pursuing good neighborly relations serves the interests of both countries, said Jiang.
People-to-people exchanges play an indispensable role in strengthening bilateral relations, she said, adding that mutual understanding and respect are the foundation for comprehensive cooperation between the two countries.