DPRK conducts drills in warning against US, ROK
By ZHAO RUINAN | China Daily | Updated: 2023-03-21 06:51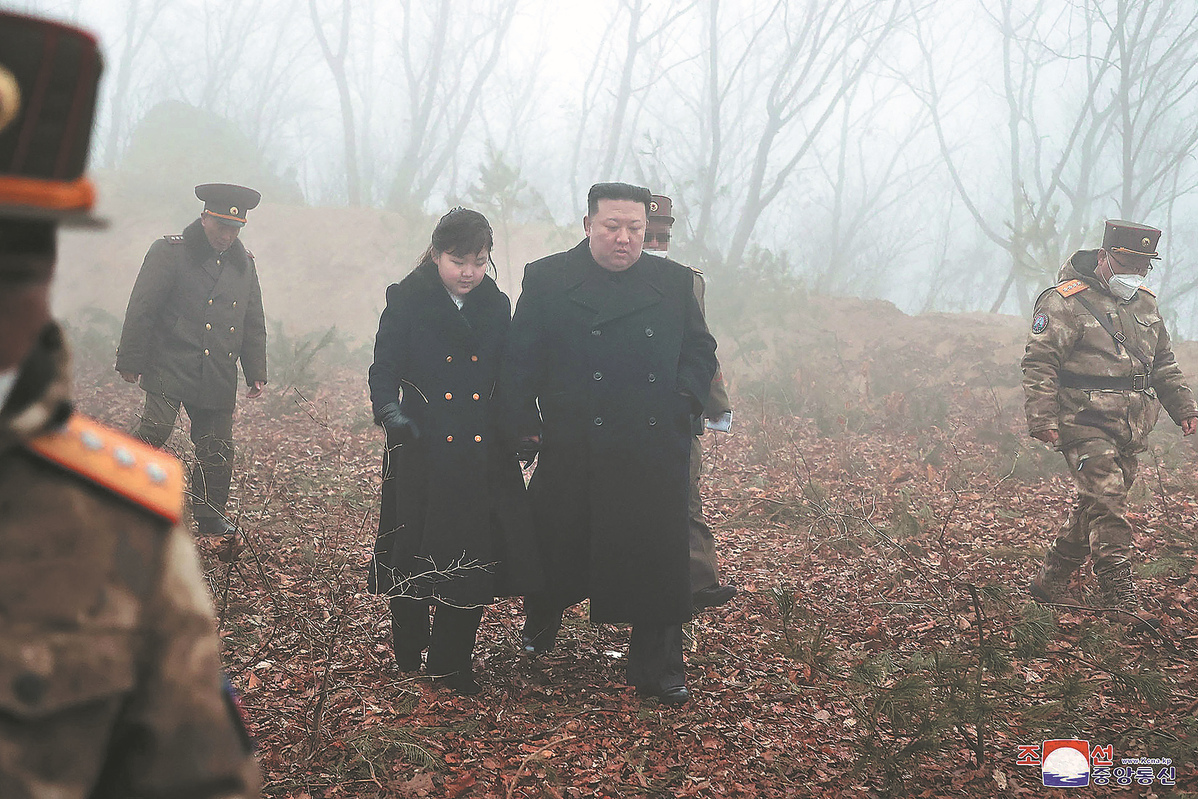 Kim Jong-un, top leader of the Democratic People's Republic of Korea, oversaw drills simulating a nuclear counterattack against the United States and the Republic of Korea, state media KCNA reported on Monday, in a warning to the allies who are scaling up their joint military exercises in Northeast Asia.
Simulating a nuclear counterattack with the operation of tactical nukes, the combined tactical drill was carried out under a tense situation in which a large-scale war drill is being frantically scaled up by the US-ROK allied forces and massive US nuclear strategic assets are being brought to the ROK, the KCNA reported.
On Saturday, the DPRK reviewed the reliability of the operating system for the command and management of its tactical nuclear forces in a multifaceted way. Pyongyang test-fired a tactical ballistic missile on Sunday morning in order to check the operational reliability of its nuclear explosion control devices and nuclear warhead detonators, the KCNA reported.
It said the missile, fired from Cholsan county in the DPRK's North Pyongan Province, precisely "exploded at 800 meters above the target waters" of the East Sea.
Sunday's short-range launch was Pyongyang's fifth missile launch this month and the third since the US and the ROK began joint exercises on March 13. The allies' drills, which are to continue through Thursday, include computer simulations and their biggest springtime field exercise since 2018.
Pyongyang has repeatedly criticized the ROK-US combined military drills, calling them a rehearsal for an invasion against the DPRK.
Li Nan, a researcher specializing in the Korean Peninsula at the Chinese Academy of Social Sciences, said the ROK-US drills have stirred up tensions again in the region.
"Pyongyang's tactical training is a clear warning sign to US-ROK drills. It shows Pyongyang's determined attitude of taking overwhelming countermeasures on the provocations by the two allies," Li said.
The DPRK has so far fired around 20 missiles over nine different launches this year, The Associated Press reported.
Pyongyang's latest launch also came after a meeting in Tokyo on Thursday between ROK President Yoon Suk-yeol and Japanese Prime Minister Fumio Kishida, who agreed to strengthen military cooperation and take other steps to improve their often strained relations despite protests from other countries in Asia.
Li said if things continue to go on the path of confrontation, the possibility of a conflict breaking out on the Korean Peninsula will increase. In addition, the trend toward "camp confrontation" and military confrontation in Northeast Asia will accelerate.
"The 'alliance-first policy' is the root cause of spiraling tensions on the peninsula," he said.
"To break the stalemate, the three sides should sit at the negotiation table and address each other's concerns. The US, especially, should stop undermining regional stability and peace just for its own interests."
Agencies contributed to this story.