Protests erupt in Kenya over high cost of living
By EDITH MUTETHYA in Nairobi, Kenya | China Daily | Updated: 2023-03-21 06:59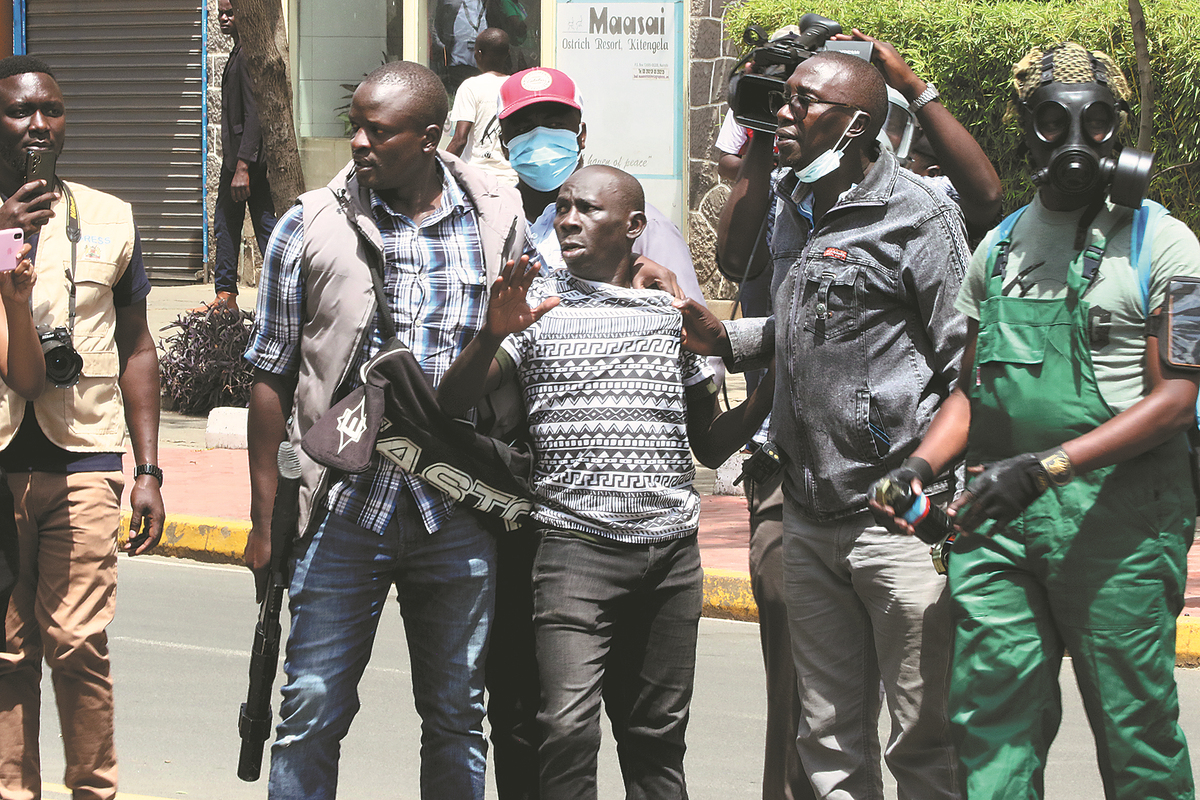 Hundreds of Kenyans took to the streets on Monday to demonstrate against the high cost of living, a protest that coincided with a similar one in South Africa.
Nigeria, Tunisia and Senegal also issued a notice of mass demonstrations on Monday over different issues.
The Kenyan demonstrations that took place in different regions had been called by Raila Odinga, the opposition leader who narrowly lost last year's general election, which saw William Ruto of the United Democratic Alliance party become the president.
In the capital Nairobi, especially the central business district and Kibera slums, police officers clashed with protesters who set tires alight.
Officers fired tear gas canisters to dispel protesters who, in response, hurled stones at the police.
Along Ngong Road, off Kibera slums, one of the strongholds of the opposition party Azimio La Umoja, many businesses remained closed.
In the morning hours, demonstrators stoned public transport vehicles, scaring away people, who went back home for their safety.
"The cost of living is very high, and demonstrations are a good way of sending a strong message to the authorities. However, they should be done peacefully," said Janice Wavu, who cut short her travel to work along Ngong Road.
"Those of us who earn low incomes are struggling to put food on the table, and the situation is worsening by the day."
According to Integrated Food Security Phase Classification, over 5.4 million Kenyans are experiencing acute food insecurity.
On Sunday, Odinga said he will submit a petition to the House of Representatives, demanding subsidies on basic commodities, and against results of the August 2022 elections which he alleged were "stolen" from him.
Ruto said the mass demonstrations lacked legitimate concerns and assured Kenyans that police will play their part in ensuring that properties are not destroyed during the demonstrations.
In South Africa, the opposition party Economic Freedom Fighters called for a countrywide shutdown on Monday over the power crisis and rising unemployment.
"Our constitution guarantees every person the right, peacefully and unarmed, to assemble, to demonstrate, to picket and to present petitions," President Cyril Ramaphosa said on Monday.
"But we should be clear that the right to protest does not give anyone the right to harass, intimidate or threaten anyone else. It does not give anyone the right to damage property or cause harm to any person."
He said just as the state has a duty to uphold the right to a peaceful protest, it has a responsibility to prevent any attempt to violate any of the other rights in the constitution.
More than 3,000 soldiers were deployed across the country to help police to maintain peace, with heavy security presence being witnessed at the Union Building and the seat of government in Pretoria.