Adopted dog bringing bank big business
By ZHANG XIAOMIN in Dalian, Liaoning | China Daily Global | Updated: 2023-03-23 07:34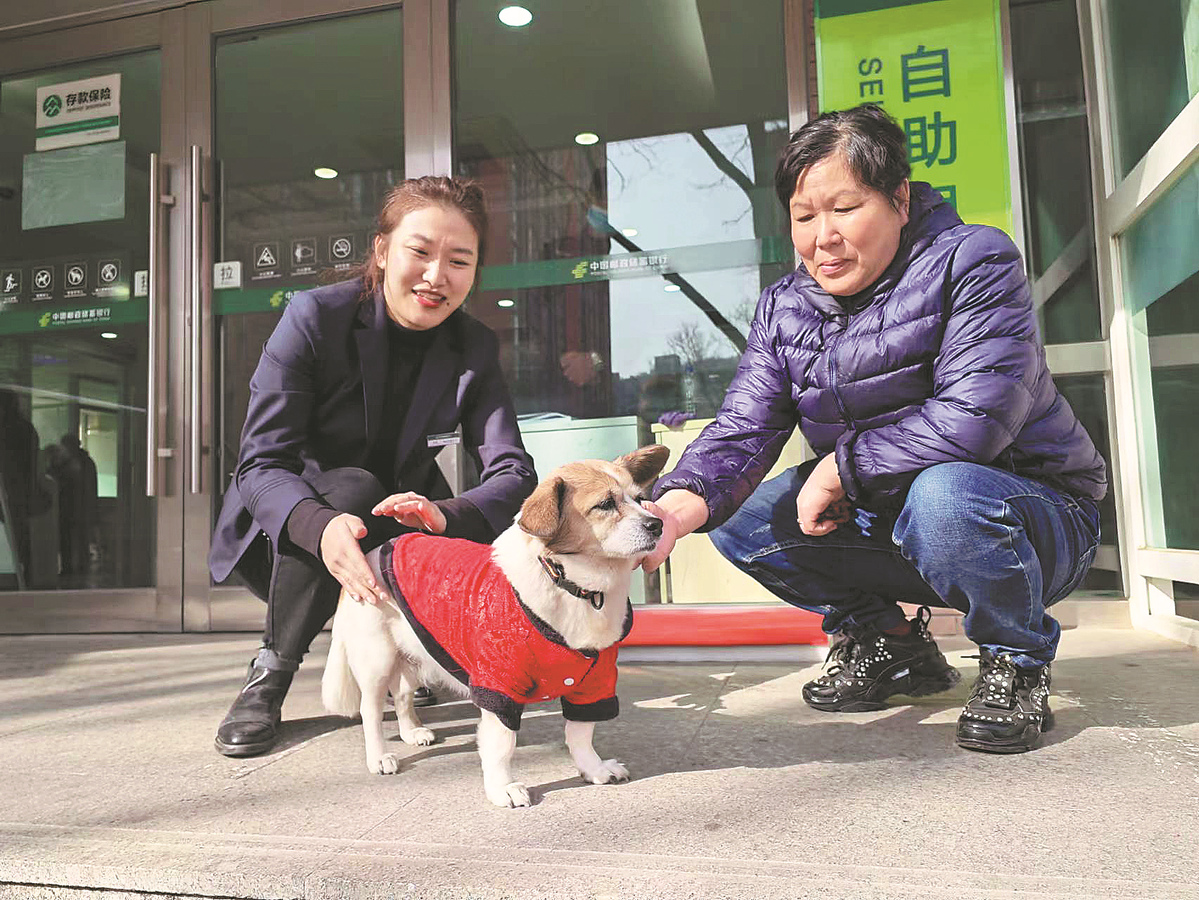 A street dog adopted by the staff of a bank in Dalian, Liaoning province, has become known as a lucky dog and is so popular in the neighborhood that it has brought new clients to the bank.
"She is called Meili ("beautiful") and is not a pedigree, but she's clever and sweet and we all love her," said Zhang Yi, manager of the Zhongnan road branch of the Postal Savings Bank of China in Zhongshan district, Dalian.
One morning, as Zhang was taking care of Meili in front of the gate, several passersby stopped to greet them like old friends. "Because of the shared love of dogs, we're interacting more with nearby residents, and over 30 of them have become new depositors thanks to Meili," she said.
Zhang said that the yellow and white dog with a broken ear began roaming the neighborhood about six years ago.
She often looked for scraps of food at a farmers market beside the bank, and to prevent people from hurting her, a warmhearted stall owner took her in.
So she'd sleep at the stall at night and wander around the neighborhood during the day.
"Later, some colleagues began to feed her sausages and dog food, and she seemed to become one of us," Zhang said.
One nearby resident said she always visits the dog every time she passes the bank. "Meili is such a nice dog. I never saw her bark at anyone. Instead, she likes snuggling with us. If you ask her to shake hands, she usually raises a front paw," she said.
In order to take better care of the dog, Liu Jian, a cleaner at the bank, took her to be vaccinated, registered her for a dog license and gave her the name Meili. "I just did the leg work," Liu said. "The bank staff members pay for her expenses out of their own pockets, buying her food, snacks and a kennel, as well as taking her to the vet regularly to be bathed and vaccinated.
"Sometimes, people give us spare change on their way home from the market to buy food and supplies for Meili."
On Chinese New Year's Eve, the staff bought Meili a new outfit with a pocket on the back. When she returned after wandering around, they discovered that several 5 and 10 yuan notes had been tucked into the pocket.
"We joke that our love has taken the former stray to the peak of doggy life," Zhang said.
"But Meili is getting old now. You can see that from her lack of energy and slow movements," she added. "Liu takes her home to care for her and brings her here once a week to meet us."
zhangxiaomin@chinadaily.com.cn