World must value true democracy by rejecting pseudo-democracy
China Daily | Updated: 2023-03-23 08:27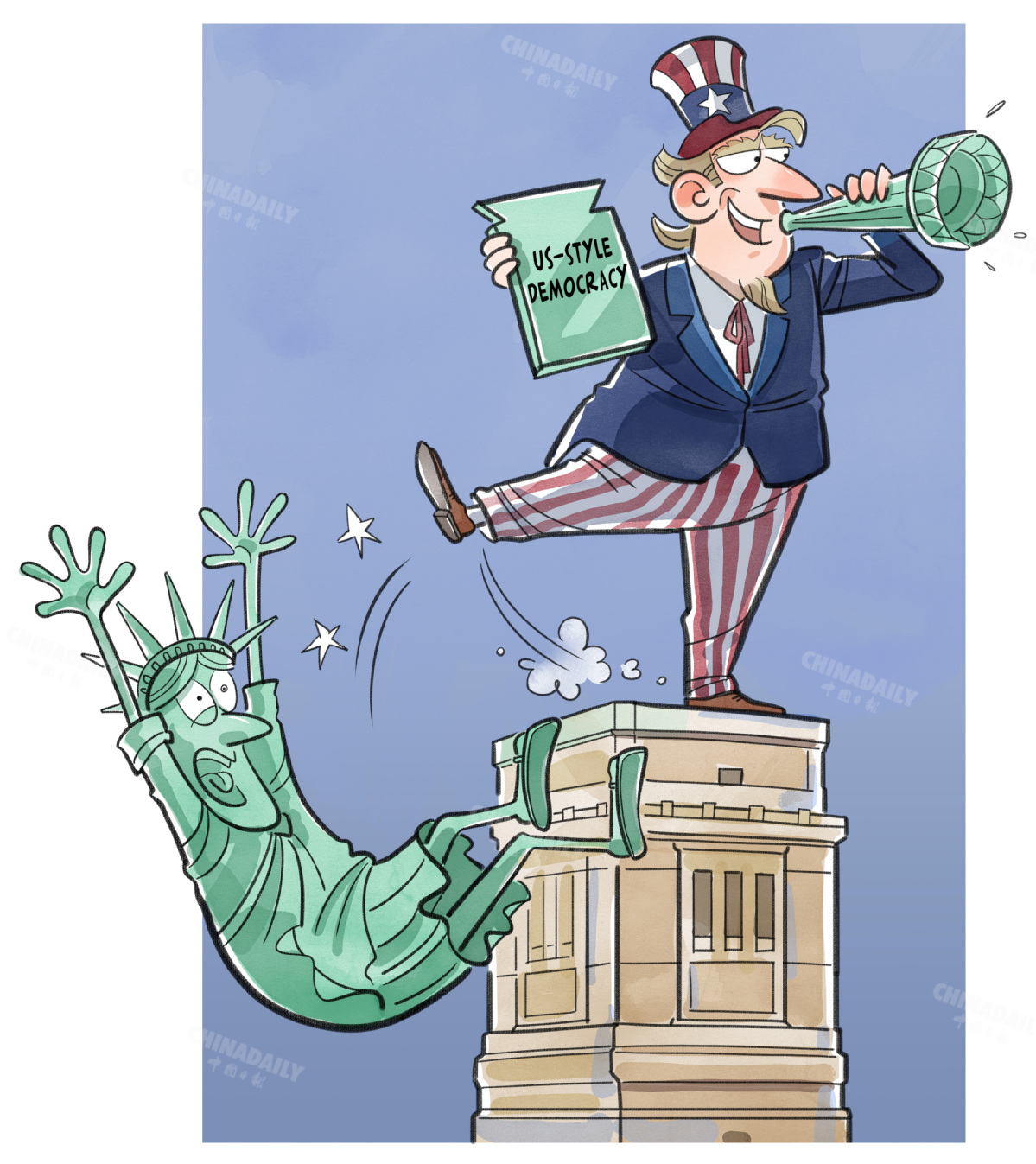 The United States is preparing to host the second so-called Summit for Democracy in an attempt to monopolize the definition of "democracy" and peddle the false narrative of "democracy versus authoritarianism".
However, the practice cannot cover up the US' real intention of politicizing democracy, promoting bloc politics, and maintaining its hegemony. The myth of democracy the US built around itself has long collapsed. The 118th US Congress speaker was elected after 15 rounds of voting in four days of farce, and even the US Supreme Court failed to escape partisan rifts, having to revoke a ruling that gives constitutional protection for women's right to abortion.
There has been serious "inflation" in political contributions in the US. Statistics show that bipartisan spending on the 2022 midterm elections exceeded $16.7 billion, exceeding the 2021 GDP of more than 70 countries. Even freedom of speech has become empty talk in the US given that any speech going against the interests of the US government and capital is restricted.
Despite the ever-increasing operation cost of US-style democracy, its governance efficiency has been decreasing, showing that the US is deeply trapped in a vicious cycle of democratic distortion, political dysfunction and social discord.
The maladies of US-style democracy run deep, although US politicians insist that US democracy is a model for the world. According to a report released by the Brookings Institution in 2022, the once-proud US democracy is facing a systemic crisis and accelerating its decline.
The US engaging in hegemonism and bullying other countries under the guise of democracy is itself against democracy. Sticking to the Cold War mentality, the current US government has gone all out to provoke ideological confrontation and form so-called value alliances or security partnerships, all of which serve its geostrategic goals.
The first "Summit for Democracy" in 2021, in which the US blatantly divided the international community into "democratic and undemocratic camps" drew wide criticism from the international community. By exporting its democracy, the US has brought turmoil and chaos to the rest of the world.
Democracy is a value shared by all mankind and should not be used as a tool to advance geo-strategy. The world today needs to promote true democracy and reject pseudo-democracy, support all countries in developing democracy suited to their national conditions, and work together to promote democracy in international relations.
PEOPLE'S DAILY