Fed opts for small rate increase amid banking upheaval
By HENG WEILI in New York | China Daily Global | Updated: 2023-03-23 08:52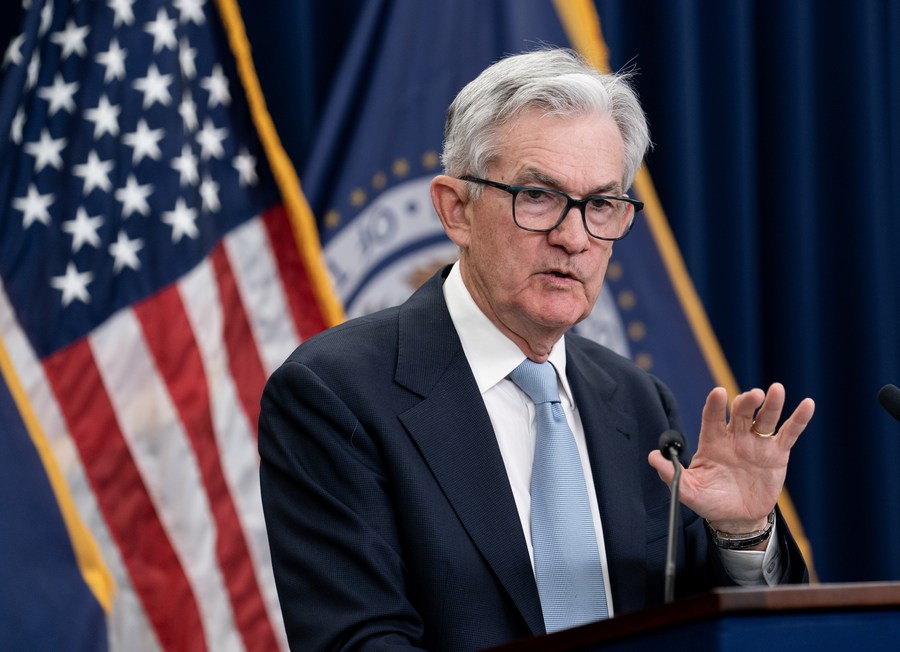 The US Federal Reserve attempted a balancing act Wednesday, delivering a slight interest rate increase in an economy dealing with a dual threat: inflation and a banking industry on slippery footing.
The Fed's benchmark interest rate following a quarter-point hike Wednesday now sits in the 4.75-5 percent range, the highest level since September 2007.
The central bank also notably removed a reference to "ongoing increases" in the Federal Open Market Committee (FOMC) statement accompanying the rate announcement.
The shift in the latest policy statement — driven by the sudden failures this month of Silicon Valley Bank (SVB) and Signature Bank — no longer says that "ongoing increases" in rates will likely be appropriate.
That language had been in every policy statement since the rate decision on March 16, 2022, when the Fed began its current hiking cycle. Wednesday's increase was the ninth since that time, as rates briskly were moved up from near zero a year ago.
"History has shown that isolated banking problems, if left unaddressed, can undermine confidence in healthy banks and threaten the ability of the banking system as a whole to play its vital role in supporting the savings and credit needs of households and businesses," Fed Chair Jerome Powell said at his post-meeting news conference.
"We will continue to closely monitor conditions in the banking system, and are prepared to use all of our tools as needed to keep it safe and sound," said Powell, who said that the US banking system "is sound and resilient, with strong capital and liquidity".
The banking turmoil, however, probably will take a toll on growth and the economic outlook, he said, with recent events likely to result in tighter credit conditions for households and businesses.
"In addition, we are committed to learning the lessons from this episode and to work to prevent episodes — events like this from happening again," he said.
On inflation, the Fed chair said it "remains too high and the labor market continues to be very tight. My colleagues and I understand the hardship that high inflation is causing, and we remain strongly committed to bringing inflation back down to our 2 percent goal."
In the statement, the FOMC also removed language that inflation "has eased" and replaced it with the description that it "remains elevated".
Meanwhile, US Treasury Secretary Janet Yellen told lawmakers on Wednesday that the Federal Deposit Insurance Corp (FDIC) was not considering providing "blanket insurance" for banking deposits, a comment that sent the Dow Jones Industrial Average into a tailspin.
The Dow closed down 530 points, or 1.6 percent, to 32,030; the S&P 500 lost 65.9 points, or 1.65 percent, to 3,937; and the Nasdaq Composite fell by 190 points or 1.6 percent to 11,670.
Some banking groups have urged Congress to temporarily guarantee all US bank deposits, a move they say will stem a deeper crisis after the failure of SVB and Signature Bank.
Yellen, speaking before a US Senate subcommittee, said she believed it was "worthwhile" to look at changes to FDIC deposit insurance, but that increasing it beyond the current $250,000 limit was not being considered.
When a bank failure "is deemed a systemic risk, which I think of as the risk of a contagious bank run, (we) are likely to invoke (a) systemic risk exception, which permits the FDIC to protect all deposits", Yellen said, adding that the Treasury will determine systemic risks on a case-by-case basis.
Yellen said the administration was not considering "anything having to do with blanket insurance or guarantees of deposits".
There was plenty of skepticism about the Fed's role in the current state of the economy following Wednesday's announcement, on various topics.
"On his watch, we have seen a series of bank failures, deregulatory measures, and reckless interest rate hikes that have all threatened to undermine our economic recovery and make our financial system less safe," US Representative Ayanna Pressley, a Massachusetts Democrat and member of the House Financial Services Committee, told politico.com. "He has so far refused to pause interest rate hikes despite the risk of millions of job losses and the disparate impact they would have on our most vulnerable," she said.
Thomas Massie, a Republican US congressman from Kentucky, wrote on Twitter: "The Fed doesn't control inflation, it causes it. When Treasury tries to borrow money at interest rates lower than the market will bear, they must ask Fed to create new money and loan it to them at artificially low rates, just like they did during COVID. That caused inflation."
Economist Peter Schiff, who is chairman of a precious metals company, wrote to his 940,000 Twitter followers: "Just like any magician, while (Powell) is hiking rates prominently with his right hand to pretend he's fighting inflation, behind his back he's creating inflation with QE (quantitative easing, or Treasury purchases) to bail out the banks."
Daniel Roberts, co-founder of Iris Energy, a bitcoin-mining company tweeted: "You didn't 'deposit' your money with a bank. You made an unsecured loan. The banks don't have your money now. They lost it gambling on long term bonds and mortgage securities as their prices cratered from the Fed dialling up rates."
Reuters contributed to this story.