LA schools close amid strikes for better pay
China Daily | Updated: 2023-03-23 09:17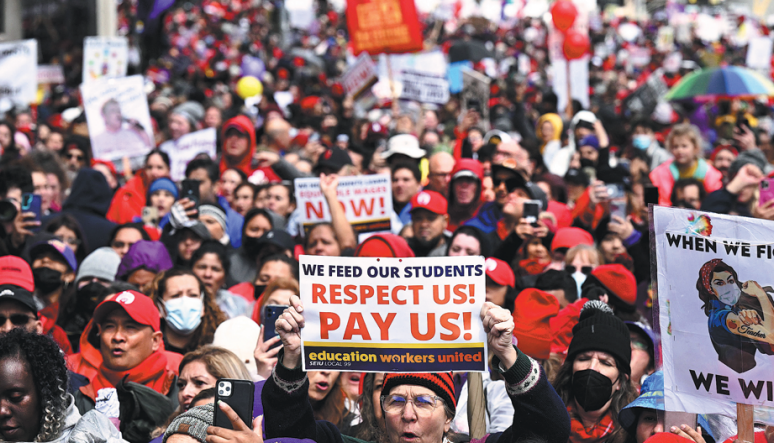 Thousands of service workers, backed by teachers, began a three-day strike against the Los Angeles Unified School District on Tuesday, shutting down education for a half-million students in the nation's second-largest school system.
It came as more than 2.5 million college students in the United Kingdom face disrupted teaching as new waves of university strikes began on Monday, in the first of three days of industrial actions this week.
In LA, Local 99 of the Service Employees International Union, which represents about 30,000 teachers' aides, special education assistants, bus drivers, custodians, cafeteria workers and other support staff, walked out amid stalled contract talks.
Teachers joined rain-soaked picket lines early Tuesday as workers demanded better wages and increased staffing before heading to a huge rally outside the district's headquarters in downtown Los Angeles. Some held signs that read, "We keep schools safe, Respect Us!" The district has more than 500,000 students from Los Angeles and all or part of 25 other cities and unincorporated county areas.
Bus driver Mike Cervantes began his day of protest with a 4 am rally at a bus yard before joining a demonstration at a school and then heading downtown.
Lydia Vasquez searched for her husband in the crowd as demonstrators chanted "we are the future". He works as a school custodian and she couldn't remember the last time he got a raise. "We really need to be out here having our voices heard," she said.
Leaders of United Teachers Los Angeles, the union representing 35,000 educators, counselors and other staff, earlier pledged solidarity with the striking workers.
"These are the co-workers that are the lowest-paid workers in our schools and we cannot stand idly by as we consistently see them disrespected and mistreated by this district," UTLA President Cecily Myart-Cruz told a news conference.
UK walkouts
Meanwhile, over 70,000 staff at 150 UK universities are walking out over pay, precarious contracts, excessive workloads and pension cuts, which means any scheduled classes, seminars or lectures on strike days could be canceled.
Some student support services, such as libraries or laboratories, could also be affected due to staff shortages.
Before this week's disruption, students had faced a total of nine days of strikes between February and March, with an additional six planned days of action having been called off after the Universities and Colleges Employers Association, or UCEA, and the University and College Union, or UCU, made progress in negotiations.
Strike action in the sector dates back to 2018. According to the UK Parliament, the UCU called 36 days of strikes between 2018 and 2020, with actions resuming in December 2021 and continuing throughout 2022.
Hermione Blandford, a third-year undergraduate home student at the University of Exeter, said in an opinion piece she wrote for youth news site The Tab that she felt "a little shortchanged" as her university life has been continuously hit by the pandemic, strikes, a housing crisis, and the cost of living crisis.
Though she "believes in the strikes" and agrees that lecturers' working conditions, contracts and pension cuts are "not acceptable", she is "tired of students feeling like they have to choose between their morals and their emotions".
"I don't blame them (students) for being exhausted and tired," said Peter Chonka, a lecturer in Global Digital Cultures at King's College London, or KCL.
Ella Parry-Davies, a lecturer in Theater, Performance and Critical Theory at KCL, added that teaching staff are not able to deliver on their expertise with poor working conditions.
Last Friday, the UCEA agreed to review the key issues in the dispute, but critics argued that the "offer" did not mean anything substantial other than a promise to hold fresh talks, the Times High Education magazine reported.
Zheng Wanyin and agencies contributed to this story.