China Focus: China's 'mountain city' Chongqing impresses diplomats with overseas transportation network
Xinhua | Updated: 2023-03-23 17:17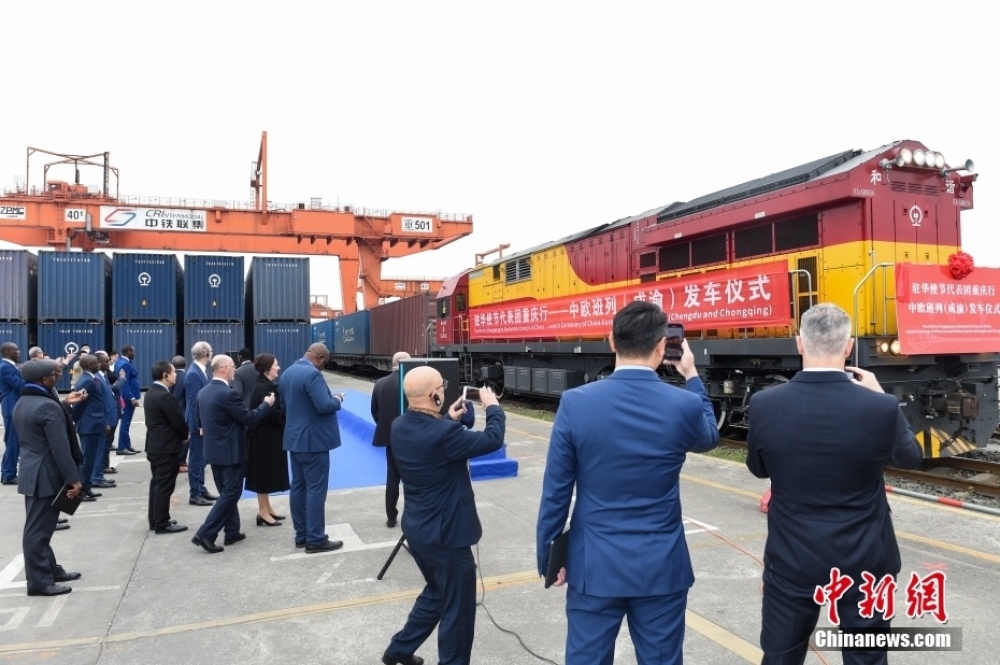 CHONGQING -- On Tuesday, a China-Europe freight train loaded with automobiles and electronic products pulled away, slowly but imposingly, from Tuanjiecun Station, Southwest China's Chongqing municipality, heading for Duisburg, Germany.
What made this train special were the people seeing it off.
Among them were 26 diplomatic envoys, 13 of whom are ambassadors, from Portugal, Albania, Laos, Nigeria and other European, African and Asian countries, watching this train fade out of their sights.
China's Ministry of Foreign Affairs had invited them to visit Chongqing Municipality from March 20 to March 22. Dubbed China's "mountain city," Chongqing impressed these guests a lot with advanced manufacturing, transportation logistics and also in other respects.
"It's written in the book, so we know it, but seeing it with our own eyes is still very interesting," said Duarte Pinto Da Rocha, minister-counselor of the Embassy of Portugal in China.
Considering the fact that we were presented with a region that is basically landlocked, it was most interesting to see the city's development plan so well connected to the world, such as its international flight and rail networks, he added.
In 2022, more than 5,000 China-Europe freight trains left Chongqing and Chengdu, the capital of the neighboring Sichuan Province, for various destinations.
The number of China-Europe freight trains handled by the two cities has topped 22,000 since they launched the service in March 2011 and April 2013, respectively, accounting for 30 percent of that of the whole country.
Besides this westward channel to Europe, Chongqing also boasts southward channels linking the inland city with Southeast Asia, namely the New International Land-Sea Trade Corridor and China-Laos Railway.
The latter kicked off operations in December 2021, with Chongqing among the first batch of cities that launched the China-Laos international freight train service. On the first day of 2023, Chongqing sent a batch of locally-produced NEVs to ASEAN countries via this channel.
Khouanchay Iemsouthi, counselor at the Embassy of Lao PDR in China, keenly recognized the importance of the China-Laos Railway, emphasizing that the railway not only contributes to Laos' economy but also benefits other ASEAN countries.
"Since its operation, there have been so many achievements that were once beyond our imagination," said Khouanchay. "Now most products shipped by ASEAN countries are agricultural products, but more goods are expected to be shipped via this way."
By the time the China-Laos Railway marked its first anniversary, it had carried a total of around 11.2 million tonnes of goods and transported 8.5 million passengers, with cargo categories expanding to more than 1,200.
Moreover, Chongqing has developed a northward Chongqing-Manzhouli-Russia International Railway Logistics Channel, an eastward channel via the Yangtze River Golden Waterway and the International Aviation Network, contributing to Chongqing's major channel options for going overseas. These channels reach more than 300 cities in over 100 countries and regions across the world.
Selim Belortaja, Albanian ambassador to China, praised the interconnectivity of the municipality. "The interconnectivity of Chongqing in all directions including west, east, north and south, offers many options and opportunities for concrete projects of cooperation. It is also a center of manufacturing having industries involving cars, motorbikes, electronics, and so on, which are very inviting sectors for us to cooperate."
"Chongqing is so impressive. It is true what we heard before our visit. Chongqing certainly is a pearl of China in many aspects," Belortaja said.