Part-time trainers enjoy best of both worlds
By Yang Feiyue | China Daily | Updated: 2023-03-24 07:13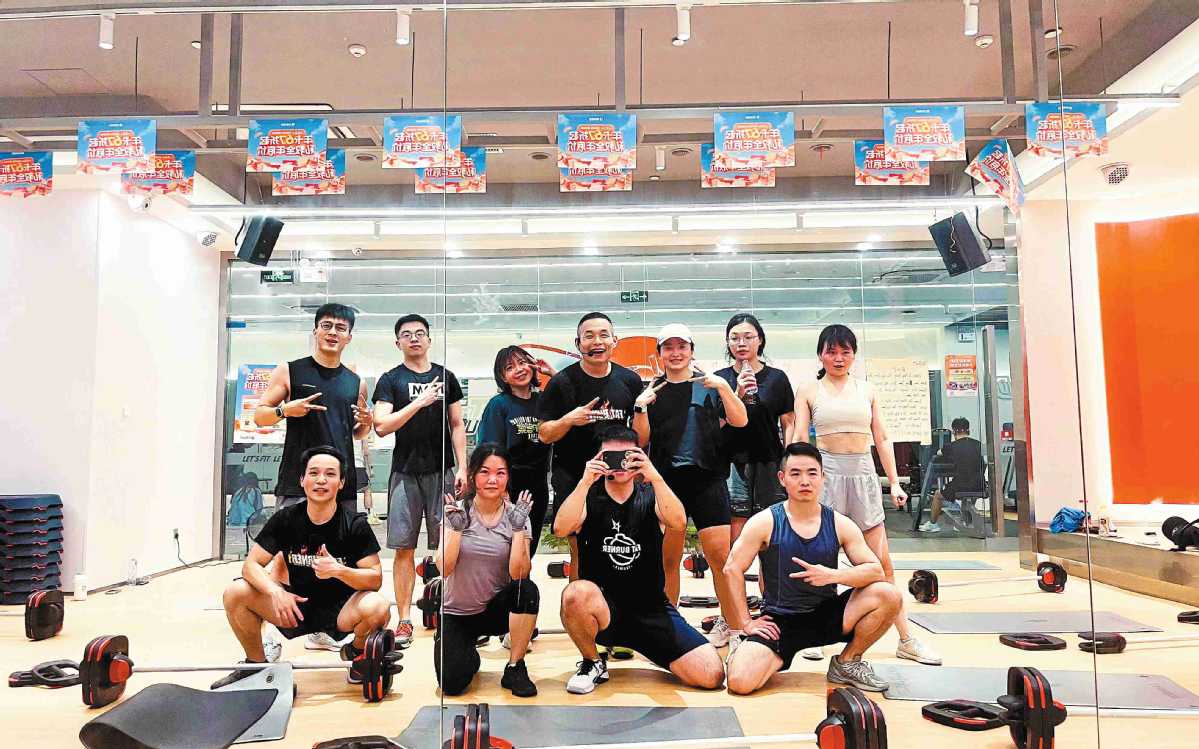 Skills passed on to students, additional income earned
Han Lu, who has just turned 40, danced enthusiastically to music at a gym in Jinan, Shandong province, while shouting instructions to a roomful of her followers.
Wearing a loose white jacket and green cargo pants, and with her hair cut short, she appeared to have boundless energy as she offered words of encouragement during an intense training session last month.
Han is just one of many people regularly attending gyms in China whose passion for exercise has led to them becoming part-time fitness trainers.
"It feels good to keep active when night falls. It's also exciting to have people working out with me as we have fun together," she said.
During the day, Han works as a professor at Shandong University of Finance and Economics, specializing in sustainable urban development.
"My teaching job is much more traditional than my work in the evening," she said, adding that both roles complement each other well, and she enjoys her lifestyle.
Han started going to the gym and working with a private trainer in 2013 as a way of "letting off steam" after work.
Taking her first group training session three years later, she was immediately drawn to the vibrant atmosphere.
"The pumping music and synchronous moves of those taking part in the session inspired me," she said.
Han first started exercising with sessions of Body Combat, a high-energy workout inspired by martial arts, but as her experience grew, she became a group trainer.
In 2020, she took part in The One, an online competition hosted by Les Mills, one of the world's leading developers of group workouts, but her relatively low score meant she failed to finish in the top five. Han won a prize in every contest she entered before The One Competition.
"This is an important competition, with hundreds of trainers nationwide competing for the top five places," she said. "But I was frustrated with my performance, which triggered self-doubts over my age and physical condition."
"Before becoming a trainer, I always believed that as long as I gave 100 percent, there was nothing I couldn't achieve," she said.
"I decided to switch my focus to the Body Jam and Body Pump categories in The One competition to increase my chances of getting a better result."
In 2021, Han made the short list for both categories, and last year she triumphed in the Body Jam section.
"It was proof that practice makes perfect, despite the fact that I made a clumsy start to the competition," she said.
Being a trainer not only offers her a healthy lifestyle, it has also resulted in positive feedback from her followers.
She was touched when some of her students approached her as the gym class resumed after lockdowns imposed during the COVID-19 pandemic.
"They told me they had been following me online to exercise at home, and wanted to take a photo with me. I was especially thrilled when I heard this," she said.
Sports technology companies such as Hilefit, Keep and Supermonkey are seeking more part-time trainers working flexible hours as people become increasingly aware of the need to protect their health by exercising.
Xia Dong, cofounder of Hilefit, said the interest in home exercise triggered by singer Liu Genghong, also known as Will Liu, who launched online fitness sessions on the Douyin short-video platform last year, is proof of the public's strong desire to be more active. Liu's Douyin account has attracted 70 million followers and 170 million "likes".
The increased demand for exercise has opened the door for more people who have a full-time job to tap their sports potential and become influencers in fitness groups.
Xia said, "Our trainers come from all walks of life, ranging from product managers, advertising planners and those from State-owned companies. Being a trainer brings them additional income and helps them discover a different side to themselves."