Argentina reels under hyperinflation ahead of polls
By SERGIO HELD in Bogota, Colombia | China Daily | Updated: 2023-03-24 09:21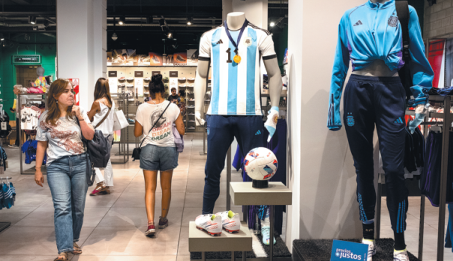 Argentina's annual inflation rate hit 102.5 percent in February, the first time in more than three decades that it topped the 100 percent mark.
The soaring prices forced the Central Bank of Argentina to raise its benchmark interest rate by 300 basis points to 78 percent on March 16.
Internal and external factors like US monetary policy are responsible for skyrocketing inflation in Argentina, economist Hernan Bergstein said recently in an interview with Xinhua News Agency.
US price hikes, a jump in international raw material prices and US Federal Reserve interest rate increases generate turbulence in the balance of payments of peripheral economies, including Argentina, which significantly impacts debt conditions, said the economics professor at the National University of Quilmes, an Argentine university.
He explained that the jump in commodity prices has negatively impacted Argentina through imports of primary goods such as energy with a consequent increase in finished products.
The fast price increases are making life challenging for people, which marks a continuation of decades of economic turmoil.
"It is exceedingly difficult to have a price reference even for food. The supermarkets charge what they want, they do not respect fixed prices. It is difficult to live day to day, with the inflation so high," Fernando Pileggi, a taxi driver in Buenos Aires, said.
In November, the government introduced curbs on prices at supermarkets in a failed attempt to contain soaring costs, reviving an old economic policy. In February, food and nonalcoholic beverage prices rose 9.8 percent from a month earlier. Overall, prices rose 6.6 percent from January.
Price caps on food and staples date to the 1950s and were reintroduced by former president Nestor Kirchner during his term between 2003 and 2007.
Twenty years later, Argentinians continue to struggle with inflation, and not only at the supermarkets. All economic sectors now adjust prices frequently so as not to be left behind by the rampant rising costs.
In the capital Buenos Aires, the local government announced a price increase for taxi fares and tolls, which are being adjusted up by 50 percent and 65 percent respectively, starting this month.
Pileggi, who often plies the airport to city route, said he benefits from receiving US dollars, euros and Brazilian reais from his customers and exchanging them afterward in the parallel market. Access to foreign currency is capped and controlled by the government, but a parallel market moves almost freely in the streets of cities like Buenos Aires.
"The lack of dollars that we are experiencing due to the bad harvest as a result of the drought, puts pressure on the government, which has no way to finance itself. And that means more inflation … and slowly we see how it is more and more difficult to get imported products or supplies," Miguel Boggiano, CEO and chief investment officer at Carta Financiera, said.
Argentina, like neighboring Uruguay and Chile, has been struggling with a series of droughts and elevated temperatures that have deeply affected farm production during the current 2022-23 summer season in the Southern Cone.
For Boggiano, the only way out of the inflationary spiral affecting the country may be a radical change in how the problem is approached.
Bergstein said US interest rate hikes would affect Argentina through the devaluation of exports, capital outflow and an increase in the cost of debt in US dollars.
Argentina will head to the polls for general elections in October, and inflation is one of the most important topics.
"The only way to fix Argentina's problem is to lower public spending, decrease money printing, and increase the international reserves, which is a classic International Monetary Fund adjustment," said Alberto Bernal, chief emerging markets and global strategist at financial services firm XP Investments.
Xinhua contributed to this story.
The writer is a freelance journalist for China Daily.