Huawei smartphone biz springs back to life with a string of new products
By MA SI | China Daily | Updated: 2023-03-24 09:24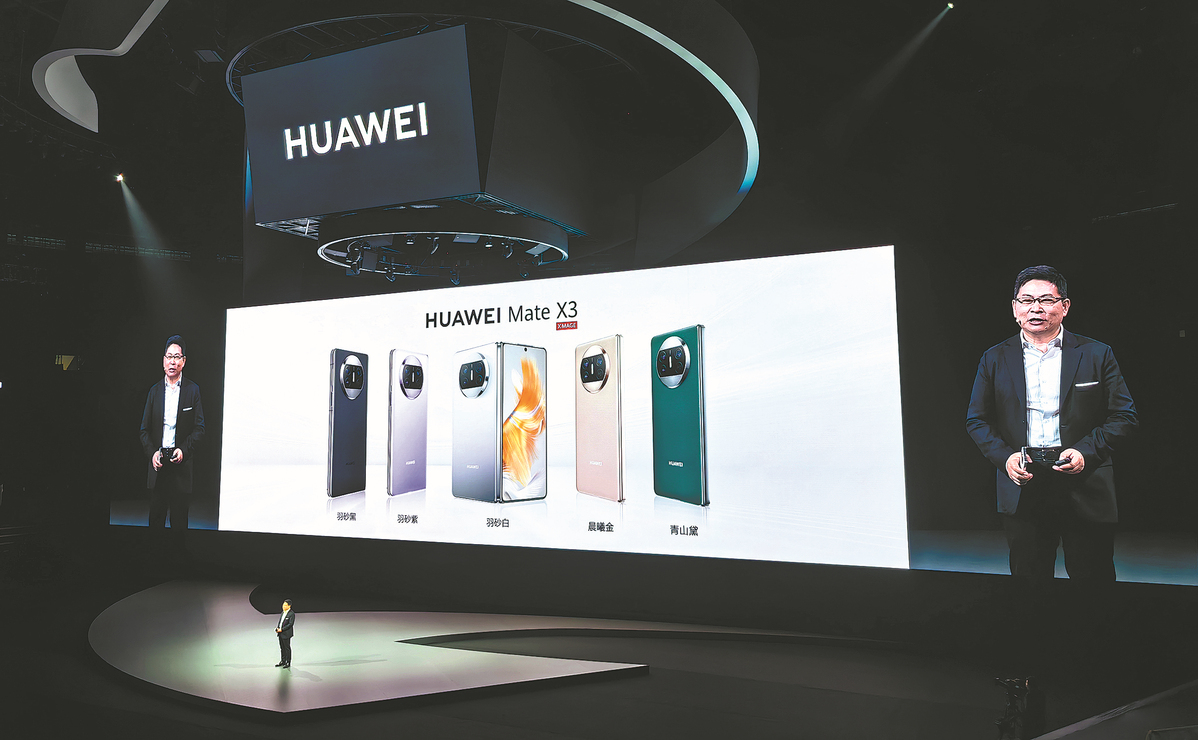 Huawei Technologies Co unveiled a string of new smartphones on Thursday, quieting rumors that it is considering selling off its handset business, thus showcasing the company's resilience amid US government restrictions.
Its latest foldable smartphone Mate X3 and the new flagship phone P60 series are part of a broader push by Huawei to grow its smartphone business, which is showing encouraging signs of revival despite the lingering restrictions.
Yu Chengdong, CEO of Huawei's device business group, said at a product launch event in Shanghai: "We have experienced four years of winter under sanctions. Now, the spring has come and we are excited about the future."
Yu said the Shenzhen, Guangdong province-based company has continued heavy investment into research and development, which has enabled Huawei to unveil cutting-edge technologies even amid grave challenges related to the ban.
Last year, Huawei's R&D spending hit $23.8 billion, and the company said as its profits increase in the coming years, it will continue increasing investment in exploration of frontier technologies.
Xiang Ligang, director-general of the Information Consumption Alliance, a telecom industry association, said ever since the US government placed tough restrictions on Huawei in 2019, the company has been working hard to reduce the negative impact on its revenues. And now, it is starting to bounce back.
Market research firm Counterpoint Research said that in the fourth quarter last year, Huawei's sales volume of smartphones bottomed out, achieving a year-on-year growth of 15 percent, and its domestic market share has climbed to 9.5 percent, up from 7 percent a year earlier.
The rise came as sales volume in the overall Chinese smartphone market declined by 15 percent year-on-year during the same time frame.
Ren Zhengfei, founder of Huawei, recently said the company has replaced more than 13,000 components that had been affected by the US restrictions with parts developed either in-house or by other Chinese companies over the past three years.
Ren said more than 4,000 circuit boards have also been replaced, and the company's circuit boards have not stabilized until recently with qualified domestic components.
He added that the company has developed its own management system software — MetaERP — entirely using its own proprietary operating system and database.
MetaERP has passed the practical test of application in Huawei's various departments around the world and the annual settlement test of the company's ledger.
On the ChatGPT boom, Ren said that in the future there will be ups and downs in AI large-language model industry.
ChatGPT is an AI chatbot developed by US-based AI research company OpenAI.
Ren said the direct contribution of AI software platform companies to human society may be less than 2 percent, and 98 percent of their contribution will be related to promoting the development of industrial and agricultural modalities and systems.
The popularization of AI services requires 5G connectivity, and Huawei can only build the underlying computing platform of AI, and will not touch the application platform, Ren said.
What are the opportunities of ChatGPT for Huawei? Ren said it will boost demand for computing and pipeline data flow, and Huawei's relevant products will have more market demand.