Evergrande plan lifts property hopes
By WANG YING in Shanghai | China Daily | Updated: 2023-03-24 09:33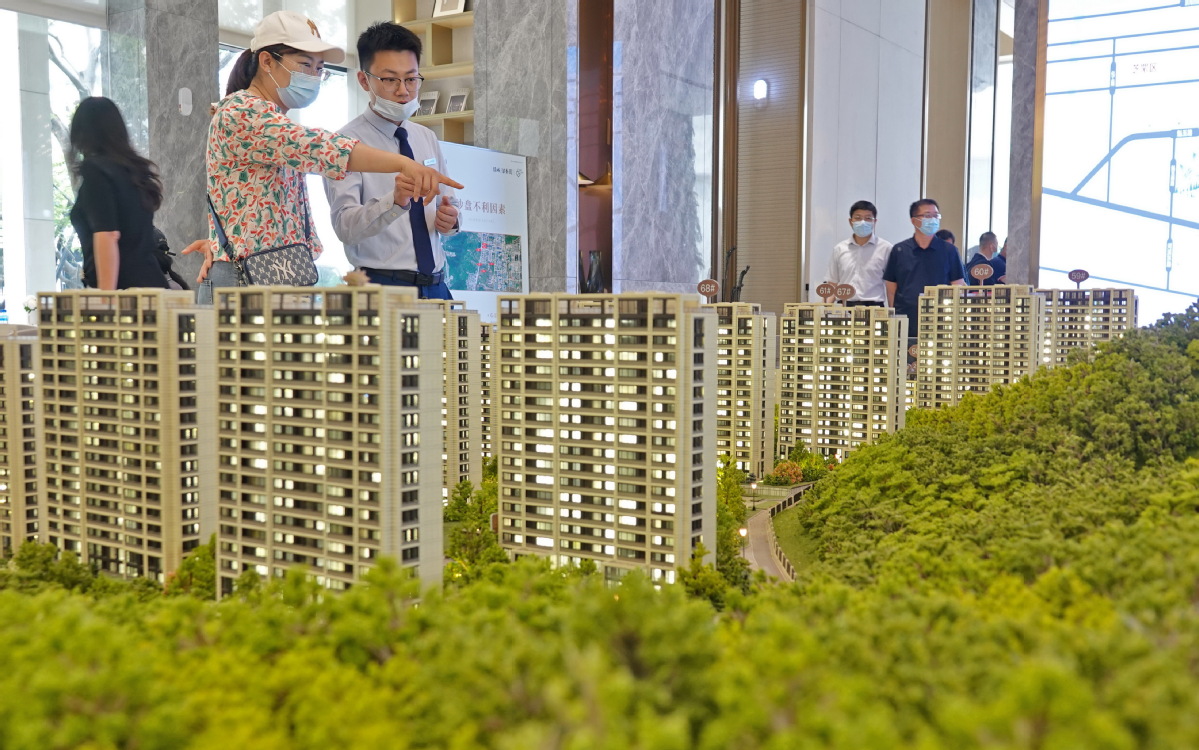 Debt-laden property developer China Evergrande Group has announced plans for restructuring around $20 billion in offshore debt, an important move for the group to resume normal operations and that also could be seen as a model for other struggling developers, industry experts said.
Market observers said this swap is an important move for Evergrande to resume normal operations, and could encourage other debt-stricken property players to consider similar moves, potentially improving the entire industry's health.
Evergrande and its main creditors made progress by entering into binding agreements with bondholders for $19.15 billion of notes the company had previously issued, Evergrande said in a statement late on Wednesday.
Evergrande gave creditors a basket of options to swap their debt for new bonds and equity-linked instruments backed by the group and its two Hong Kong-listed companies, Evergrande Property Services Group and Evergrande New Energy Vehicle Group.
It is expected a series of restructuring agreements will be reached with different groups of bondholders by March 31, before the restructuring starts on Oct 1, the developer said.
"It is hoped that the proposed restructuring will alleviate the company's pressure of offshore indebtedness and facilitate the company's efforts to resume operations in order to resolve issues onshore," said Evergrande in a filing.
Yan Yuejin, director of the Shanghai-based E-house China Research and Development Institution, said, "The disclosure of Evergrande's offshore debt restructuring plan means the group's overall debt restructuring is making progress against the background that the property sector identified its main task as preventing and mitigating risks."
The plan will not only win more time for the group's debt disposition but allow Evergrande to focus on the delivery of residential projects in the coming three years, as the developer is striving to maintain normal operations of business and construction, Yan said.
Although the long-awaited proposals could provide breathing space for the developer, "it's too early to say the balance sheet of Evergrande could recover fully", said Li Yujia, chief researcher at the Guangdong Planning Institute's residential policy research center.
With more than $300 billion in total liabilities, including offshore debt, Evergrande has been at the center of a property debt crisis in which multiple Chinese developers defaulted over the past year, forcing many to enter debt restructuring talks, according to a Reuters report.
Industry experts suggested the settlement of Evergrande's debt crisis will set a template for other indebted enterprises in the real estate sector, and the Chinese property market as a whole.
"It's good to see Evergrande seek solutions to the debt problem in a market framework and under the rule of law, instead of using administrative interference," said Li.
Since its debt problem started to deteriorate in the second half of 2021, at least 20 months had passed before Evergrande came up with a clear debt restructuring plan, showing the complexity of the debt crisis and the large amount of capital involved, said Yan.
"In fact, with the gradual improvement of the property market this year, the sector is also seeing improved market confidence, both of which will have a positive impact on debt issues faced by the likes of Evergrandes," said Yan.
Evergrande New Energy Vehicle Group said in a separate statement on Thursday it may have to halt production of electric vehicles if it does not get fresh funding, after delivering more than 900 units of its flagship Hengchi 5 model.
The EV manufacturing unit of the embattled property developer said it was aiming to cut costs through measures such as reducing staff numbers and improving management efficiency.
"If we are unable to obtain additional liquidity, the group may be at risk of discontinuing production," it said.
The firm could, however, obtain financing of more than 29 billion yuan ($4.2 billion) "in the future "as a number of flagship models are expected to enter the mass production stage, it said in its statement.
The NEV unit is key for the transformation plans of Evergrande, once China's top-selling property developer and now at the center of a deepening debt crisis.