Superhero back in action
By Xu Fan | China Daily | Updated: 2023-03-25 08:15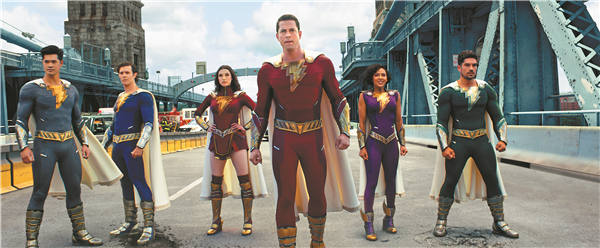 Shazam returns but has a lot on his mind, Xu Fan reports.
Merely by uttering the magic word "Shazam", Billy Batson — a lucky teenager fictionalized in Hollywood's DC cinematic universe — transforms into a superpowered adult wrapped in a tight red bodysuit. With his white cape fluttering in the wind, he shoots straight up into the sky like a bullet.
Also known as Shazam, the protagonist, now turning 17 years old, has returned to the silver screen in the new Hollywood superhero blockbuster Shazam! Fury of the Gods. The movie opened simultaneously in China and North America on March 17.
The sequel picks up from the original, which grossed nearly 300 million yuan ($44 million) in China in 2019. Set three years later, it sees Billy Batson and his foster siblings learning to balance teenage life with their bestowed superpowers. However, the arrival of three formidable foes — an ancient god's daughters who plan to regain their stolen power — puts these teenage heroes in the greatest peril they have ever faced.
American actor Zachary Levi, who reprises his role as the magically transformed adult version of the title character, showed up with Chinese American actress Lucy Liu, who plays the second daughter of the god, in an online premiere which gathered a large audience in a downtown Beijing cinema last week.
Speaking of the changes to his character, Levi says that Billy, who has settled into his foster family since the first movie, is facing a fresh worry, as he will need to leave his foster parents and siblings after turning 18.
"The character is a little afraid of growing up. He also feels kind of like a failure because he is the leader of all the super children, but they are still not that good," says Levi.