NATO bombing of Yugoslavia killed int'l law: Serbian president
Xinhua | Updated: 2023-03-25 09:38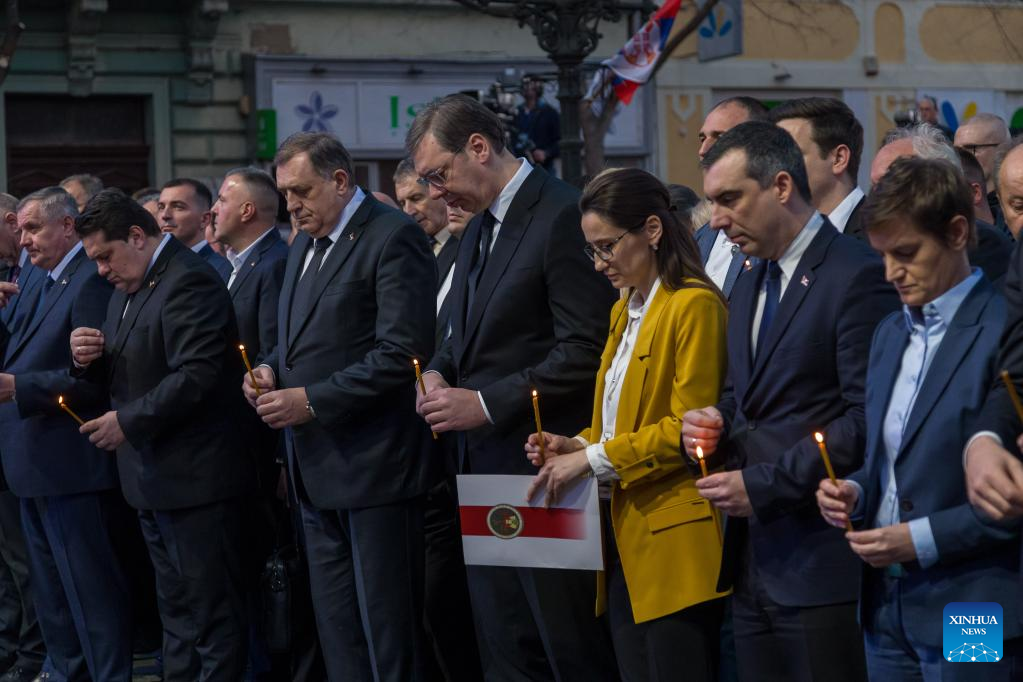 SOMBOR -- The North Atlantic Treaty Organization (NATO)'s aggression against Yugoslavia 24 years ago marked the death of international law, Serbian President Aleksandar Vucic said on Friday at a commemoration event in the city of Sombor, where the first bomb fell in 1999.
"24 years ago, the modern international law finally died, and you should know that it is not an unimportant bureaucratic wording -- but much more than that," Vucic said.
"Nothing worse could happen in the world than what was done here, to a small country, which was guilty only of seeking to make its own decisions, and to be free. As such it didn't appeal to those powers which destroyed the old international order in 1989/90 and created a new one in which only they have the final say in everything," Vucic said.
He was addressing a large crowd of people who gathered at the St. George Square in Sombor, waving Serbian flags and lighting candles for the victims of the bombings, which most of them see as an act of injustice.
Bombings of Yugoslavia started on March 24, 1999, without the previous authorization of the United Nations (UN) Security Council.
During the 78-day bombings of both civilian and military targets, Serbia lost thousands of policemen, soldiers and civilians, and suffered immense material damage to its transport and energy infrastructure.
Among NATO's targets were houses and apartment buildings, schools, hospitals, and even kindergartens, while the weapons deployed included missiles containing depleted uranium and cluster bombs.
The Chinese embassy, where three journalists lost their lives, and the building of the Serbian national broadcaster RTS, were also among the targets.
Vucic also commented on the ongoing Russia-Ukraine conflict, calling Western support for the territorial integrity of Ukraine "hypocritical and two-faced" -- because it is based on the UN Charter, which he believes was broken in 1999.