China and Honduras establish diplomatic ties
By WANG QINGYUN | chinadaily.com.cn | Updated: 2023-03-27 00:22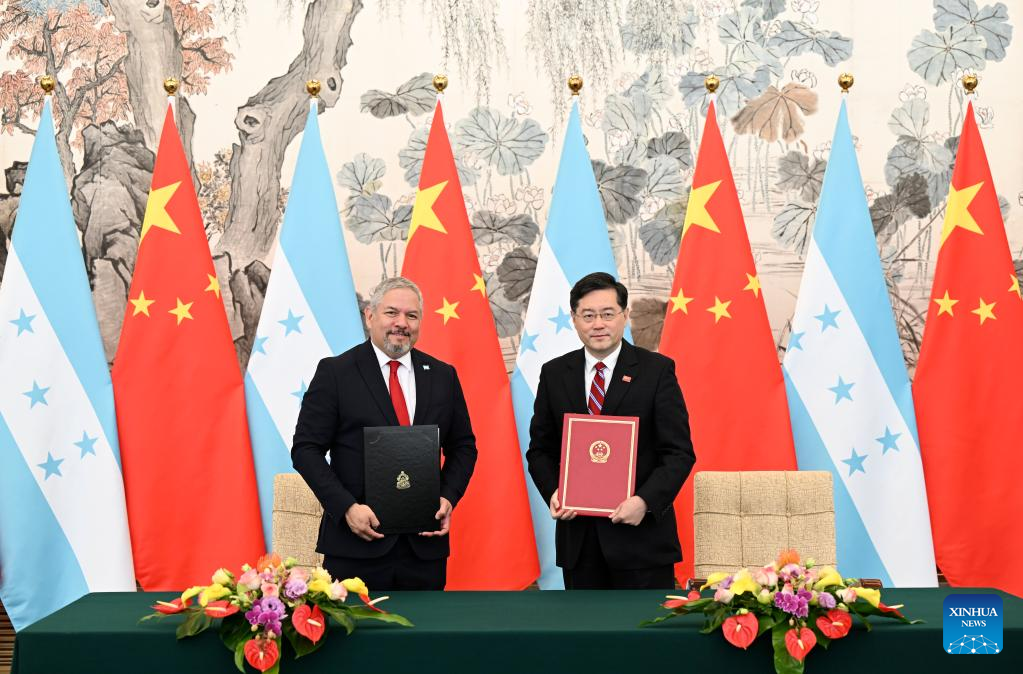 China and Honduras established diplomatic relations on Sunday after the Central American country severed its so-called "diplomatic ties" with Taiwan and became the 182nd country in the world to have established diplomatic ties with China.
The two countries announced the move in a joint communique signed by their foreign ministers in Beijing on Sunday, and they agreed to exchange ambassadors as early as possible.
The Honduran government recognizes that there is only one China in the world, that the government of the People's Republic of China is the sole legal government representing the whole of China, and that Taiwan is an inalienable part of China's territory, the communique said.
In addition, the Honduran government has cut its so-called "diplomatic relations" with Taiwan and promised that it will no longer develop any official relations or official exchanges with the region, according to the communique.
Shortly before the communique's release, the Honduran Foreign Ministry made a statement on Saturday local time, saying that it was severing its "diplomatic relations" with Taiwan, making Honduras the ninth country to do so since Tsai Ing-wen became the region's leader in 2016.
The number of countries that have "diplomatic relations" with Taiwan has been reduced to 13.
"This is the right choice that is in line with the prevailing trend and supported by the people. China highly appreciates that," a spokesperson for China's Foreign Ministry said on Sunday.
The news came less than two weeks after Honduran President Xiomara Castro said on her Twitter account that she had instructed Honduran Foreign Minister Eduardo Reina to handle matters related to the formal establishment of diplomatic ties with China.
During his meeting with Reina on Sunday, State Councilor and Foreign Minister Qin Gang said that China welcomes President Castro to visit China as soon as possible.
The two countries should speed up the process of enhancing their mutual understanding and trust and of promoting pragmatic cooperation to bring tangible benefits to the two peoples, Qin said.
China will do all it can to support the economic and social development of Honduras, Qin added.
Reina said Honduras has recalled its "ambassador" to Taiwan, and will abolish all of its "official" agreements with the region as soon as possible.
While meeting with the media alongside Qin, Reina said his country looks to deepen cooperation with China in fields such as finance, trade, infrastructure, technology and culture, and to maintain close coordination with China under the multilateral framework.
Honduras, which borders on Nicaragua, El Salvador and Guatemala, has an area of 112,500 square kilometers and a population of about 10 million.