Washington, Ottawa end loophole that allowed border crossing
By AI HEPING in New York | China Daily Global | Updated: 2023-03-27 08:58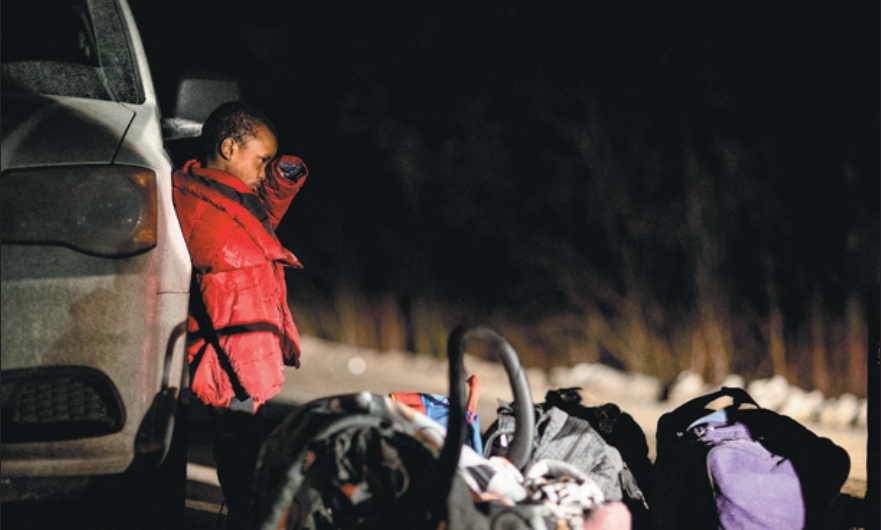 "STOP. DO NOT CROSS," read a sign posted at the most famous — and most used — unofficial border crossing into Canada, the two-lane Roxham Road.
In English and French, the sign warned asylum-seekers that if they went into Canada, they will be sent back to the United States.
The sign on the country road was posted on Saturday. It came after Canadian Prime Minister Justin Trudeau and US President Joe Biden announced on Friday an amendment to a pact two decades old that had permitted migrants to walk into Canada at unofficial crossing points and file an asylum claim.
The agreement took effect on Saturday to avoid a surge of refugees trying to cross. Under the new policy, asylum-seekers without US or Canadian citizenship who are caught within 14 days of crossing anywhere along the 3,987-mile (6,416-kilometer) border will be sent back. That includes people walking on Roxham Road.
The Roxham Road crossing linking New York state to the Canadian province of Quebec was a growing source of ire for many Canadians who put pressure on Trudeau to act, but nothing happened during years of talks between Canada and the US.
Quebec Premier Francois Legault welcomed the agreement and the official shutdown of Roxham Road. "It's a great win for Quebec," he said on Twitter.
Since 2002, the US and Canada have had what is known as a Safe Third Country Agreement that says asylum-seekers must apply in the first country they arrive in. Migrants who go to an official Canadian crossing are returned to the US and told to apply there. But those who reach Canada other than through an official port of entry have been allowed to stay and pursue asylum cases that can take years to resolve.
Canada has seen a dramatic increase in migrants at unofficial crossings. In recent months, a surge of nearly 40,000 migrants has taxed Canadian provincial governments that have housed and supported them.
Handling the arrival of the migrants who walked on the road has largely been borne by Quebec, said Legault.
As part of the deal, Canada has also agreed to provide "access to legal pathways" for an additional 15,000 migrants per year from Latin America and the Caribbean on a humanitarian basis, according to the US Department of Homeland Security.
But enforcing the amended agreement by apprehending people who cross anywhere along the land border could be a logistical nightmare and put people at risk, critics say.
If the purpose of this change is to deter irregular crossings, said University of Toronto law professor Audrey Macklin, "it will simply fail".
Agencies contributed to this story.
aiheping@chinadailyusa.com