Israel in chaos over judicial overhaul
chinadaily.com.cn | Updated: 2023-03-27 21:25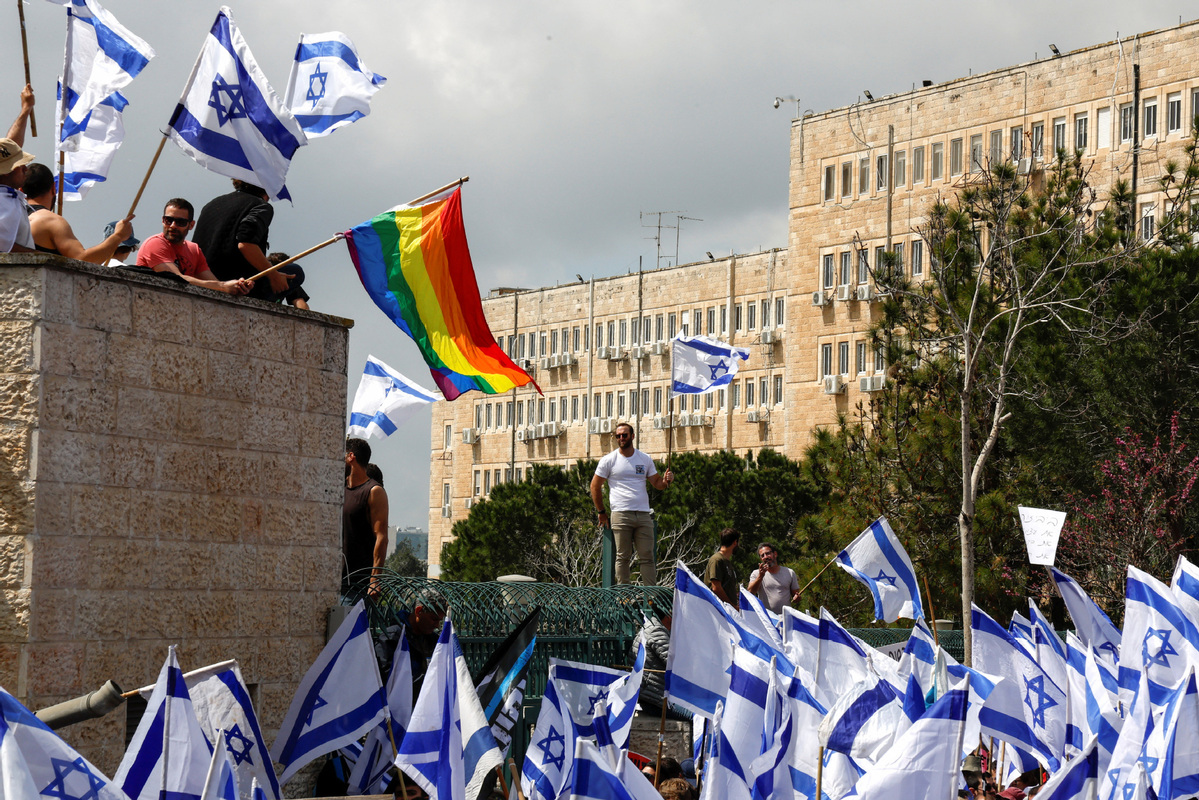 JERUSALEM, Middle East — Israeli Prime Minister Benjamin Netanyahu's coalition plunged into chaos on Monday, after mass overnight protests over the sacking of his defense chief piled pressure on the government to halt its bitterly contested plans to overhaul the judiciary.
Netanyahu had been expected to make a televised statement on Monday morning announcing the plans had been suspended. But amid reports that his coalition risked breaking apart, Israeli TV stations said the statement was postponed.
Earlier, a source in his Likud party and another source closely involved in the legislation said Netanyahu would suspend the overhaul, which has ignited some of Israel's biggest-ever demonstrations and drew an intervention by the head of state.
"For the sake of the unity of the people of Israel, for the sake of responsibility, I call on you to stop the legislative process immediately," President Isaac Herzog said on Twitter earlier on Monday.
The warning by Herzog, who is supposed to stand above politics and whose function is largely ceremonial, underlined the alarm that the divisions triggered by the proposals have caused.
It followed a dramatic night of protests in cities across Israel, with tens of thousands flooding the streets following Netanyahu's announcement that he had dismissed Defense Minister Yoav Gallant, a longtime ally of his.
Deep split
A day earlier, Gallant had made a televised appeal for the government to halt its flagship overhaul of the judicial system, warning that the deep split it had opened up in Israeli society was affecting the military and threatening national security.
As opposition spread, the head of the Histadrut labor union, Arnon Bar-David, called for a general strike if the proposals were not halted.
"Bring back the country's sanity. If you don't announce in a news conference today that you changed your mind, we will go on strike."
The Israel Airports Authority said departing flights from the country's main international airport have been grounded following the strike.
Universities across the country said they were shutting their doors "until further notice". A trade union umbrella group was expected to announce that it was joining the protesters and was reportedly set to launch a general strike. Israeli media reported that a lawyer representing Netanyahu in his corruption trial threatened to quit if the overhaul was not halted.
The judicial overhaul, which would give the executive more control over appointing judges to the Supreme Court and allow the government to override court rulings on the basis of a simple parliamentary majority, has drawn mass protests for weeks.
Opponents see it as an undermining of legal checks and balances and a threat to Israel's democracy.
As well as drawing opposition from the business establishment, the plan has caused alarm among Israel's allies. The United States said it was deeply concerned by Sunday's events and saw an urgent need for compromise, while repeating calls to safeguard democratic values.
AGENCIES VIA XINHUA