Li: Economy to maintain growth, strive for new drivers
By XU WEI | chinadaily.com.cn | Updated: 2023-03-27 23:48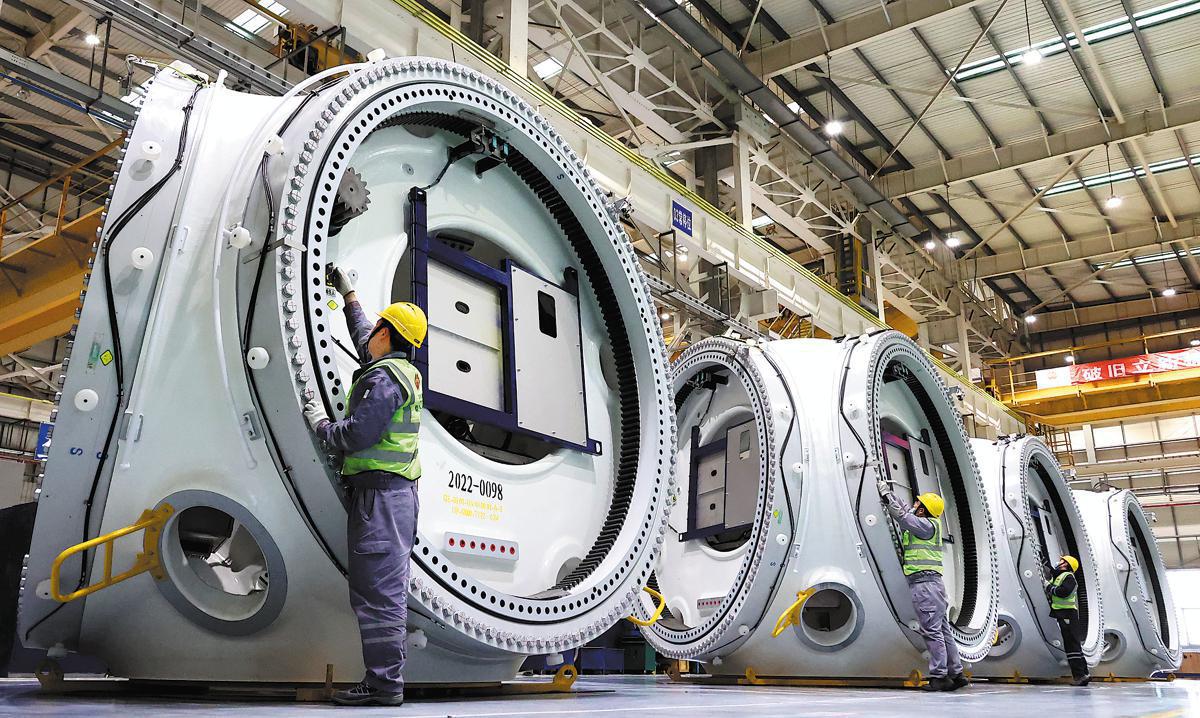 Economy: More certainty given to global development
Premier Li Qiang reaffirmed on Monday China's commitment to maintaining a proper rate of economic growth while striving for better quality, and more efficient and robust drivers of economic growth through reforms, to achieve higher-quality development.
Speaking at a meeting with foreign representatives at the China Development Forum 2023 in Beijing, Li pledged unwavering efforts to expand the country's opening-up, despite changes in the international landscape. The Chinese economy is deeply integrated into the global division of labor, he added.
Beijing will align itself with high-standard international economic and trade rules, steadily expand institutional opening-up and foster a world-class business environment that is market-oriented, law-based and internationalized, the premier said.
China has set a target for economic growth of 5 percent this year, while the International Monetary Fund upgraded its growth projection for China in 2023 to 5.2 percent, up from its October forecast of 4.4 percent.
Major economic indicators in the first two months of this year show that China's economy is stabilizing and picking up pace with a marked improvement in retail sales, fixed-asset investment and industrial output.
Noting that the world economy is undergoing a period of complexity and volatility, the premier stressed that it is imperative to firm up confidence and stabilize expectations to respond to the risks and challenges.
He said it is necessary to take a broader and long-term perspective. Li compared the economy to taking a journey on a rainy day, when a traveler can only see muddy roads if his or her eyes focus solely on their footsteps. If he or she looks up to the horizon, a rainbow will come into view, he said.
Li called on all sides to build consensus, bolster cooperation and jointly promote global economic recovery.
The Chinese economy, after steady growth over the past decade, has served as both a ballast for and propeller of the global economy, and injected more certainty to world peace and development, the premier said.
China is striving for higher- quality development and to enable the people to live better lives, which will also provide fresh engines for global economic growth and a broader space for the development of businesses from various nations, he said.
The CDF 2023, held at the Diaoyutai State Guesthouse, opened on Saturday and concluded on Monday. It was the first time delegates attended the forum in person since the start of COVID-19. The forum attracted over 100 foreign representatives, including executives from Fortune Global 500 enterprises, leaders of international organizations and scholars.
Among the foreign representatives who spoke at the meeting with the premier were Oliver Baete, chairman and CEO of Allianz SE and co-chair of the CDF 2023, and Tim Cook, CEO of tech giant Apple Inc.
Baete said in a letter to the forum that China's modernization is centered on sustainability, including the transformation to net-zero emissions to foster a greener, more stable ecological environment and manage the devastating impact of climate change.
"We applaud China's continued endeavor to improve the business environment and embrace international investments. Envisioning the future, we welcome China's pragmatic approach to further collaborate with the global society, as well as to play a critical role in cultivating a global community of resilience, mutual trust and sustainability.
"As a global organization, it has always been our firm belief that the Chinese market has great potential to achieve even more prosperity," he said.