Outdoor businesses prosper in Beijing
By XIN WEN | CHINA DAILY | Updated: 2023-03-28 07:17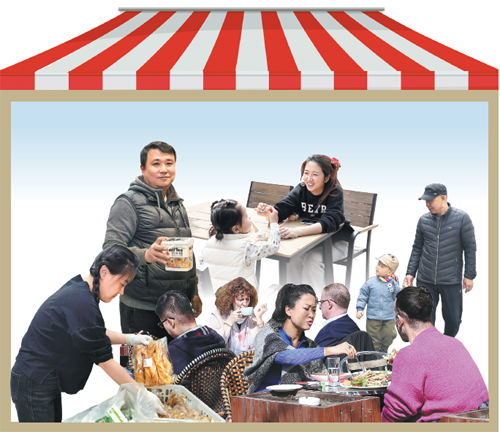 Customers attracted to a range of well-regulated new ventures
For the past five months, Lyu Fang has served customers coffee from a cart stationed in a sunken plaza at the trendy Solana Shopping Mall in Beijing's Chaoyang district.
The small cart has a deep-blue metallic exterior and a white table made from recycled plastic, where customers order their drinks, which are quick to arrive in attractive paper cups with black lids.
"Customers expect their coffee to be served promptly in comfortable surroundings," said Lyu, 32, who works from 10 am to 10 pm.
He once thought he should have worked for a coffee shop chain, but Kuuzy Home attracted him with its special business concept.
"The cart is enclosed, so I don't feel cold even in the depths of winter. Moreover, I love working in the coffee business," Lyu said.
The Kuuzy Home coffee cart, which occupies 3.5 square meters and started operating at the mall in October, stands out from other businesses at the location with its stylish fittings.
The cart is among the outdoor business ventures promoted recently by the Beijing municipal government as part of a new pilot project to meet increased demand for high-quality leisure products in the Chinese capital.
Unlike the street hawkers who randomly operate along the city's roadsides, these outdoor business ventures are regulated. They are situated in certain locations and have specified business hours.
On Jan 30, the Beijing Municipal Commission of Development and Reform announced policies to optimize the city's business environment to enable consumption to recover and expand after the COVID-19 epidemic. These policies also specify management rules and registration methods for outdoor ventures.
Media reports questioned whether these businesses are part of plans to upgrade the street vendor economy promoted by some provincial governments in 2020, when street stalls were allowed to operate at night to spur economic growth during the epidemic.
Early last month, Beijing municipal authorities clarified that outdoor business ventures are not the same as street stalls, as they don't occupy green areas, sidewalks for the blind, or parking lots. Neither do they hinder public access.
In addition to these ventures meeting increased demand for high-quality consumption and leisure products, the local authorities and business owners have taken the initiative to pursue economic development in response to the epidemic's impact on the economy.
Li Li, CEO of Kuuzy Home, said: "We launched our coffee cart to respond to customers' needs. Due to the epidemic, I'd been looking at ways to operate the coffee business. Such carts have been popular in Suzhou, Jiangsu province, and Chengdu, Sichuan province, but I didn't expect the Beijing municipal government to take a closer look at this new type of business."
Popular attraction
Kuzzy Home is not the only outdoor business at the Solana Shopping Mall. There are five more operating in the sunken plaza.
One of the most popular ventures is Ice Planet, a 200-square-meter ice rink that is particularly popular with children. The entrance fee is 129 yuan ($18.50).
Other areas of the city also have outdoor businesses, with 12 of them, including Xueji Food, located in Wangjing Walk, east of the Wangjing commercial area in Chaoyang.
Rapidly growing demand from consumers has spurred the introduction of these new outdoor businesses.
According to the Beijing Municipal Commission of Development and Reform, spending on consumption in the capital contributes more than 60 percent of its economic growth, making consumption the main driving force of the local economy.
Per capita consumption expenditure in the capital rose to 42,683 yuan last year, up 14 percent from 2017, while sales of retail consumer products in the city last year reached 1.38 trillion yuan, according to the Beijing Municipal Bureau of Statistics.
However, despite their success, the definition of an outdoor business venture is still not that clear.
A report published in 2020 by Xinmin Weekly, which is based in Shanghai, said outdoor businesses are public places by nature. They are not included in the leases that apply to commercial tenants at a shopping mall, but they are run by the property management company at the mall.
The report said property companies should inspect these ventures annually, and if they don't meet certain specifications, they will no longer be allowed to operate.
Tao Xidong, a professor at the Shanghai Academy of Social Sciences' Institute of Sociology, said, "To enable the effective and efficient use of public space, the government needs to implement management rules for outdoor businesses, such as specifying their operating hours, preventing noise pollution, and ensuring that these ventures are clean, tidy, orderly and safe.
"But I suggest the government should administrate these businesses without undue intervention to give full play to their advantages. It should also adopt legitimate means to create more high-quality, refined and comfortable outdoor shopping areas. As a result, these businesses will play a bigger role in commercial districts."
Tao added that high-quality outdoor businesses can help establish more distinctive and attractive consumption areas and promote development of Beijing's urban culture.
"Standardized development of outdoor businesses can raise awareness among companies and residents of the need to promote high-quality development of the city's commerce," Tao said.
"For the government, these businesses can create more job opportunities and increase tax revenue to promote urban economic development. Under certain conditions, those operating these businesses can enlarge their commercial space, increase profits and take on social responsibility for the city."
Wang Heshun, 70, a regular visitor to Wangjing Walk, who was photographing an outdoor coffee booth shaped like a post office, said: "I like the artistic atmosphere of this place, which prompted me to take the photo. It doesn't feel like a street stall at all to me, and I can tell that a great deal of thought has gone into the booth's appearance."
Huang Sha, 40, who had just bought snacks from Xueji Food with her daughter before they went to watch a movie at a theater near Wangjing Walk, said: "I bought some food at this booth, which is very convenient, but I didn't notice it was a new type of business. I just thought it was part of the mall behind it, as it was so easy for me to get everything I wanted."
Finding a balance
While consumers are optimistic about the emergence of more outdoor businesses, experts said a balance needs to be struck if these ventures are to operate in the long run, instead of merely being a temporary proposition.
Yang Hongshan, professor and deputy dean of Renmin University of China's School of Public Administration and Policy, said, "The Beijing municipal government's timely adjustments to the regulations have made our policies more resilient, and also show that those managing the city are striving for a better balance in urban governance."
As an interactive and vibrant place, Beijing is characterized by the flow of people, Yang said. Outdoor businesses in particular, as direct contact points with residents, provide an important way to promote products through window displays or from shopping carts, in addition to traditional department store sales, he added.
"People's requirements for leisure and entertainment should be taken into account, while it is also important to maintain law and order in the city," Yang said.
"If these outdoor businesses are to operate in the long run, a balance has to be struck on both sides, rather than adopting a one-size-fits-all approach.
"There are various forms of consumption. If food and other products for daily use are provided by the outdoor business ventures, this will help restore the city's hustle and bustle, while also ensuring social order.
"As long as the owners of outdoor businesses follow the rules set by the authorities and confine their operations to designated areas and opening hours, these ventures will be an indispensable part of life in the city."
Pioneering efforts
Wangjing Walk, a 700-meter-long pedestrian route running amid high-rises, has witnessed the emergence of these burgeoning outdoor businesses.
A diverse range of shops decked out with plants, fresh flowers and sunshades lines both sides of the route, with customers sitting on metallic chairs around wooden tables to enjoy food and drink.
Tian Xudong, 36, who owns Theodore Gelato, an ice cream shop at the east end of Wangjing Walk, said: "I have lived in the local community for more than 20 years and I like the atmosphere here. It's a great experience sitting out in the street on sunny days to get some fresh air and watch people passing by.
"I obtained information about the renovations to Wangjing Walk purely by chance in late 2019, so I decided to open my Italian ice cream store on the route."
Tian's shop, one of the first outdoor businesses to open on Wangjing Walk, has been operating since August 2020.
"The chairs and tables are provided free by the sub-district office and property developers. We merchants are responsible for cleaning and sanitizing all the tables and chairs in front of our shops," Tian said.
"Customers are attracted by these facilities, but if they are not provided, they may not stop in the area to enjoy the open air and eat ice cream."
During the pandemic, Tian's business remained largely unaffected.
"Our rent is not that high, we are situated in a European-style block, and the government has given us some preferential treatment over the years. I would love to open more shops in other well-appointed business areas and continue to improve the quality of our ice cream," he said.
Li, the Kuuzy Home CEO, said, "I hope our carts operate in more business districts in Beijing to provide our customers with fresh coffee."