Scottish National Party reveals its new leader
By JULIAN SHEA in London | China Daily Global | Updated: 2023-03-28 09:12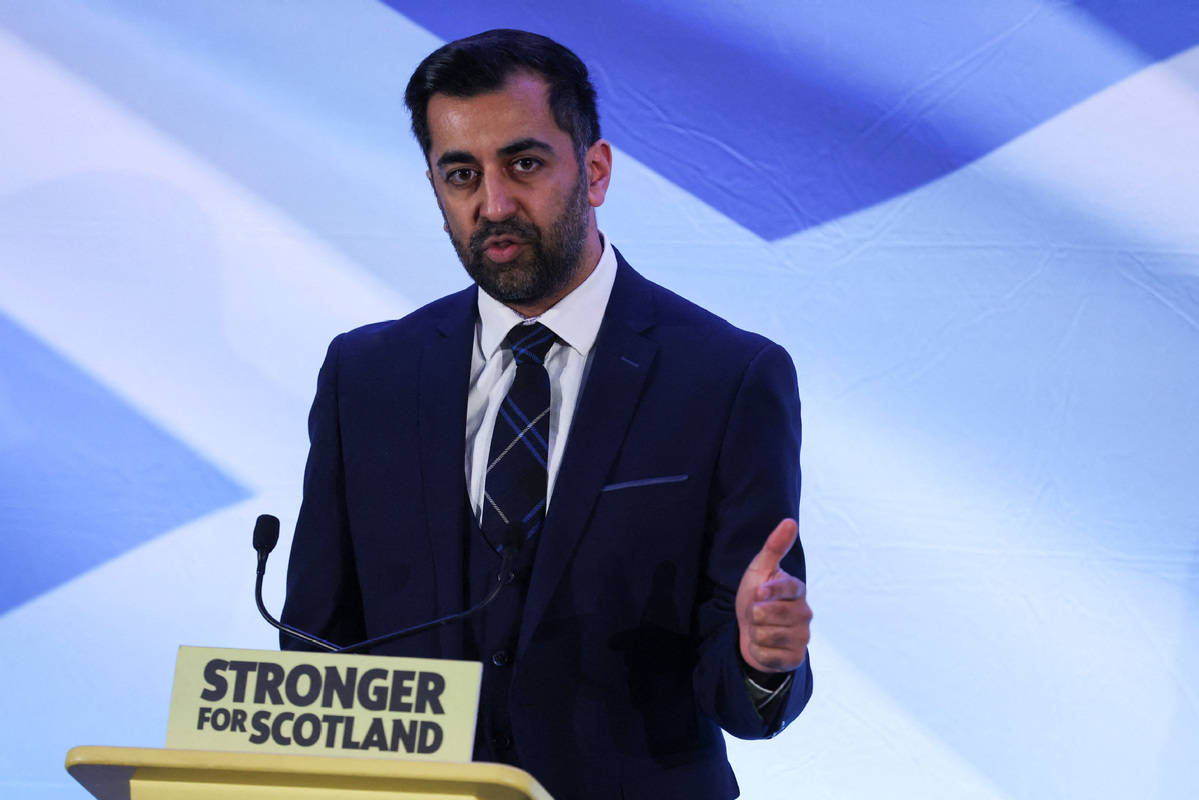 Humza Yousaf has been named the new leader of the Scottish National Party, or SNP, after members chose him to replace Nicola Sturgeon, following her shock resignation as the party leader and Scotland's first minister in mid-February.
After Ash Regan was eliminated in the first round of voting, Yousaf, who is widely regarded as politically similar to Sturgeon, beat rival candidate Kate Forbes in the second round by a margin of 52 percent to 48 percent.
"I will dedicate every waking moment to serving you, the people of Scotland," he said in his acceptance speech. "The people of Scotland need independence now more than ever before, and we will be the generation that delivers it."
Sturgeon was First Minister for eight years until her decision to step down, citing the pressures of political life.
"A first minister is never off duty. Particularly in this day and age, there is virtually no privacy," she said. "And the nature and form of modern political discourse means there is a much greater intensity — dare I say it, brutality — to life as a politician than in years gone by. All in all, it takes its toll on you and on those around you."
In the final chapter of Sturgeon's leadership, the party suffered a major defeat at the Supreme Court over the issue of who could call a possible future referendum on independence, and got caught up in a high-profile row over the imprisonment of a trans woman who had committed sex offences as a man.
In addition there was a damaging dispute over inflated membership numbers, which ended with the resignation of the party's head of communications and also its chief executive, Sturgeon's husband Peter Murrell.
In 2014, voters in Scotland rejected the idea of independence by 55 percent to 45 percent, but the issue was revitalized after the Brexit referendum, where the people of Scotland voted 62 percent in favor of remaining in the European Union, but were taken out as the United Kingdom as a whole voted to leave.
The SNP is the biggest party in the Scottish Parliament with 64 of the 129 seats, but does not have an outright majority, and with Sturgeon having been so dominant for so long, before the result was even known, rival political parties were already questioning the authority of the new leader.
"If you look at what Nicola Sturgeon said when (Prime Minister) Rishi Sunak came to power without an election, she said it was a democratic imperative for him to have a mandate," Scottish Labour leader Anas Sarwar told the BBC.
"This is an SNP that screams about mandates — the next SNP first minister will not have the mandate.
"They'll have Nicola Sturgeon's record, they won't have her mandate — a mandate given to her in a pandemic election when she asked people to support her for five years to get her through the pandemic and lead us to a national recovery."