Huangshan tourism aims to diversify revenue
By CHENG YU in Huangshan, Anhui province and ZHU LIXIN in Hefei | China Daily | Updated: 2023-03-29 09:33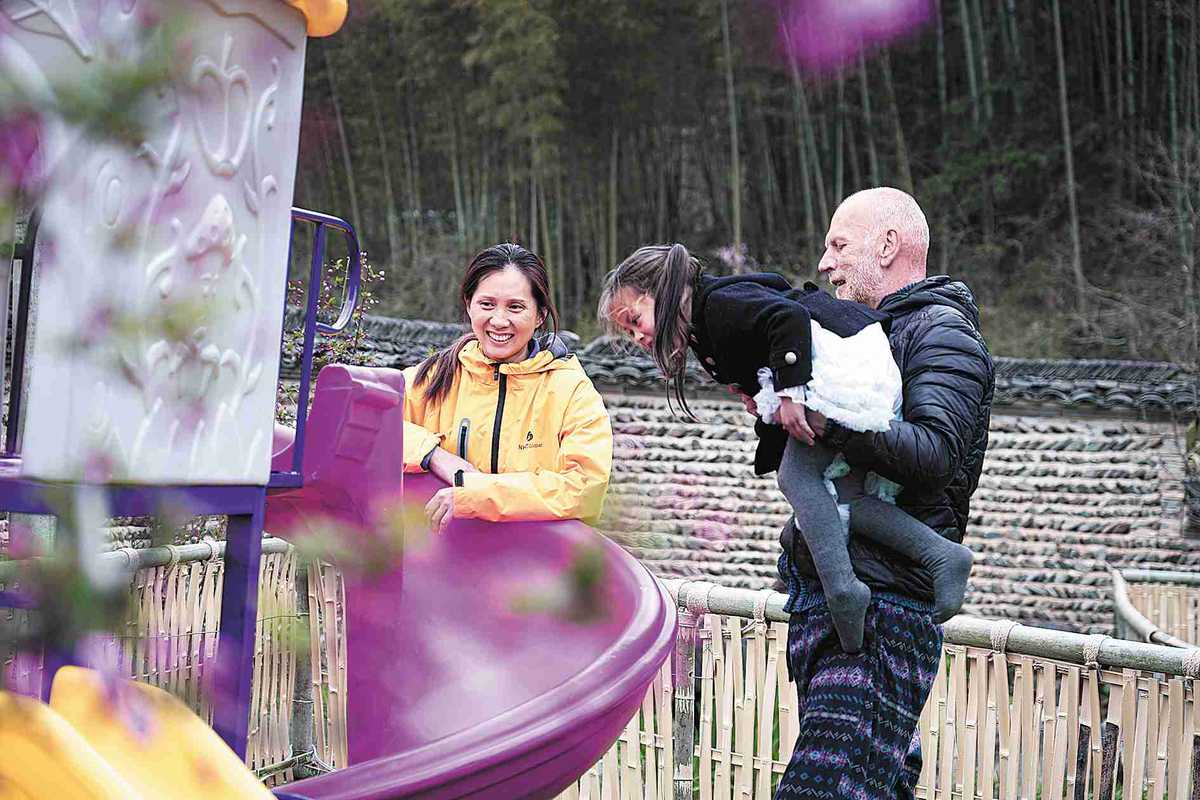 "We instantly fell in love with it, including the traditional architecture and family-run atmosphere. There is a personal connection that a hotel cannot offer," said Feng, who brought his family of four, including two kids, to spend four nights.
Feng was one of the families who chose to spend this year's Spring Festival holiday at Alina's Garden in Huangshan. The 12-room homestay was fully booked for seven days.
According to Schober, it was the busiest Spring Festival for them over the past three years. Some of the rooms were even reserved a month prior.
"No one would refuse to live in a house with a long history but at the same time possessing all the amenities that a hotel has," said Schober, adding that he took over the homestay without hesitation when they took a family break in Huangshan.
Born in the countryside, Schober said that the idea for him to build such a homestay is to create a fusion experience between the East and the West and bring the best of both worlds. "I am pretty confident we will receive more visitors here in Huangshan, especially foreign friends, in the future," he said.
To attract more tourists, the Huangshan government has launched a package of policies. For instance, consumption vouchers totaling 2 million yuan were launched for tourists from around the world to use, deducting some consumption fees when choosing to spend their Spring Festival at the homestays.
"Huangshan's homestays, embedded with traditional Huizhou culture, have become a trendy way for urban people to get off the beaten path and enjoy some peace and tranquility," said Ling Yun, Party secretary of Huangshan, at a conference promoting local homestays.
"The city is ready to operate at full capacity and embrace tourists from all over the world to spend a unique holiday here this year," she said.
Huangshan, which is known as a tourist city with dozens of national-level tourist spots, saw a significant rise in revenue in January. Huangshan Mountain, known worldwide for its imposing scenery and massive boulders, saw over 350,000 tourists in January, which hit the highest January number since 2018.
During the seven-day Spring Festival this year, more than 1 million tourists flocked into Huizhou Ancient Town, up 460 percent year-on-year, and brought tourism revenue of nearly 1 billion yuan, up 320.8 percent.
Liyang in Alley, a modern district of Tunxi that is remodeled from ancient Huizhou-style streets into a modern fashion and cultural spot, registered 434,000 tourists in January, with total turnover of 16.59 million yuan, an increase of 34.8 percent compared with the previous year.
Letting go of the dependence on ticket revenue has become a trend in the tourism industry in recent years. The State Council, China's Cabinet, said in a plan that the country encourages the formulation and implementation of subsidy policies such as ticket reductions and exemptions for tourist attractions, free opening in off-seasons and discounts for performance tickets.
The country has also vowed to make more efforts to accelerate the supply-side structural reform to prosper innovative tourism to promote the high-quality development of the tourism industry.
During this year's Spring Festival, many provinces and cities canceled ticket fees. A total of 49 tourist spots from Jiangsu province made their entrance fees free over the period, while Hangzhou, capital of Zhejiang province, made tickets to its national-level tourist attractions free until the end of March.
"The ticket economy was born under specific historical conditions during the development of the country's tourism industry. For a considerable time, it has been an important source of scenic resource protection, heritage protection, operation management, and even fiscal revenue and foreign exchange," said Zhang Dehui, chairman of Huangshan Tourism Development Co Ltd.
Thus, it depends on the different situations of scenic spots whether to reduce the proportion of ticket revenue in their total revenue.
"For scenic spots with natural or cultural heritage, diversifying businesses also has restrictions. It is also important for scenic spot tourism authorities to ensure a stable and important cash flow, and ticket income is relatively stable support," he said.
Dai Bin, president of the China Tourism Academy, said that free travel, price reductions and discounts in tourist attractions have indeed boosted the confidence of provinces and cities in tourism development and expanded tourism demand.
"But full consideration should be given to consider whether free tickets, price reductions and discounts have affected the company's ability of continuous operations. Policymakers are expected to launch relevant relief measures and subsidies to help them to transform," Dai said.