40 migrants die in fire at Mexico facility
By MAY ZHOU in Houston | chinadaily.com.cn | Updated: 2023-03-29 10:36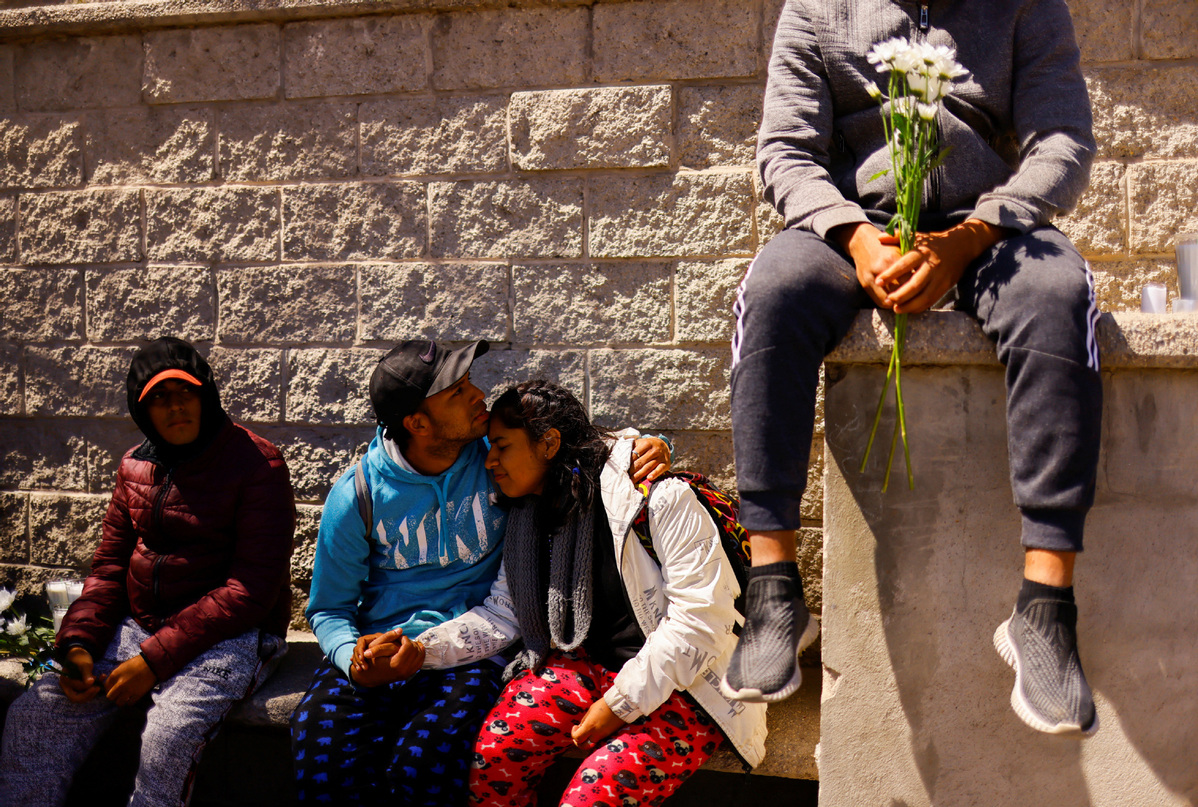 A fire that started as a protest led to the deaths of at least 40 people at a migrant detention center in Ciudad Juarez, a Mexican city across from El Paso, Texas.
At the time of the blaze late Monday, 68 men from Central and South America were being held at a facility of the National Immigration Institute in Mexico, the agency said. It also said that 29 people were injured and were in "delicate-serious" condition.
The institute said in a statement that the migrants lighted their mattress in protest, and the fire broke out at about 10 pm in one of its facilities in Juárez. It is near the international bridge that connects to El Paso.
According to a statement from the Mexican attorney general's office, Mexico authorities identified the dead and injured as from Central and South America, and most were from Guatemala.
Guatemala Foreign Affairs Minister Mario Búcaro said 28 of the dead were Guatemalan citizens.
"We are going to look to find those responsible for this," Búcaro said.
Mexico President Andrés Manuel López Obrador said the fire was started by the migrants in protest after they had learned they would be deported.
"They never imagined that this would cause this terrible misfortune," he said.
Katyusha Márquez, a 23-year-old Venezuelan woman, and her two young children, were detained along with 20 others, including her half-brother Orland Maldonado on Monday, The Associated Press reported.
Later that day, women and children were released, but men like her half-brother were detained. Upon learning about the fire, she went seeking Maldonado.
"We want to know if he is alive or if he's dead," AP reported her as saying. She wondered how all the guards who were inside made it out alive and only the migrants died.
"How could they not get them out?" she said.
Márquez said that they had been in Juarez waiting for an appointment from US authorities to request asylum. They were staying in a rented room where 10 people were living, paying rent with begged money.
In January, the Biden administration pushed out a new policy to deal with the massive number of illegal border crossings at the US-Mexico border. It allows up to 30,000 individuals per month from Venezuela, Nicaragua, Haiti and Cuba to come to the US provided that they have an eligible sponsor, pass background checks and arrive by plane.
Those who cross into the US illegally will be ineligible for the parole process and will be subject to expulsion to Mexico. Mexico has agreed to accept returns of 30,000 individuals per month from those four countries who fail to use these new pathways.
As a result, Mexico's immigration institute has been struggling with overcrowding in its facilities. As frustration has mounted among the migrants, a large group of them tried to barge into the US by crossing the international bridge between Ciudad Juarez and El Paso on a Sunday in mid-March this year. But they were stopped by barriers set up by the US authorities.
A February report by the Strauss Center for International Security and Law at the University of Texas at Austin said that asylum seekers face unstable living conditions and security risks in Mexican border cities.
"Many shelters are full, and along the border, a number of individuals are renting rooms, staying in hotels, or sleeping on the street," the report said. The report also said that in Matamoros, a Mexican city bordering Texas and close to the Gulf of Mexico, a tent camp has sprung up with thousands of occupants living along the Rio Grande which serves as a natural water border between the US and Mexico.