US double standards show its desperate desire to prolong hegemony
By Xin Ping | chinadaily.com.cn | Updated: 2023-03-29 14:33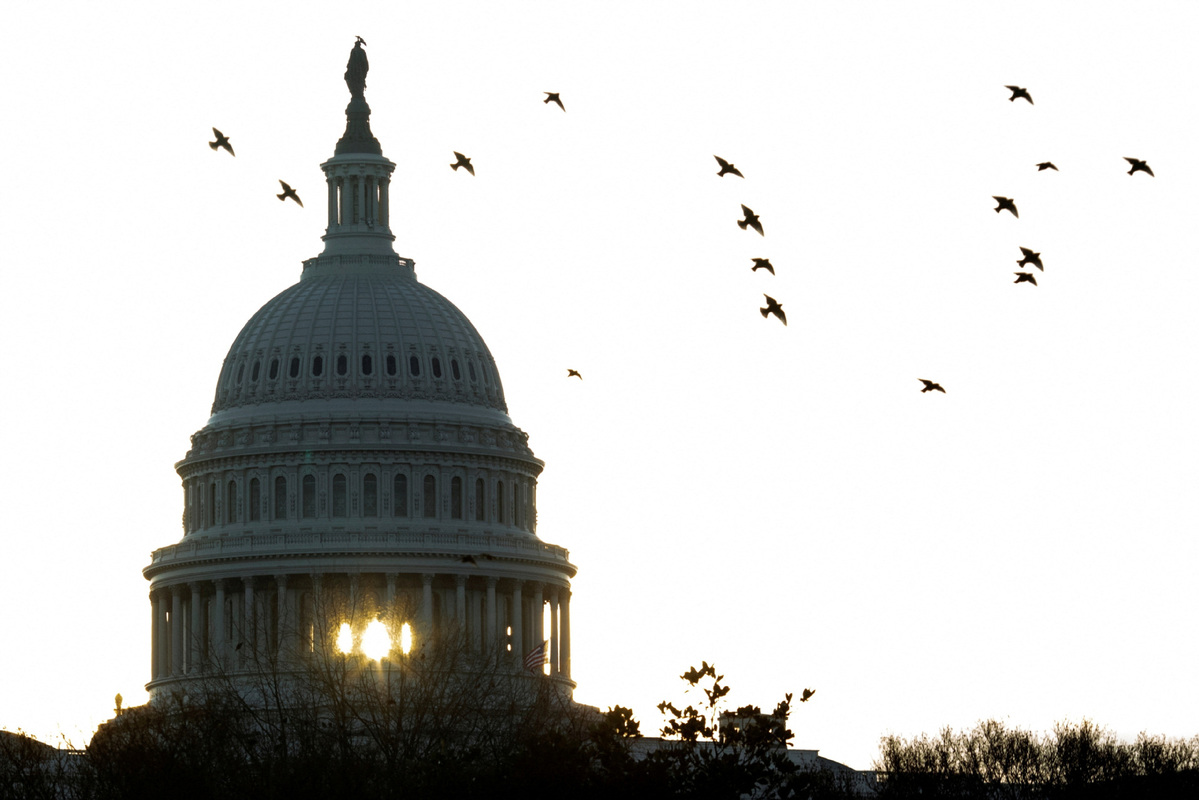 In The Grand Chessboard, the masterpiece of insightful American policy thinker Zbigniew Brzezinski, it was argued that the most dangerous scenario for the United States would be when China, Russia and perhaps Iran work together in ways that resemble an "antihegemonic" coalition, united not by ideology but by complementary grievances.
What Mr. Brzezinski worried might be an alarmist's forecast, but it fits well in US paranoia. As China, Russia and other underrepresented forces in the developing world come increasingly together to form a stronger pillar in the global order, the US is increasingly fretting that it might have a harder time maintaining its global hegemony. It has already begun throwing mud at China and Russia whenever and wherever it can, while conveniently ignoring that its unfounded accusations against the two countries are actually a summary of what the US always does, demonstrating its hypocritical double standards.
Take the principle of sovereignty and territorial integrity as an example. The US talks at length about respecting the sovereignty and territorial integrity of Ukraine, proclaiming to be the sole defender of the principle, all while disrespecting China's sovereignty and territorial integrity when it comes to the Taiwan question.
Maybe this could explain the schizoid personality of the US: in essence, it does not care about the principle of sovereignty and territorial integrity, rather only uses it as a decent and convenient excuse. When a nation is viewed as a competitor, the US will egg on the separatist forces within the nation to "decide their own future" — "self-determination", as it is so called. And when a nation is, unfortunately, at war with the US, it will not hesitate to wage the "just cause of crusade" and cast whatever principles aside.
Weapon delivery is another proof of the US' double standards. The US warns China not to provide weapons to Russia, while it keeps selling arms to Taiwan in violation of the August 17 Communiqué, a document in which the US made solemn political commitments to China.
Insightful Americans know the hypocrisy of their country best. Eve Ottenberg, an author at the American online magazine CounterPunch.org, pointed out in plain language that US officials "think they can order a giant like China around, while doing exactly what they command it not to (send weapons to others). And in Beijing's own backyard no less!" What a showcase for American-style naked hypocrisy.
US double standards are also reflected by how it defines a war as justified. For Uncle Sam, his wars are always for justice, freedom and democracy. He would never mention the billions of dollars American military-industrial complex has pocketed from the battle-fields, oil-fields and whatever other fields the US military has captured and seized from other devastated nations. Uncle Sam's war, in a word, is an essential element to maintain American hegemony.
Nothing captures this better than the Iraq War two decades ago, when the US, claiming that Iraq possessed weapons of mass destruction, launched its illegitimate, unauthorized invasion against the Middle Eastern country. Even US soldiers realized that it was a "ridiculous" excuse, recalled by Brian Berletic, a former US Marine who participated in the war. After 20 years, the US seems to have lost its memory of what it did in Iraq, Afghanistan, Syria, Panama, Grenada and other countries. Ironically, the US condemnation against Russia is, indeed, applicable to its own invasion against Iraq, as pointed out by Thomas Fischer, a former judge of German Federal Court of Justice, in his article "Ersetze »Putin« durch »Bush« und »Ukraine« durch »Irak«" ("Replace 'Putin' with 'Bush' and 'Ukraine' with 'Iraq'") published on Der Spiegel.
The most vicious facet of the double-standard approach is manifested in how the US approaches Taiwan. It has always longed for control of the island's cutting-edge semiconductor industry and, if possible, a permanent role of Taiwan as a bridgehead to contain China. Therefore, warmongers in Washington, while professing the maintenance of the regional peace and stability, have never stopped challenging sovereignty and territorial integrity of China to create opportunities for themselves.
On the other hand, they know China's resolve and capability very well. Unwilling to see the peaceful reunification across the Taiwan Strait and lose control of the island's chip industry, they seriously consider a barefaced plan for the "destruction of Taiwan". No matter if such a plan has already been formulated, these warmongers - like Robert O'brien, a former US national security advisor and an iconic representative of the Cold War mentality - have publicly shown their intention in various occasions. The hegemonic nature of the US means that it would simply destroy by force anything that it wants but cannot get, so that no one else could get it instead.
The US manipulating its double standards for political gains reflects nothing but its desperate fear of losing its hegemonic power of dictation and interference in world affairs. In a time of transforming global order, anachronistic actions like that are doomed to hit a dead end. When "a city upon a hill" is built on "double standards", it won't last long on that shaky foundation. The cornerstone has eroded. How long will it take before a total collapse?
The author is a commentator on international affairs, writing regularly for Global Times, China Daily etc. He can be reached at xinping604@gmail.com.
The views don't necessarily reflect those of China Daily.
If you have a specific expertise, or would like to share your thought about our stories, then send us your writings at opinion@chinadaily.com.cn, and comment@chinadaily.com.cn.