Six symphony orchestra joins hands in a Beijing concert
By Chen Nan | chinadaily.com.cn | Updated: 2023-03-29 15:04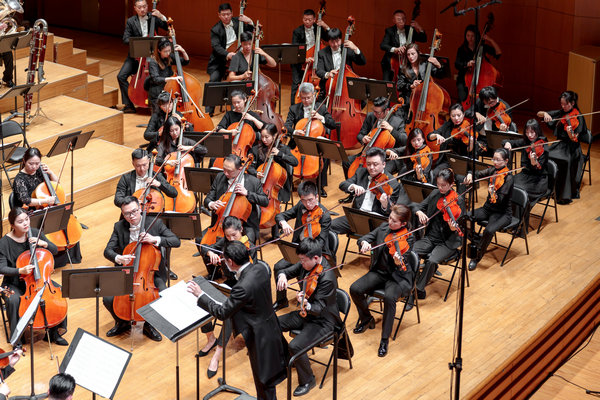 A concert was held at Beijing Concert Hall on March 28, featuring musicians from six Chinese symphony orchestras performing the music piece, titled The Light of Mind, by Chinese composer Wang Danhong. The concert was conducted by Hong Yiquan.
The concert premiered at the National Center for the Performing Arts in Beijing on May 4, 2021, as part of the NCPA's China Orchestra Festival, the symphonic piece, with four movements, was inspired by the patriotic Chinese song, Without the Communist Party, There Would Be No New China, written by Cao Huoxing in 1943.
Back in 2021, six Chinese symphony orchestras from Sichuan, Shenzhen, Tianjin, Qingdao, Wuhan and Harbin co-commissioned the composer to write the music work and formed one large ensemble to perform the piece.
The musical piece was commissioned by the orchestras to mark the 100th anniversary of the founding of the Communist Party of China.
During the recent concert in Beijing, a brass band, standing among the audience, performed during the last chapter of the music, which was a special arrangement for the audience, according to composer Wang.
"It delivers the triumphant final chapter, so as to give our best wishes for the country's bright future," says Wang. Wang has been working with China National Traditional Orchestra since 2010.