Diplomat says UK ban politicizes tech company
By EARLE GALE in London and XING YI in Belfast | China Daily Global | Updated: 2023-03-31 07:03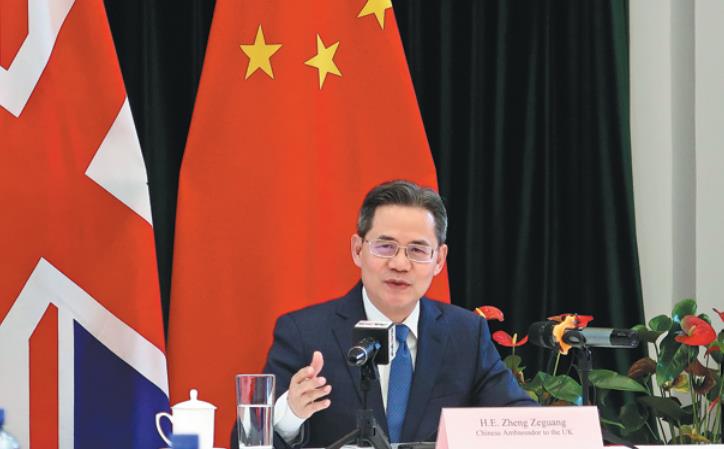 The United Kingdom government's recent decision to prohibit ministers and officials from having the TikTok app on their mobile phones has drawn criticism from China's ambassador to the UK.
"To ban TikTok, to ban UK government officials from using it, or to describe TikTok as something that is controlled by the Chinese government is obviously overstretching the idea of national security and politicizing a technical company," Ambassador Zheng Zeguang said at a news conference on Tuesday during his first official visit to Northern Ireland.
The UK government had earlier justified its decision to ban the app by saying the Chinese authorities could get TikTok and its parent company ByteDance to share sensitive information from people's phones.
But Zheng said that simply could not happen because they are private companies and not part of the Chinese government, and because China values personal privacy and has laws that ensure privacy is not violated.
"The Chinese government respects privacy and our laws and regulations ensure the safety and security of the data of private citizens," he said.
TikTok has also strongly denied its users' data could end up in the hands of the Chinese government.
Zheng said the UK government should try to understand the app and its benefits, which include offering a way to stay in touch with its audience, mainly young people.
By banning it, he said "you just prevent yourself from understanding the younger generation".
The ambassador urged policymakers in the UK not to "politicize the issues and not to be led astray by any third country".
Washington is currently considering fully banning the short-video app, which has more than 150 million regular users in the United States.
Al Jazeera noted in a recent editorial that the US has said little about Section 702 of its Foreign Intelligence Surveillance Act, which allows US intelligence agencies to use US internet and phone companies, including Amazon, Google, Meta and Microsoft, to carry out surveillance on overseas targets without a warrant.
"It is a case of 'rules for thee but not for me'," Asher Wolf, a technology researcher and privacy advocate based in Australia, told Al Jazeera.
In Belfast, Zheng also attended the China-UK/Northern Ireland Forum on New Energy Innovation, which was the first event of its kind and attended by more than 100 officials.
With China being the world's largest hydrogen consumer and producer, there is huge potential for cooperation in the sector awaiting China and the UK, officials and experts said.
Green cooperation
"The two countries' policy goals in promoting green and low carbon development are highly aligned," Zheng said in his opening remarks at the forum. "One of the major principles of China's path to modernization is harmony between mankind and nature. China is firmly committed to the targets to achieve carbon peaking by 2030 and carbon neutrality by 2060. And our tradition is we mean what we say, and we deliver on what we promise," the envoy said.
The first day of the forum centered on hydrogen energy and the signing of memorandums of understanding on research collaboration on hydrogen energy by Queen's University Belfast, Foshan Xianhu Laboratory and Wuhan University of Technology.