TikTok hearing shows demise of US values
By Mehmood Ul Hassan Khan | chinadaily.com.cn | Updated: 2023-03-31 08:28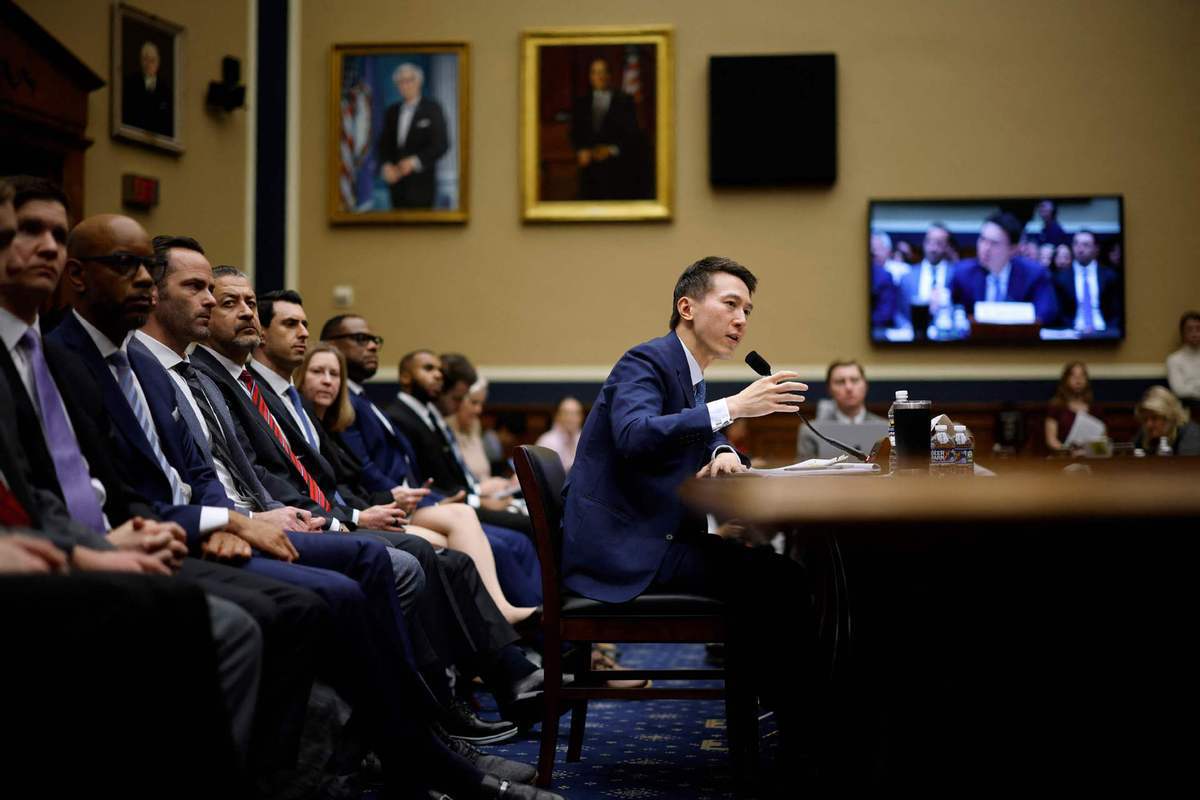 After a one-sided congressional hearing lasting more than five hours on March 23, the US House Energy and Commerce Committee chair Cathy McMorris Rodgers said TikTok should be banned. By claiming, without providing any evidence, that the app has ties with the Chinese government just because its parent company ByteDance is based in China, she reflected the US' presumption of guilt.
It seems the true spirit of corporate governance, economic globalization, a fair global economic system, the basic principles of international marketing, trading and investment have been ruined by the US' congressional farce.
The US' constant use of national security as a pretext to twist international law and business rules is nothing but political manipulation, which will harm Sino-US trade as well as global trade. While the world seems to be moving toward embracing ChatGPT and advancing artificial intelligence, US policymakers are out to reverse the technological revolution through their politically fabricated conspiracies.
Unfortunately, TikTok has become the victim of US hegemony and imperialistic design. The proposed ban on TikTok became a hot topic for the international media, with most of them terming it irrational and illogical, and questioning the US' so-called corporate governance and financial transparency.

In its response, the Chinese Foreign Ministry strongly criticized the proposed unilateral ban on TikTok, urging the United States to stop its suppression of foreign enterprises, because it would eventually backfire.
TikTok CEO Shou Zi Chew, a Singaporean citizen, appeared for the US congressional hearing and faced tough questions, with the House committee members claiming that the Chinese government could use the app's data for surveillance against the American people and thus undermine the US' national interests.
The hearing, it appears, was held to cover up the US' real purpose of stealing the profitable company from China, by bullying the company's officials. Many regional and international experts have called it an attempt to commit daylight robbery.
Ironically, during the more-than-five-hour hearing, the US lawmakers did not try to resolve the issue of ensuring data security and turned it into a preplanned political show to smear TikTok and China. The hearing was held following the Joe Biden administration's reported threat to ban TikTok if its China-based parent company ByteDance did not divest its stake in the popular video app. This shows the US' aim of curbing China's technological advancement as well as the Biden administration's declining confidence in competing with China.
The hearing was full of hegemonic sermons and demonstrated that, despite its grand claims, the US does not have any objective rules and prefers to use the pretext of national security to arm-twist foreign companies into submission.
The US has been politicizing an innovative social media app that has provided entertainment for millions of American people and benefited a lot of micro businesses in the country. As such, the US' attempt to steal the app from ByteDance will have serious repercussions.
Despite the logical representations of Shou Zi Chew about his organization's openness, transparency, financial integrity and lawful operation, the House Energy and Commerce Committee was not willing to listen to him.
Speaking at a separate House Foreign Affairs Committee hearing recently, US Secretary of State Antony Blinken said TikTok should be banned one way or another, because he did not know whether it would be enough for TikTok to be divested from its Chinese parent company to safeguard national security. By this logic, every social media app should be banned.
The Biden administration's so-called national security narrative has caused speculation among TikTok users, scholars and researchers. By forcing ByteDance to sell TikTok, the US is aiming to repeat its takeover of French power company Alstom and its torment of Japanese chip-maker Toshiba. But the US' sinister move is doomed to failure, as the roadblocks faced by Donald Trump administration three years ago show.
Hopefully, the Biden administration will not succeed in banning TikTok, as the app has more than 150 million users in the US. It will not be easy for the US to take over TikTok either, as a deal should also be in compliance with Chinese laws.
In August 2020, China's Ministry of Commerce revised its restrictions on technology exports, including personalized content recommendations based on data analysis and a number of other technologies such as AI algorithms, which at the time was widely considered as China's countermeasure against a US attempt to take over TikTok.
From the crackdown on Huawei to the targeting of TikTok, every US move against Chinese companies is aimed at curbing China's advancement in the high-tech field. Before the farce over TikTok, the US put an additional 14 Chinese companies on its Entity List, forcing US exporters to conduct greater due diligence before shipping goods to them. Since companies added to the Entity List are mainly technology and solar power enterprises, it reflects the US' political frustration and technological inability to compete with China.
The bible of capitalism is being redrafted because of the US presidential election next year and the China hawks are desperately trying to create issues to lure voters to win the battle of the ballot.
The writer is executive director of the Center for South Asia & International Studies in Islamabad, Pakistan. The views do not necessarily reflect those of China Daily.
If you have a specific expertise, or would like to share your thought about our stories, then send us your writings at opinion@chinadaily.com.cn, and comment@chinadaily.com.cn.