King makes historic Berlin speech
By JULIAN SHEA in London | China Daily Global | Updated: 2023-03-31 09:06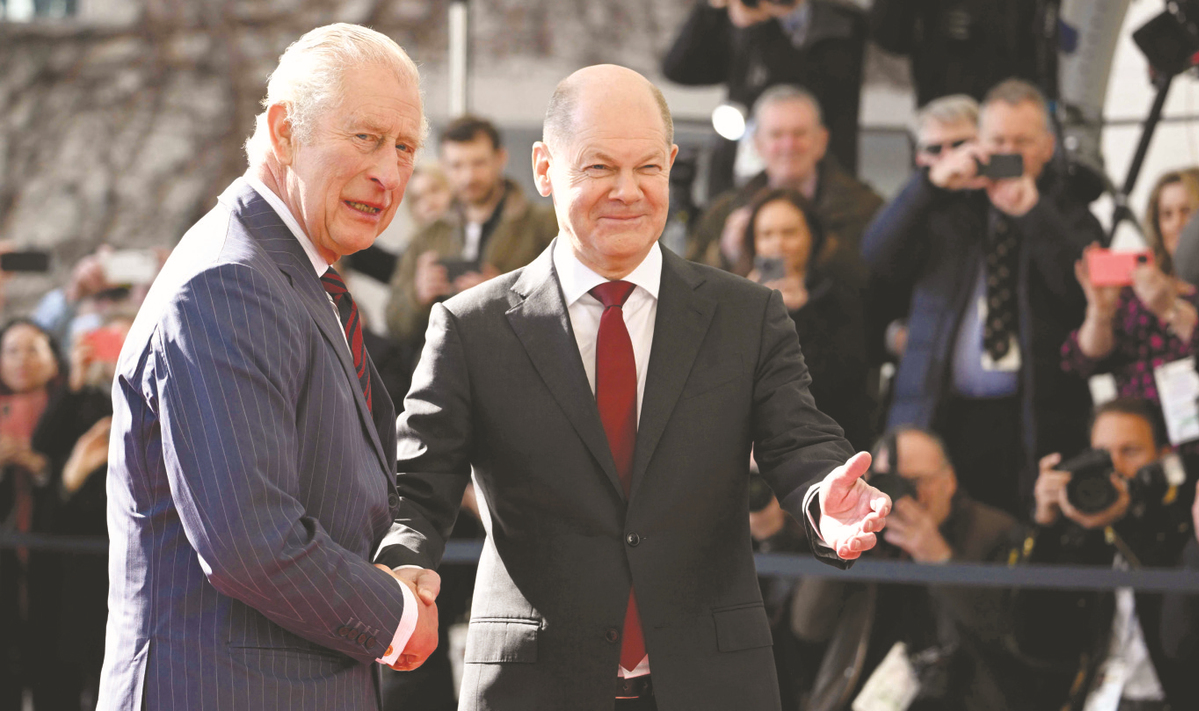 King Charles III became the first British monarch to address Germany's Parliament, the Bundestag, on Thursday, when he made a speech on the second day of his first overseas visit since becoming monarch.
The British Embassy in Berlin said the king had visited the country dozens of times before, and in his speech, conducted in English and German, he said: "Today, it gives me particular pride to be with you once again, now as king, and to renew the special bond of friendship between our two countries."
Among the topics covered were his mother's relationship with Germany and cooperation in the face of what he called an "existential challenge" of climate change.
Referring to off shore wind generation and hydrogen, he said "these innovations are vital in combatting the existential challenge of climate change and global warming which confronts us all", and he praised the "pioneering research being done".
"There is more cooperation (between the United Kingdom and Germany) than with any other pair of countries in Europe," he added.
Later, the king was due to meet Ukrainian refugees who have settled in Germany, and to talk to representatives of a combined UK/German military unit in Brandenburg, while his wife Camilla, the queen consort, visited the opera, and later the couple were to go to an organic farm, an area that has long been a passion of the king's.
The royal trip's first stop had been due to be France, but that was canceled at short notice because of the increasingly violent demonstrations taking place across the country.
The royal couple arrived in Germany on Wednesday and President Frank-Walter Steinmeier welcomed their visit, calling it "an important signal for German-British relations".
On their first night in the country, they were honored with a banquet at Bellevue Castle, where guests included Germany's former chancellor Angela Merkel.
The king said he would do all he could "to strengthen the connections" between the countries, which would work together for the progression of their "shared democratic values".
The United Kingdom's Ambassador Jill Gallard told public radio network Deutschelandfunk that his visit demonstrated Britain's strong commitment to its European neighbors, despite the country having left the European Union.
"This visit was a recommendation from the British government, and it is no coincidence that this will be the first visit to Europe," she said.
Sky News royal correspondent Laura Bundock referred to the visit as "the soft power of the monarchy in full motion".
"These visits are always organized by the government, and the fact a close European neighbor was chosen (for his visit as king), rather than a commonwealth country, symbolizes how much this relationship matters," she said, although the Bundestag address made no mention of Brexit by name.