Underwater data centers making waves
By LI JIAYING | China Daily | Updated: 2023-03-31 09:26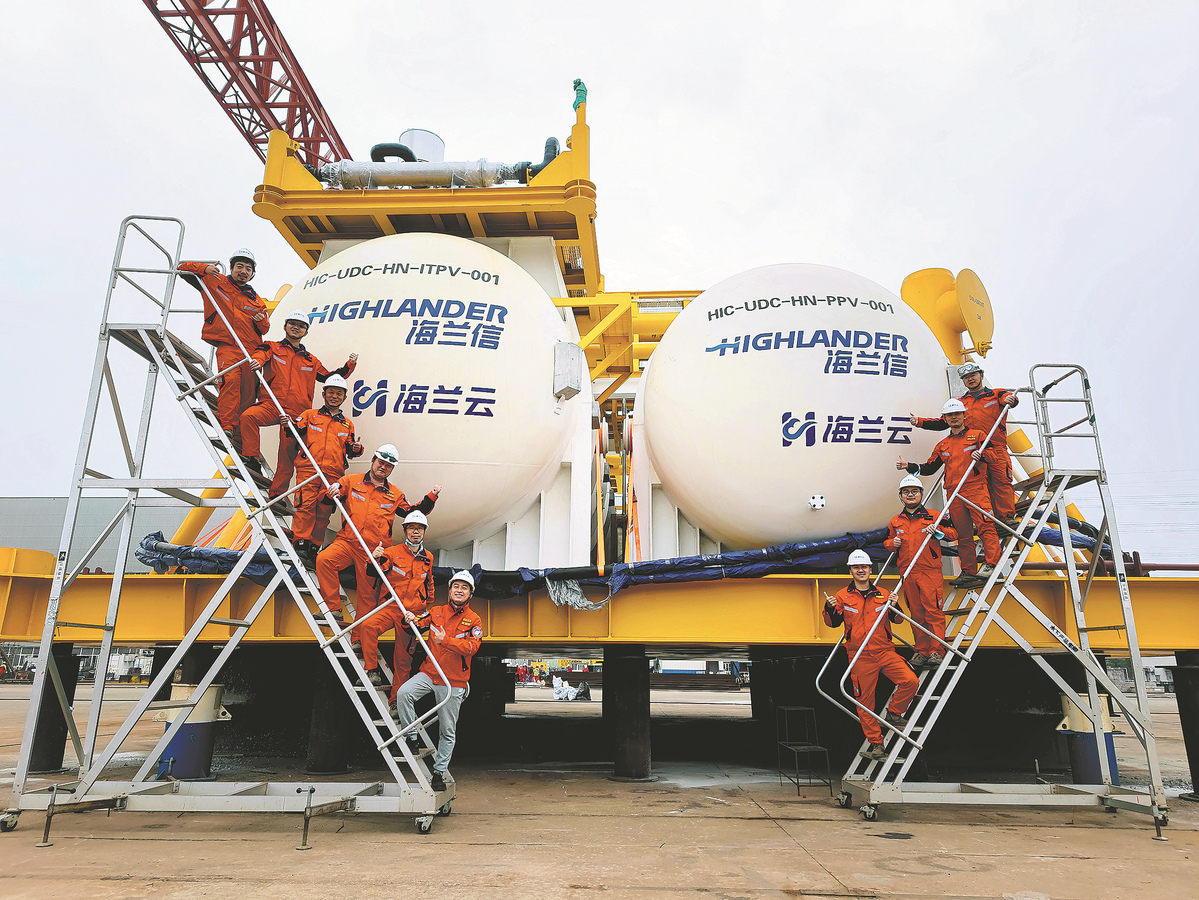 Facilities cheaper to maintain, greener, more secure than their inland equivalents
Editor's Note: China aims to nurture 10,000 "little giants" from 2021 to 2025 amid an ambitious plan to trigger the vitality of small and medium-sized enterprises in its sprawling industrial economy. "Little giants" typically specialize in niche sectors, command high market shares and boast strong innovative capacity. To be termed a "little giant", a Chinese firm must see a minimum 5 percent year-on-year average growth rate of its main business income or net profit in the previous two years. More importantly, it must have two valid invention patents or other similar proof of its innovation capabilities and at least 3 percent of its top line must be dedicated to R&D, among other financial and operational criteria. China Daily explores how they help the world's second-largest economy stabilize its industrial and supply chains, navigate headwinds from the COVID-19 pandemic and achieve breakthroughs in technology bottlenecks.
As a physical network of computing and storage facilities, inland data centers located on terra firma provide solid support for digital transformation. But what if a data center is placed underwater — even as deep as on the bottom of the ocean? Having completed construction in December, the world's first commercial underwater data center is undergoing preparatory work for initial operations in seawaters just off Lingshui Li autonomous county, Hainan province, said its builder, Beijing Highlander Digital Technology Co Ltd, a company engaged in advanced sea technologies and UDC services that was listed a "little giant" company by the Ministry of Industry and Information Technology in 2020.
Whenever any vanguard technology announces itself as "the first of its kind", there are typically plenty of questions, curiosity and speculation. Facing the most frequently asked one — why put a data center underwater? — the company has provided sufficient facts to show that generally speaking, the choice does have unique advantages over regular IDCs.
A UDC uses ambient water as a natural cooling source for its equipment, which can help save more than 30 percent on energy costs versus traditional data centers. Without needing to prepare water for cooling purposes, the idea of a UDC therefore saves on costs associated with such contingencies, with about 30,000 cubic meters of water saved per megawatt each year, Highlander said.
"In seawater with relatively low temperatures, the challenge to reduce the power usage effectiveness rate — the ratio of the total amount of energy used by a computer data center facility to the energy delivered to computing equipment — of an underwater data center is actually not that great. The key point is to ensure the PUE still remains at a low level under high-temperature natural conditions, such as in tropical and subtropical sea regions," said Pu Ding, general manager of the UDC Hainan Pilot Development Project at Shenzhen HiCloud Data Center Technology Co Ltd, a unit focused on UDC construction under Beijing Highlander Digital Technology Co Ltd.
"The fact that our first project is carried out in Hainan, a major Chinese tropical island, demonstrates the company's resolution to face the most challenging situations and tackle relevant technical problems when designing a UDC. We chose 'hard mode' from the very beginning," Pu said.
In addition, by placing servers in sealed watertight cabins on the seabed, it is easier for a UDC to ensure a stable and safe operating environment since the sealed cabins are oxygen and dust-free, and can provide constant temperatures, humidity and pressure conditions for the servers inside and therefore guarantee physical data security.
For example, oxygen reacts with many chemical substances, which causes corrosion. So removing the oxygen and filling the space with a chemically nonreactive gas — such as nitrogen — leads to higher reliability of the running of the machines. As a result, UDC servers outperform those on land, with the failure rate of a UDC's servers only one-eighth that of an IDC, according to experimental results from Microsoft's Project Natick, the world's first attempt at a UDC project.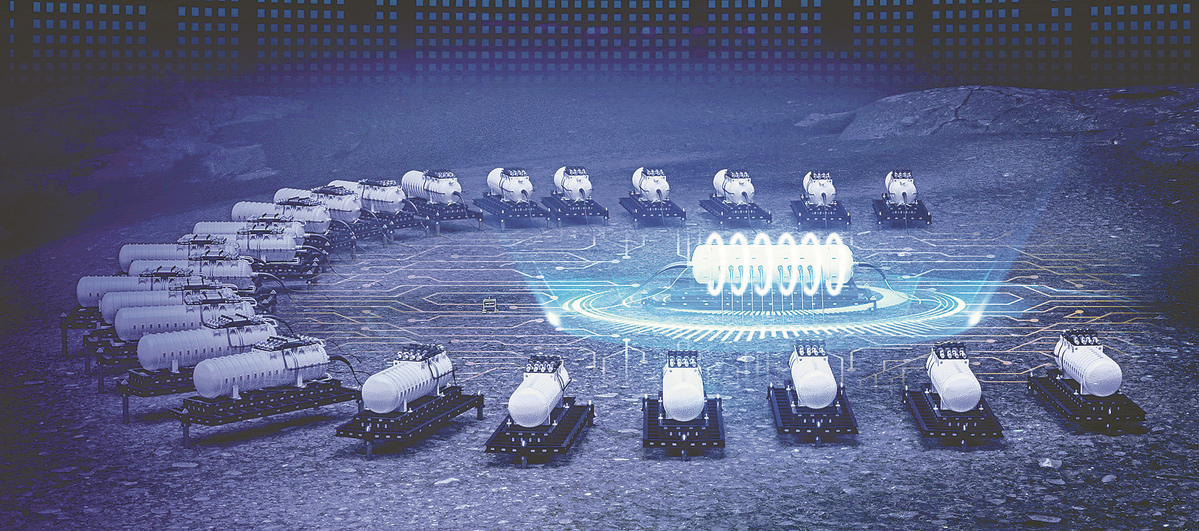 Although Highlander's UDC is the first of its kind for commercial use, it was Microsoft that first launched relevant research and development before completing construction of the world's first UDC — Project Natick. Established in 2014, the project deployed a shipping container-sized Natick Northern Isles data center off the coast of the Orkney Islands, United Kingdom, to explore the idea of placing an entire data center on the ocean floor. On July 9, 2020, Natick Northern Isles completed its mission at the bottom of the North Sea and was retrieved for analysis.
Following the retrieval, Microsoft data showed that the deployment of offshore data centers along coastal areas seems to work well in terms of performance, efficiency, maintenance and data security, thus providing a modular way to scale up data center needs while keeping energy and operating costs relatively low.
However, Highlander has managed to keep the costs even lower through complete innovation in UDC's design process.
"Mainstream subsea equipment in the global market is generally designed to be used more than one kilometer below sea level. However, UDCs — which are equipped with subsea engineering facilities — are designed to be deployed less than 50 meters below the water's surface. Otherwise, it would be too far away from inland infrastructure and its transmission and reception efficiency will be compromised," Pu said.
"Deepwater facilities can of course serve UDC needs. Actually, they far exceed relevant requirements. It would therefore be a waste to use them in building a UDC because deepwater facilities are much more expensive than those for shallow water," he added.
Targeting this gap, the company has independently developed a full production chain of innovative and economical shallow-water facilities for its UDCs, which can significantly reduce costs by more than 80 percent. "We are confident in providing global consumers with high-end and, at the same time, economical UDC solutions," Pu said.
UDCs can also achieve multi-energy complementarity when utilizing both offshore wind and photovoltaic power. On the one hand, they convert ocean energy such as ocean waves, tides and temperature differentials into marine computing power, and thus help realize low-carbon and even zero-carbon development for the once high-energy-consuming data centers. On the other hand, UDCs make it easier to support computing needs from other marine industries, including offshore oil and gas drilling, marine ranching and marine tourism, helping build a smart marine industry cluster, save on comprehensive costs and eventually promote a more fully-integrated use of sea resources, said Zhang Yanfang, director of the Engineering Institute of Offshore Oil Engineering Co Ltd, a subsidiary of China National Offshore Oil Corp.
Currently, the company is undergoing a new UDC and offshore wind power joint development project to build a net-zero data center. The project is expected to enter the construction stage in Shanghai and Hainan this year. It has also received UDC orders from major companies including China Telecom and Hong Kong-based AI software company SenseTime.
Su Yang, general manager of Shenzhen HiCloud, said: "It will not only help promote the overall digital transformation of the Asia-Pacific region, but also promote the high-speed interconnection of global information."