Trump indicted by New York grand jury
By AI HEPING in New York | China Daily Global | Updated: 2023-03-31 11:03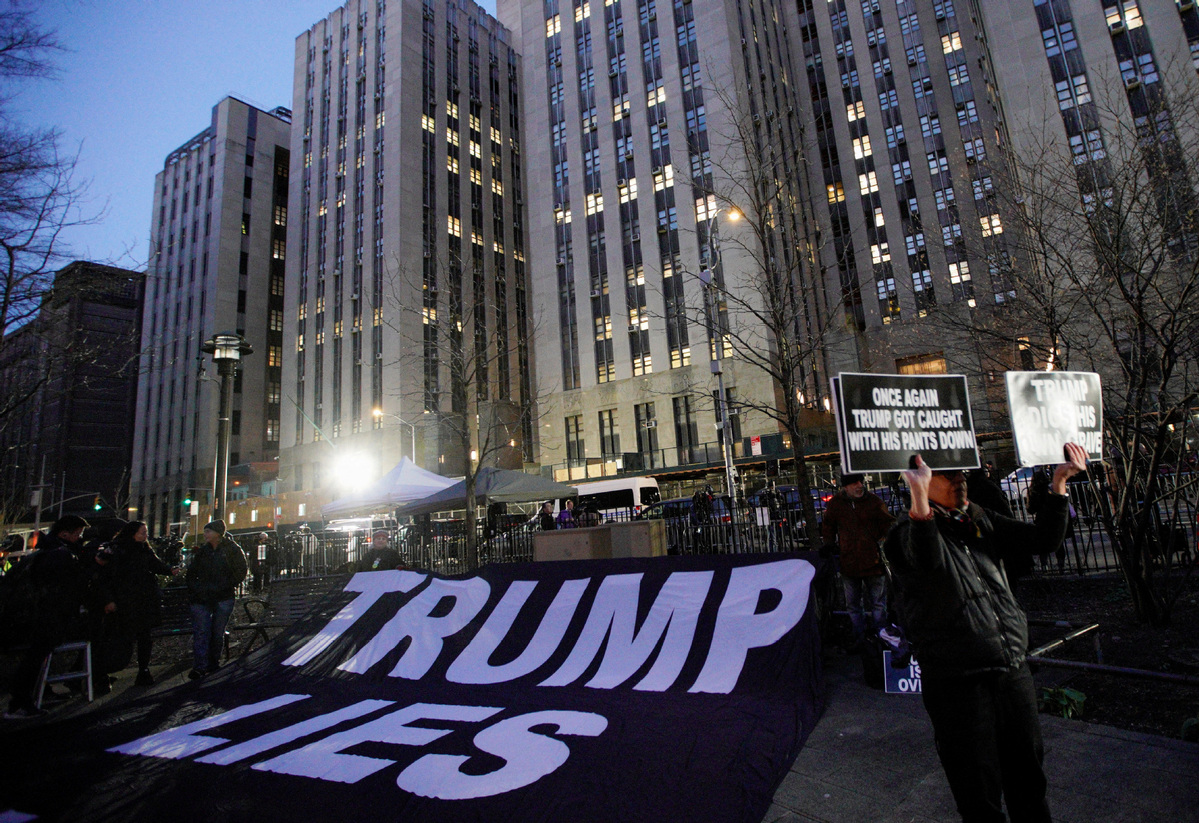 A Manhattan grand jury voted to indict former US president Donald Trump on Thursday for his role in paying hush money to a porn star during the 2016 presidential campaign to silence claims of an extramarital sexual encounter.
Trump, 76, is the nation's first former president to face criminal charges.
Joe Tacopina, a lawyer for Trump, told The Associated Press he had been indicted. Tacopina said in a statement: "He did not commit any crime. We will vigorously fight this political prosecution in court."
The indictment, sought by the office of Manhattan District Attorney Alvin Bragg, isn't public. In New York, judges routinely keep charges under seal until defendants make their initial appearance in court.
Trump issued a statement upon news of the indictment: "This is Political Persecution and Election Interference at the highest level in history. From the time I came down the golden escalator at Trump Tower, and even before I was sworn in as your President of the United States, the Radical Left Democrats the enemy of the hard-working men and women of this Country have been engaged in a Witch-Hunt to destroy the Make America Great Again movement."
Trump has called Bragg, who is black, "a racist" and an "animal" and said that his investigation was politically motivated.
In the weeks leading up to the indictment, Trump urged his supporters to protest on his behalf. Trump has threatened that there would be "potential death & destruction" if charges were filed against him in the case. He has said also that he wouldn't quit the 2024 presidential race if indicted.
The White House had no comment on Trump's indictment, spokesman Andrew Bates told USA Today.
Trump allies denounced the indictment, saying that it is an effort to stop the former president from being reelected.
US Representative Jim Jordan, an Ohio Republican, tweeted one word Thursday evening in response to the news of Trump's indictment: "Outrageous."
Jordan is one of three Republican House committee chairs who called for testimony from Bragg. They said they have concerns Bragg's investigation of Trump would become "a politically motivated prosecutorial decision''.
The case in New York is unlikely to have any legal bearing on Trump's third presidential candidacy, even if he is ultimately convicted, according to legal experts, because the US Constitution imposes no requirement that candidates for the highest office have a clean record.
Trump was expected to surrender to authorities next week, according to a person familiar with the matter who wasn't authorized to discuss a matter that remained under seal, the AP reported.
Former Trump attorney Michael Cohen says Trump told him to pay Stormy Daniels $130,000 on the eve of the 2016 election in exchange for her to keep quiet about the alleged sexual encounter with Trump. He has denied any affair with Daniels and said he followed Cohen's advice as his lawyer.
Cohen pleaded guilty to an array of federal felonies in 2018. Among them was a campaign-finance offense for the porn-star payment, as well as charges of lying to a bank and to Congress.
Cohen became a key witness, meeting with prosecutors nearly two dozen times, turning over emails, recordings and other evidence and testifying before the grand jury.
Cohen said in a written statement about the indictment: "Now that the charges have been filed, it is better for the case to let the indictment speak for itself. The two things I wish to say at this time is that accountability matters and I stand by my testimony and the evidence I have provided.
"I take no pride in issuing this statement," Cohen said, "and wish to also remind everyone of the presumption of innocence; as provided by the due process clause."
Cohen added that, "I do take solace in validating the adage that no one is above the law; not even a former president. Today's indictment is not the end of this chapter; but rather, just the beginning."
It may take several days for Trump to appear at the courthouse in Manhattan. The prosecutors and Trump's defense lawyers are expected to negotiate the terms of his surrender. Lawyers for Trump have said he will surrender to face the charges and fly from his Florida home.
Besides the New York case, a US Justice Department special counsel is investigating the handling of classified documents at Trump's Mar-a-Lago resort in Florida and his efforts to reverse his election loss. And Fulton County District Attorney Fani Willis in Georgia is investigating attempts by Trump and his supporters to influence Georgia's 2020 election results.
The indictment raises questions about its impact on Trump and the GOP presidential race, including whether supporters will remain supporters and if Republicans will turn to Florida Governor Ron DeSantis, his leading political rival in polls, or someone else.
On Thursday, DeSantis issued a statement critical of the indictment.
"The (George) Soros-backed Manhattan District Attorney has consistently bent the law to downgrade felonies and to excuse criminal misconduct. Yet, now he is stretching the law to target a political opponent," the statement said.
"Florida will not assist in an extradition request given the questionable circumstances at issue with this Soros-backed Manhattan prosecutor and his political agenda."
The billionaire financier Soros contributed to a group that supported Bragg, according to The New York Times.
In social media posts, Trump has attacked DeSantis over issues including Florida's public health restrictions early in the pandemic and the governor's perceived lack of loyalty to Trump, who gave DeSantis a key endorsement during his 2018 campaign.
DeSantis hasn't directly attacked Trump but has alluded to Trump's personal conduct.