China Red Cross officials pay tribute to organ donors
By Wang Xiaoyu | chinadaily.com.cn | Updated: 2023-03-31 11:15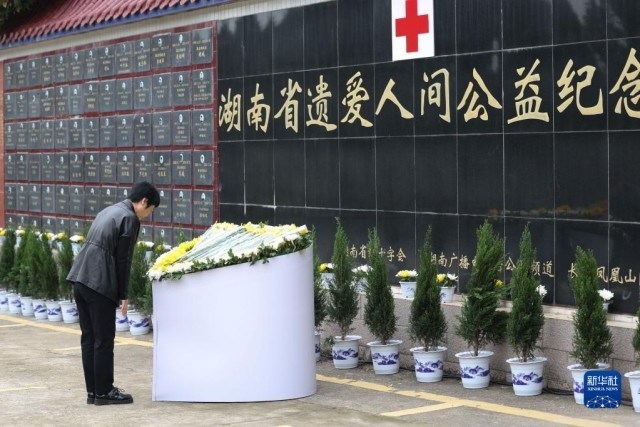 China's Red Cross officials and local authorities in Hunan province laid flowers and paid silent tribute to organ donors in Changsha, capital of Hunan on Thursday afternoon.
Chen Zhu, president of the Red Cross Society of China, attended the event held at a memorial cemetery in Changsha ahead of this year's Qingming Festival, also known as Tomb-sweeping Day, which falls on April 5.
The cemetery offers a final resting place for 576 people who are making postmortem organ donations. Their age ranges from nine days to 89 years old.
China began a voluntary organ donation trial in 2010. Since 2015, voluntary donation has become the only legal source of human organ transplants.
According to Red Cross officials in Hunan, the province has seen more than 234,000 people registering as organ donors and completed transplants of nearly 10,000 organs donated by more than 3,900 donors.
Li Cuiying, a local transplant coordinator, said that when she first took the post over a decade ago and attempted to approach family members of potential donors, they often replied with refusal or aversion.
"But in recent years, we can see people are becoming more receptive of the idea," she said. "Nowadays, we even receive calls from people who proactively make inquiries about organ donation procedures."
"The public awareness of organ donations has improved a lot in recent years," she added.
China has built over 200 memorial facilities aimed at paying tribute to organ donors, as part of its efforts to raise awareness about voluntary organ donation, according to China's Red Cross.